Getting Started with Workflow Automation Software
Monday, December 13, 2021
Business leaders and founders often get puzzled with the many ways to streamline all the different processes empowering the team members to achieve the same goal. They perfectly know the importance of efficient communication and collaboration between departments or groups across the organization. The demand for efficient intercommunication tools is driven by a crucial problem — division and individuality in the different areas of a company. The lack of interdepartmental coordination could be disastrous, as employees only think about solving particular issues rather than getting a complete vision of their place in the workflow. Acknowledging the importance of management software for workflow process automation offers your task-solving team members an incredible opportunity to visualize their work impact, value, and effect on the other business areas and the company's main goal.
Read this article to learn more about the workflow automation basics and the workflow automation software benefits for your business.

What is Workflow Automation?
Workflow automation is a set of activities ranging from workflow analysis and design to process automation, where tasks, data, or files are routed between people, bots, or systems based on the pre-defined business rules.
The "workflow" term is also frequently used to describe the methods, patterns, and activities organization and structure for the group members and the steps, that allow getting the task done. Workflow automation is defined as structuring the duty to fulfill it and consequently achieve the goals. For individuals, a workflow is a set of steps to get the results successfully. For small and big groups, a workflow is understood as a set of responsibilities assigned to each member, which they must accomplish to receive the group benefits or to achieve common objectives that can benefit the team. There are many workflow automation examples, and they can widely vary from following a cooking recipe to establishing office tasks. Companies that apply workflow management techniques and workflow automation in industries such as sales, marketing, and HR, get significant benefits since this approach involves organization, commitment, and discipline to fulfill the duties.
To compile a useful and efficient workflow, you need some indispensable components. First, you need to know the required data and materials for each process step. Second, you have to determine an algorithm — a process — for the people or software (in the case of workflow automation) to follow. Finally, you should define a result that justifies the effort, time, and data used to complete the process. Knowing the importance of these workflow automation components, you should carefully and thoroughly set up each element, as wrong calculations lead to invalid results.
Workflow Automation History
The first «workflow automation» term usage can be traced back to the 1920s, but it had been studied before by Frederick Taylor and Henry Gantt – both were mechanical engineers and management consultants. Originally they focused on this concept for manufacturing, and over the years it became omnipresent, it was used even in the family affairs domain. After the work of W. Edwards Deming and Joseph M. Juran, a bigger new concept of workflow started to develop in the 1980s. Since its theorization, workflow management development has been increasingly supported by technology. For instance, new workflow approaches were designed with the dawn of typewriters and photocopiers as they revolutionized communication, goal setting, and productivity. The internet was also among the drivers to design the new workflow management methods.
The first workflow automation systems created in the 1990s efficiently replaced the basic paper-based processes with electronic ones. By the end of the 1990s, advanced features like modeling tools, business rules, and more became a must-have for workflow automation tools. In 2005, the BPM (Business Process Management) methodology was developed, which started a modern workflow automation era, still ongoing.
Workflow Examples and Ideas
There are many processes samples in which workflow automation can be used to efficiently achieve a goal. Finance, human resources, and marketing are some of the fields where you can form a structured workflow of different steps some of which can be performed by a digital tool. For instance, employee onboarding and offboarding, purchase requests, and client intakes can be easily organized to obtain high-quality results by following the workflow efficiently.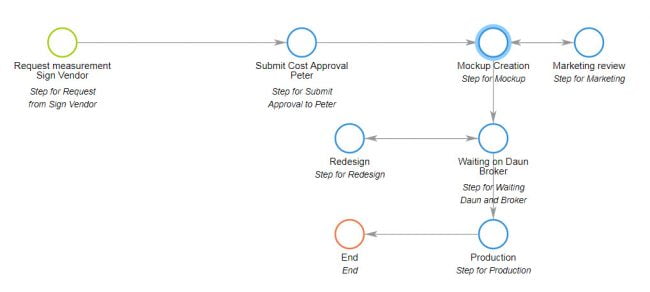 Approval management workflow example. Made in CMW Tracker — give it a try:
At this point, we get to appreciate the workflow automation value. Workflow automation, therefore, implies using digital tools to automate repetitive tasks. Digitizing data and creating steps for software to follow is commonly deemed to be difficult, but you can easily learn how to use the workflow automation software to boost your team productivity and performance. Getting used to the digital format and applying it to all the data and workflow steps can take a bit of time but is relatively easy. Make sure that every workflow automation improvement iteration brings you additional benefits. Besides, all the tangible benefits the users get from workflow automation software usually motivate them to master the software and make the most out of it.
In some industries workflow technology might have been slow to get traction. No matter the case, the situation is changing once and for all. Many business areas are capitalizing on new technology and report great workflow automation experience:
Accounts payable workflow automation is a reliable way to avoid invoice approval delays and late payments due to inefficient, outdated processes. Learn more about the reliable accounts payable workflow essential elements, and eliminate the inefficient manual invoice and document matching.


Marketing automation workflows empower time-strapped teams with effective collaboration and enable marketers to track and manage marketing campaigns and activities, build better customer relationships, boost lead generation, and dramatically increase revenue.


Legal workflow automation is a proven approach to improve performance, cut costs and error rates, and make your legal department a responsive contributor to corporate success. Using a workflow software like CMW Tracker, you can easily embed best legal practices in the legal department workflows, and enforce compliance, process visibility, and efficiency across your entire company.


Insurance workflow automation helps to speed up claim processing and perform other insurance operations more accurately and efficiently. Workflow management software verifies form data and collected information while ensuring that every stakeholder can respond to a claim and approve the necessary documents as quickly as possible.


Government workflow automation drives operational efficiency and citizen satisfaction. Nowadays many government agencies digitize their services and ensure that every citizen request triggers a specific workflow basing on the set business rules. Once triggered, an automated government workflow handles all the necessary notifications, payments, and approvals, ensures back-end efficiency, and speeds up service delivery.


Mortgage workflow automation and compliance solutions are widely used by mortgage originators and servicers to ensure loan data accuracy, completeness, and compliance, streamline the mortgage origination and loan servicing processes, and differentiate their service quality.


Property management workflow automation ensures process transparency and improves insights on your real estate business. Workflow-based property management software helps you keep property management operations and facilities maintenance resilient and discover new opportunities for effective space utilization and tenant experience, thus improving your real estate ROI.


Clinical workflow automation solutions deliver huge advantages in enhancing patient care and safety and help clinics address the increased patient inflow due to the COVID-19 pandemic and the rising need to curtail healthcare costs.


Education workflow automation reduces routine work and saves the staff time for more important tasks, cuts the human error margin, which has tangible consequences for both students and administrators. Workflow automation solutions for education help to handle admission, financial aid, course scheduling, and other critical processes properly and as quickly.


Contract management workflow automation implies running your contract processes using contract management software rather than manually moving contracts through each step of the workflow. With automation, legal and other teams involved in contracts can save time, improve collaboration, enjoy quick and efficient contract creation, and instant access to contract data.
Key Benefits of Workflow Automation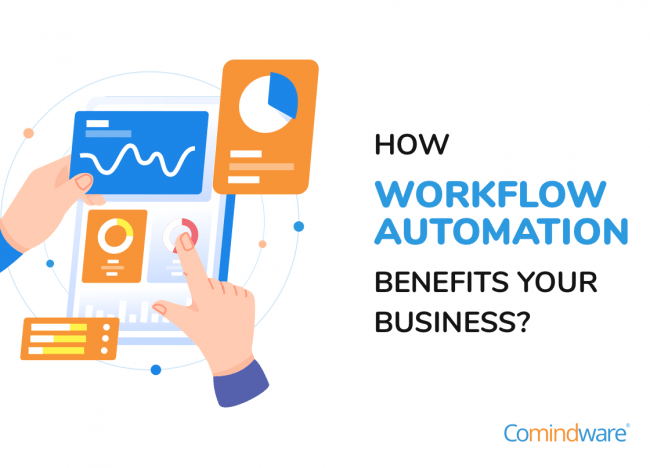 The idea of these digital tools is to work with all the data offices have about clients, tasks, and their services to perform routine activities without human effort. The purpose is not to eliminate employees who did the repetitive tasks, or to replace them with software, but to take advantage of their talents, experience, and knowledge and focus them on new activities to achieve the goals sooner. Workflow automation has brought significant benefits for those who apply it in their daily work. One of the benefits is improved team efficiency as monotonous tasks are done by digital instruments while humans focus on non-repetitive tasks that need their abilities to get done. This efficiency translates into better productivity and quality in the long run and more workflow automation advantages.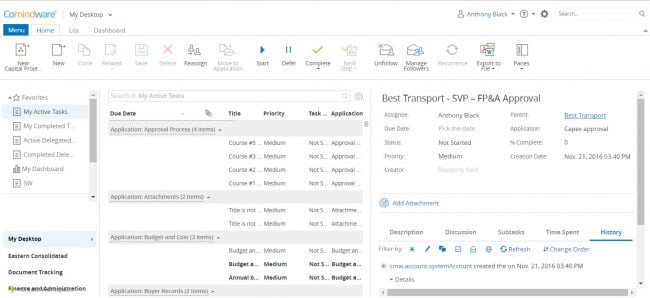 Workflow tasks management is made easy with the CMW Lab workflow automation software
Workflow automation also helps teams coordinate their efforts better, to get rid of any disorganization. Finally, workflow automation can improve the output accuracy, thanks to minimal or no errors from the software output. Hence the necessity for meticulous input data control. Seeing these benefits more and more entrepreneurs, team leaders, SMBs, and big companies adopt workflow automation in their business.
All these benefits come in handy for every small business or larger company striving to stay in the market. The competition is tough in every industry, there are always competitors who could beat your business. So, a structured workflow distributing similar tasks between the team members can make the difference between a successful company and one that is on the brink of its existence. As previously said, workflow management systems are designed for the teams to work like a well-oiled machine that will not stop even if one member fails. Thanks to different specialists collaborating on the same project with the help of digital tools, the amount of manual repetitive and tedious work is reduced and people can focus on achieving the business goals.
Therefore, embracing technology and the daily advancements it brings to our society can help your business succeed. Some companies and businesses still work using traditional work approaches, but these are simply not efficient enough to cover the massive potential client base. At this point, the company faces a dilemma of embracing the technology or being overwhelmed by the clients constantly trying to get more. Those who persist are ready to embrace the new.
How to Work With and Without Workflow Automation
Resource Management
Manual workflows: expensive human resources handle too many mundane tasks, prone to missing the deadlines and mistakes.
With workflow automation: un-billable and repetitive tasks are automated and the employees focus their efforts on high-value work. Automated workflows notify users when they need to carry out a task.
Transparency and Traceability
Manual workflows: different teams and departments frequently build their manual workflows that are difficult to track and audit and not visible to the rest of the business.
With workflow automation: a complete audit trail becomes a snap, as all interaction is fully logged and you can easily check who did what and when. Even more, an automated workflow is transparent for all the stakeholders, meanwhile, all workflow complexity is taken away from the end-users — employees are assigned the tasks automatically when they have to complete a workflow step.
Compliance and Risk Management
Manual workflows: processes can be circumnavigated with ease, which poses high risks to businesses that require reliable and compliant procedures.
Manual workflows are difficult to track and their complete audit trail is difficult to obtain.
With workflow automation: automated workflows always match your business procedures and ensure compliance with business rules, mandatory steps, and security settings. Even more, you can easily standardize best practices to benefit your business.
Efficiency and Productivity
Manual workflows: gathering information from people is difficult and slows down the process, there is no single source of truth, and employee collaboration is disintegrated across emails and messengers.
With workflow automation: forms capture and validate the required data defining the necessary workflow path. Team efficiency and performance are increased thanks to a centralized workspace for employees, automated workflows, and knowledge.
This workflow mechanism has brought tremendous transparency in many tasks throughout the organization. CMW Tracker provides a huge set of workflow options, designating team members to different tasks, tracking issues, requests/approval management, etc. In short, I can say that CMW Tracker has made many tasks simplified and raised their efficiency organization-wide. — Technical Support Executive, Communication | Read the Full Review
How to Implement Workflow Automation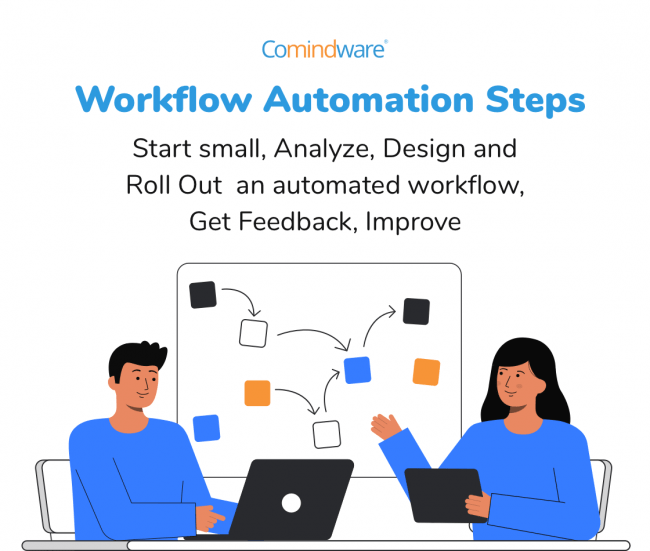 Step
What to do
How to do
Step 1
Start small but early
Don't try to automate everything. Select a single process and jump-start your automation. At CMW Lab, we know the best 5 ways to do this and have 6 general recommendations to choose the right process automation pilot. Read the CMW Lab blog for best practices that ensure that within 1–1.5 months you will see the demonstratable workflow automation benefits for your business. Moreover, your test run will take minimum time and funding.
Step 2
Identify stakeholders and agree on who does what and when
The best way to analyze the workflow and learn what's working and what's not in the current setup is to interview the actual users.
Your questions might look like these:

What is the exact outcome of the workflow?
What's the step sequence? Which steps are optional and which are dependent on business rules?
Which employees are involved at each step, what decisions do they make and when?
What content, including documents and media, is being created or modified?
How long does each step typically take versus the expected duration?

Step 3
Design a workflow diagram
Visualize the workflow, share the workflow diagram with your stakeholders and consult with them. Design your first workflow diagram version quickly in a visual workflow builder or simply draw it on paper.
Step 4
Implement the workflow using a simple automation software
Now, it's time to automate the workflow. Fortunately, low-code workflow automation systems like CMW Tracker empower non-technical users to design, run and modify processes with drag-and-drop simplicity.
Step 5
Test the workflow, deploy it, and train users
Test your digital workflow to ensure it meets its design and doesn't produce errors.
With low-code workflow management software, workflow rolling out is as easy as clicking a button. So, your next challenge is training people to use the automated workflow and addressing some resistance — most people don't like changes. Make sure to articulate the benefits automation bring to every real user.
Step 6
Get feedback and iteratively improve your workflow
Once people have used the automated workflow for a while, ask them and learn what works well and what needs an improvement. Using the feedback, address the issues as quickly as possible and ensure the users notice the improvements so that they are more likely to share their feedback next time you ask for it.
Best-practice organizations ensure their processes are reviewed consistently to ensure optimization and identify further improvement opportunities (although employees across the organization can submit improvements opportunities for consideration). The process improvement portfolio process will include strategy-related criteria for prioritization and selection, standardized performance measures, forecasting based on historical trends, and structured project/portfolio reviews. Holly Lyke-Ho-Gland, a principal research lead at APQC
Specializes in best practices in business processes, change management, corporate strategy, and R&D
Questions to Ask Before Starting Workflow Automation
Why Workflow Automation Is Used?
Workflows are usually automated for numerous reasons. Key drivers are faster operations, increased efficiency, and accuracy. Other improvements, driving workflow automation adoption:
Cost savings
Visibility
Communication improvements
Better customer service
Increased customer engagement
Ridding the redundancies
Overall product improvement
Easier workflow tracking
Are There Any Differences Between SMB and Enterprise Workflow Automation?
While the workflow automation goal is the same — to make people more productive, small-to-medium-sized businesses (SMB) and enterprises have different business structures, workflow scope, and automation needs.
Briefly speaking, when automating workflows, SMBs tend to focus on automating the most essential and simple workflows, notifications, and data entry. Besides, at SMBs automation advantages usually benefit individual employees, rather than the business as a whole. In contrast, enterprises usually manage workflows at a larger scale than just automating notifications or updating databases. Enterprise workflow automation tends to include building powerful workflows that can map out the entire business and bring long-term business advantages.
At the end of the day, both SMBs and enterprises can use the same workflow management software, while having different approaches to implementation and development. For example, CMW Tracker is widely used in companies of all sizes, across all industries, departments, and workflow scenarios to streamline operations.
Are There Any Statistics on Workflow Automation I Should Be Aware of?
Many businesses across different industries enjoy the automation benefits, and the workflow automation statistics validate this point:
These workflow automation statistics show the immense growth of automation, as more and more workflows are digitized and office workers seek more efficient ways to handle their workloads.
How to Automate a Workflow Quickly?
If the rate of change on the outside exceeds the rate of change on the inside, the end is near. Jack Welch,
Chairman and CEO of General Electric
Nowadays there is only one constant — change. The digital revolution changes the business environment dramatically and quickly. Businesses must be ready for getting digital and addressing changes faster than competitors.
The most important ingredient in successful workflow automation projects is an effective collaboration across people with different skill sets. Projects that are driven by business domain experts, who can both consult on the requirements and help to develop the workflow solutions, succeed at a higher rate and much quicker. It happens because the people involved in solution development and implementation clearly understand the workflows. Low-code workflow management software like CMW Tracker empowers non-technical experts to quickly design workflow app prototypes with drag and drop simplicity and to drive workflow automation projects effectively, engaging IT staff when required and fostering the type of collaboration necessary for these projects.
Workflow Automation Trends
The key to success in achieving LOB (line-of-business) and workflow efficiency has evolved due to different trends that company leaders should embrace. Some common trends allow to enhance effectiveness and get the most of a workflow system. The key workflow automation trends to keep in mind:
Many businesses use robotic process automation (RPA) and workflow technologies together. In this scenario, some tasks are done by bots, some — by humans, while task assignment and flow are managed by a workflow automation app.
Businesses start to realize that simply changing from paper-based workflow to digital workflow doesn't bring enough benefits for the business. Hence, they tend to consider modern workflow management systems capable of processing data efficiently during the approval process, obviating the document exchange steps.
Gartner encourages CIOs to implement integrated digital platforms, that can consolidate a wide range of digital technologies and give even more synergetic benefits.
The most important workflow software trend in 2021 is the technology "democratization". Nowadays workflow technology democratization expands widely thanks to low-code platforms, which empower non-IT professionals to build their business workflow automation apps and make them available in the cloud.
Low-code Workflow Automation
You can switch to a low-code workflow software such as CMW Tracker to manage your business processes correctly. Low-code solutions offer the line-of-business leaders a chance to relieve some pressure and solve problems along the way. This trend helps to identify a workflow that works best in your scenario and makes the automatization efforts such as cross-product endeavors easier, allowing managers to better see core insights in the system. Low-code workflow software allows power-users without coding skills to adjust running workflows and ultimately makes department challenges more visible to the leaders, offering an instant solution that drives efficiency and success.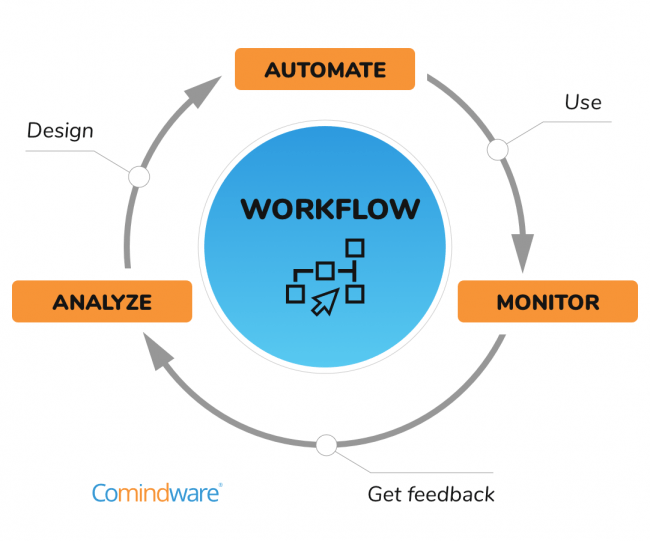 Low-code workflow solutions have a very tangible impact across the company. This is management approach interconnects the line-of-business leaders to all the different departments and team members. This connection improves efficiency and productivity in almost any working scenario. With low-code workflow tools, the responsibility is not put on a single team member who could jeopardize project success. This management approach decomposes decision-making between every team member, which ensures rapid and parallel problem-solving. Each department can now solve any problem while considering widely how the solution will help others in completing their next task. This insight expansion is the key to company success, as employees get to fully invest in their objectives thanks to appreciating the importance of their work. Business owners adopt low-code workflow automation because they understand that their employees are important gears that need to function in unity and drive the machine — the company or business — to productivity.
8 Must-have Features of Every Workflow Automation System
Since workflow consists of several steps that must be followed to complete a process, or responsibilities that must be shared between the team members to achieve a common goal, the workflow automation software you choose should be able to visually represent these steps or responsibilities. This makes structuring and organizing the tasks easier thanks to a visible map of what and when to do. The diagram view eliminates disorganization as everybody sees the same data the leader sees, which improves productivity and instills order.
A workflow automation system should also be easy to use. Well-designed web forms assure the necessary clarity, straightforwardness, friendly interface, responsiveness, and accessibility that the users need to perform well. Any digital solution for workflow automation must have these features.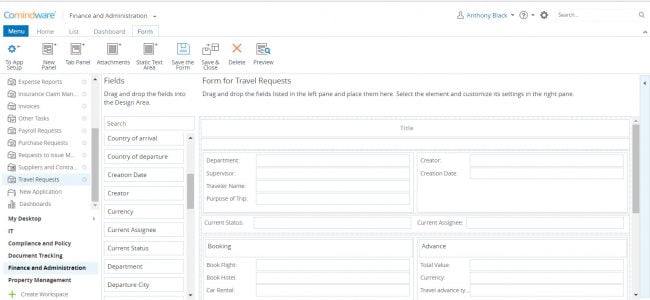 Drag-and-drop web form builder in CMW Tracker
Cloud-based workflow automation software is a perfect choice for small and big companies alike. Employees can access the software anywhere and anytime, without worrying about losing all their files if their device malfunctions. Note that SaaS workflow automation software is usually cloud-based and additionally lowers up-front costs in comparison with building a private corporate cloud.
Another feature this software should include is SLA status indicators allowing the leaders and staff to see the current tasks progress that you're all working on.
The twenty-first-century generation has gotten used to receiving information in an easy-to-digest visual way. The progress of your company tasks should be visible in a graphical view, allowing you to measure, appreciate, reward, and encourage the team's collaborative effort. Constant notifications are always necessary. Whether it is on your mobile, or via e-mail, you should always receive notifications when tasks are completed, meetings are coming, and more. You must be aware of all the things happening, and notifications are efficient reminders of what has been done and what still needs to be done.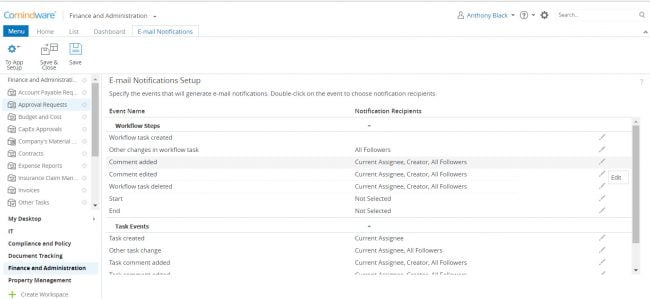 Notification settings in CMW Tracker
But notifications mean nothing if no reports are produced. Your business progress must be periodically shown in charts and statistics. This provides you an organized and accurate overview of the employees are currently working on. These two features combined will help you to be in control of everything that is happening.
Parallel workflows are an excellent way your workflow automation software can show current progress because it breaks with the traditional step-by-step approach. Developers have understood that in most cases individuals who want to achieve a common project goal do complete tasks at the same time. Therefore, a parallel workflow will show the progress of several tasks to understand the progress of the whole project.
But even though there are common goals and achievements, not all the information that is being handled is meant to be shared with all your business or organization staff members. This is the reason why role-based access control is one of the greatest features your workflow automation system must come with. An excellent software should have the option to change user access rights at any time. You, as a business or company owner, can choose with whom you want to share information.
Last but not least, your ideal workflow automation software should be able to integrate your automated workflows with other services to organize activities better.
Why Choose the CMW Lab Workflow Automation Software?
Among several options for business management, CMW Tracker stands out from the crowd. It is an incredible next-generation software that will help your team complete their tasks and make your company departments truly interconnected. Naturally, this software has an elegant and easy-to-use graphical workflow modeling tool to better visualize the workflow and supports Excel-like formulas. CMW Tracker also features a top-notch web form designer to design intuitive interfaces with adjustable tabs and fields; data export to Microsoft Word or Excel. A secure cloud-based technology ensures your peace of mind and robust data storage. SLA status indicators show the status of the ongoing project. Convenient Outlook-style visual hints help you master CMW Tracker. You can create reports, statistics, and analytics to measure the current work progress; create sequential and parallel workflows; set different access levels for each role; share documents with stakeholders to improve communication between different parties. The software boasts many other services that can be integrated. No surprise businesses chose CMW Tracker to improve workflows and improve or establish intercommunication. Its many features ensure that business owners get perfect results.
I have used CMW Tracker for almost two years now to automate workflow across the Engineering business unit in our organization. This software is used across almost every single business unit in Upper Trinity. It has enabled teams to reduce the time taken to calculate expenses on projects as well as time incurred on business processes. – Sr. Electronics Technician, Upper Trinity Regional Water District | Read the Full Review
CMW Lab offers a 30-day trial to experience the highest level of quality and efficacy of the product. For many people, this cloud-based workflow automation system will mean gradual working environment improvement as tasks can be done by more employees. By doing less routine work and focusing on areas where specialists are needed, achieving goals will be easier.
Conclusion
Workflow management automation is the right step towards growth and success. It relieves the line-of-business leaders from pressuring tasks and can distribute them between team members while giving them a sense of importance in solving the issues. Workflow management is used for almost a hundred years, with new techniques and improvements being developed. It allows everyone, from entrepreneurs to company owners, to achieve their goals based on organizing and structuring a process into different steps that can be done by humans and workflow automation solutions. Workflow automation widens the angle of view for leaders and personnel, so they can accomplish the goals quicker and better. Every company should embrace workflow automation services and management software. This technology not only increases the success rate but also improves product accuracy and quality by reducing the time and effort spent on each task.
With the development of new technologies, workflow management systems and theory can be further improved. All this allows increasing customer satisfaction, while workers get better self-esteem and business owners get peace of mind. It is never too late to change the way your office, business, or organization works. Workflow automation system integration would mean positive changes and outcomes.
---