Capital Expenditure (CapEx) Approval Process
Monday, September 24, 2018
Before taking a capital expenditure decision, take the best practice template, put it online, and have a streamlined execution process for your capital expenditure (CapEx) approval process: makes it transparent to the decision-makers and the task-owners.

Business expansion is a route to financial growth only when you are able to control each capital expenditure aimed at improving your assets. When planning to invest a part of your revenue into improving and expanding your assets, you need more than a well-thought out strategy. The return for this kind of investment will be perceived over time, so you need to see where you want to be long in advance. It is vital to align CapEx planning and execution with the business objectives and it might be a struggle to manage spending on hundreds of CapEx projects and one day you may need a comprehensive CapEx planning software. Last but not least, you need a streamlined process of CapEx tracking. Actually, CapEx approval process automation is usually the first thing CFOs do for getting CapEx approval and spending managed. And here is where an online capital expenditure approval solution can really help. They will be useful in the following cases:
asset acquisition
asset renovation
asset lease
You can find a streamlined capital expenditure process and customizable capital expenditure forms in CMW Tracker Finance and Administration solution. It's ready-to-go and pre-configured for team work, and includes an automated workflow and collaborative features.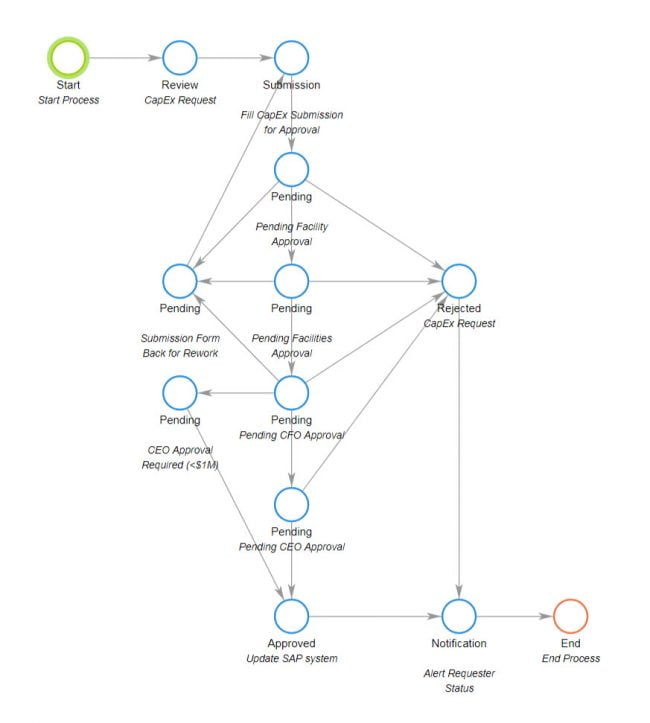 The streamlined process has main steps for CapEx approval: request creation, rejection, clarification and verification, approvals. The advantage of the streamlined process is that the request won't be able to proceed to a higher step before all of the review steps are completed, because the item isn't moved manually down the workflow: CMW Tracker moves it automatically and creates a task to the appropriate assignee along with sending an email notification to them.
Note: Then it comes to expenses management, companies frequently consider streamlining both CapEx and OpEx management. Learn more about these 2 types of operating expenses in this article – "What is CapEx and OpEx".
An automated system doesn't mean that your work becomes automated. You can discuss, accept, decline, or reject tasks and requests submitted via capital expenditure form. The communication thread for online discussion stimulates team collaboration, at the same time helping to reduce the number of emails and meetings necessary to get more detail in order for the decision to be taken. The single place for CapEx data storage makes document tracking quick and easy deal. The additional benefits of the online process result in reduced paperwork and time saved on the process approval.
With the CMW Tracker Finance and Administration solution, you can see all of the capital expenditures in the form of configurable lists that give you an overall view of your investments, where each process has its status at the current moment. No need to make manual updates: while your team is working on the process, CMW Tracker gets information from each task owner and keeps it in a single place. All the data is available online and stored either on your corporate server (if you chose the on-premise deployment) or in the Cloud (in case of the monthly SaaS subscription).
Get our PDF Case Study to learn how Hertz has leveraged CWM Tracker to create a modern CapEx approval application, which replaced complex Excel files and dramatically reduced the expenditure approval cycle time, decreased operational expenses and minimized financial risks.
Your company has specific capital expenditure approval processes or CapEx requests that go beyond the norm – not a problem. Workflow software by CMW Lab allows non-technical users to configure customized CapEx forms and design your own workflows in drag and drop web-interface. CMW Tracker ensures that your capital expenditure requests are handled properly and minimizes risks.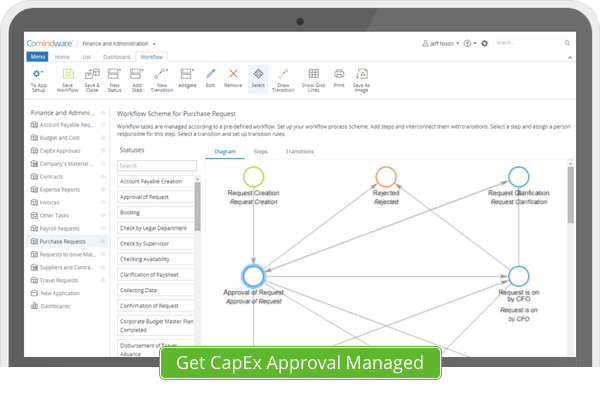 Role-based access to the data makes it possible to share the information of the capital expenditure process only with those whom it might concern. In case other departments of your company use other CMW Tracker Solutions, they will only have access to the data they need for work. At the same time you can share data across the application when the need arises.
If you are still doubtful whether the online CapEx approval workflow process is easy to work with and will give you more visibility on assets acquisition and renovation, take an online tour or use a trial version of CMW Tracker Finance and Administration Solution – that is more persuasive than any marketing can be.
---