Strike the Collaboration Balance
Wednesday, November 28, 2012
Project managers and department managers alike must take complete responsibility for the team's collaboration results, which means they need real-time visibility into what's happening, along with fairly tight control of the process.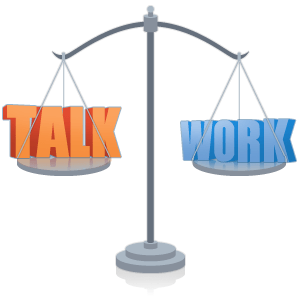 At the same time, the pros on their teams need to be able to work in a way that is most nimble, most responsive and most creative so that collaborative work can flourish as each individual team member contributes unique strengths to the project.
How does a team lead avoid micromanaging while also avoiding the abdication of responsibility?
Furthermore, how does this leader leverage the vantage point that only she has, in terms of knowledge of organizational goals, individuals' strengths, and changing circumstances? By doing two things:
Carefully design elegant processes
Over-communicate
Carefully Designing the Process
"She doesn't have to change her process to fit the software…"
When the business process is designed well, and modified as needed, complicated collaborative work feels almost simple. This is because most pitfalls and logjams have been intentionally avoided, and because a good procedure (as dry as that sounds) actually makes creative thinkers feel safe to take risks and produce great work. Frustration and fear are avoided because it's clear how things will go, how to change them if they aren't working, and who is in charge of what, when.
Our team collaboration tools at Comindware make it easy to automate team business processes because the team lead just needs to know how things are working with her people. She doesn't have to change her process to fit the software, and she doesn't have to use an IT specialist to "translate" her business process into code. Plus, the team keeps collaborating on the right stuff, because Comindware Tracker turns her process (something that remains a "picture" in most software) into automated tasks that have dependencies. Plus, she can change the process very easily as the team learns how to collaborate better.
Over-Communicating
"…the team needs to work, work, work, not talk, talk, talk…"
It's baffling to realize what gets lost in communication, usually without the respective parties even realizing that the message is wrong. Who is in charge of what? Who is working on what? What is the status of a certain task? How did changing circumstances change the project? And so on. With even a small team in one office, the environment is ripe for misunderstanding and lack of clarity, especially because these "conversations" take place in private instant message and email strings, or in meetings that never seem to result in progress.
Given that most teams are larger than a few people and scattered across time zones, the need to consistently and deliberately communicate is huge. That said, the team needs to work, work, work, not talk, talk, talk. So, again, how to strike that balance?
In Comindware, we built team collaboration components into the business process automation engine so that all content (videos, slide decks, spreadsheets, sound clips, documents) is together with all comments and workflows. This means the manager can continually update a project with changes or new information, while getting real-time feedback about where things stand. Everything is in one place so she can keep a constant watch on progress without chasing her people down the hallway for updates.
"…finding the best way to communicate, means that the team can deliver more in less time…."
There will always be a need for wise leadership of teams, something that only talented and trained managers can provide. Judgment calls and tough decisions abound. Still, designing a process well at the outset removes a lot of what's maddening about collaborative team work. And, finding the best way to communicate (early and often), means that the team can deliver more in less time.
Learn more about Comindware Tracker
here
.
---