Benefits of Business Process Automation (BPA)
CMW Lab provides a comprehensive business process automation solution covering all business process management steps from analysis and modeling to automation and reporting. The automation process is geared toward designing and implementing software applications to automate routine tasks from initiation to execution and completion, while obtaining enterprise-wide business process efficiency.
CMW Lab business process automation solution is based on the innovative ElasticData technology and allows non-technical users to design, run and modify business processes with drag-and-drop simplicity and minimizes dependency on IT staff.
CMW BPA software empowers you to:
Improve business operations performance
Enhance visibility into business processes
Reduce costs and risks of malfunctioning processes
In addition to business process automation software, CMW Lab provides a comprehensive data management that allows management of business data inseparably from business processes.
Key Business Process Automation Tools
Visual Process Designer for Quick Automation
Every process automation starts from modelling a workflow diagram, which visually shows the necessary steps and how the process should be accomplished. CMW Lab business process modeling tool allows process modelling in a visual web-based process designer that does not require any desktop software — just launch the browser and change the process on the fly. Design your own workflows for approval management, employee onboarding, and whatever you need with drag'n'drop simplicity and enjoy increased process effectivity.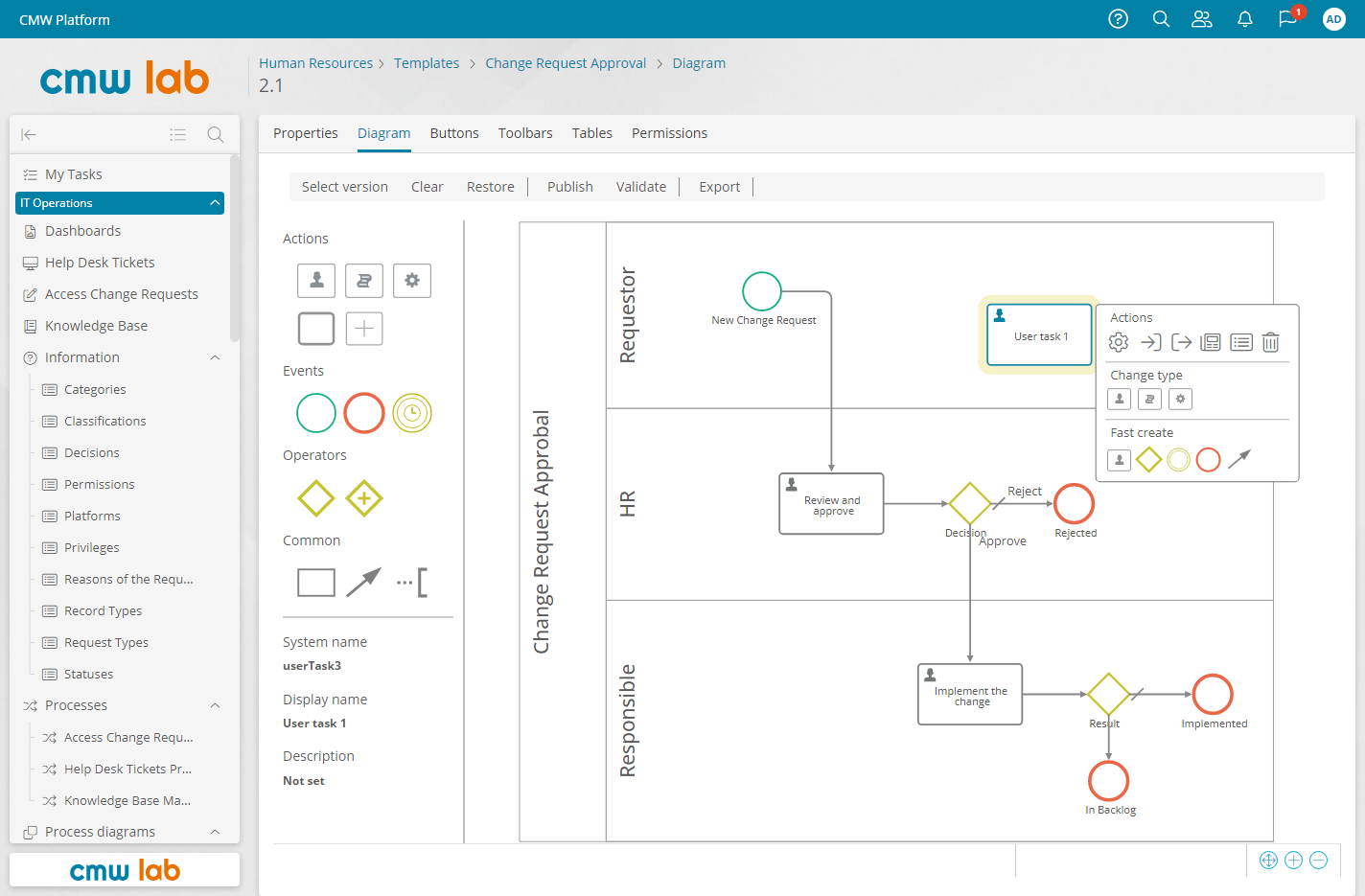 Visual Form Builder for Automated Processes
Web Forms are core elements of the Business Process Automation software that allow defining what process performers will see on their screens when working on the processes. Forms are even more important if your workflow requires data entry from customers. For example, customer support workflows require online customer contact and feedback form for your website. CMW Lab empowers easy web forms design and configuration. Enjoy visual form builder, dramatically simplify data entry for customer satisfaction and employee convenience.
Data Management
The variety and volume of data coming into companies rise at an exponential rate. CMW Lab adds business data management to business process automation software and minimizes both data management cost and risks. The solution by CMW Lab includes a complete set of data management capabilities including capturing and storing of all types of business and operational data. The patented graph-based data management technology - CMW ElasticData - empowers unlimited scaling with no data duplication.
Integration Capabilities
Business process automation software by CMW Lab provides advanced integration capabilities to coordinate data exchange between applications and get the most of their synergy. CMW Lab open API is widely used for integration with CRM, document management portals, artificial intelligence (AI) and robotic process automation (RPA) platforms. Business process automation extended with Intelligent automation and other technologies is the next big progression in the way businesses get things done. MS Outlook integration is delivered out-of-the-box.
Take your first step to Digital Transformation!