What does "hyperautomation" mean?
Wednesday, March 15, 2023
In recent years the world tech field has introduced lots of different tools and approaches to help businesses increase their results. Artificial intelligence, robots, automation, machine learning, process management – all these serve business purposes. And consequently causes lots of doubts among business people on how to implement and boost performance owing to these tools. So here is when the enterprise first faces "hyperautomation".
According to Gartner, 80% of companies are planning to increase investment into hyperautomation in the upcoming years despite business instability and supply chain problems. Being a part of digital transformation, hyperautomation helps enterprises adapt to changes rapidly with the best possible outcome.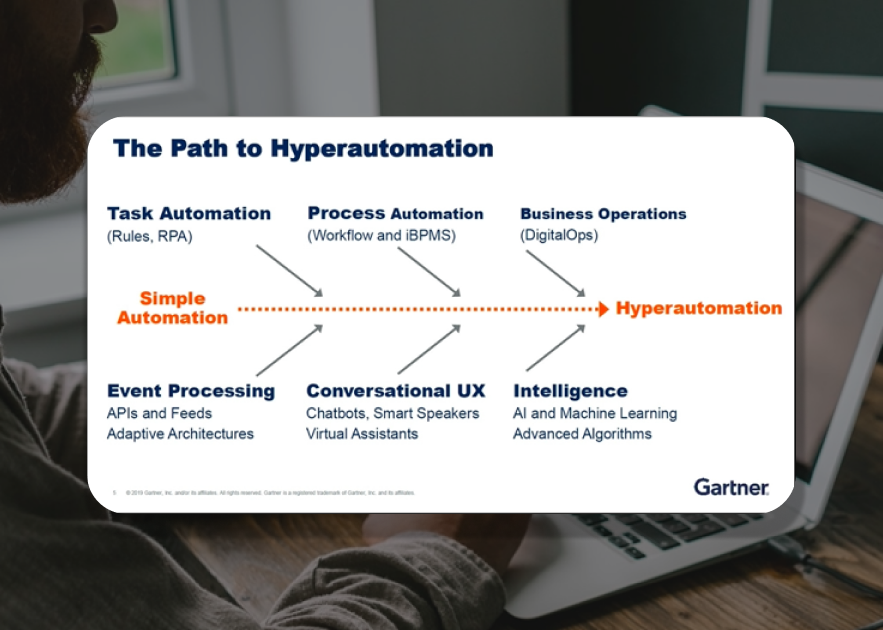 Defining the hyperatomation approach
Hyperautomation is a result-driven approach when a company automates as many possible processes and operations as possible. It involves the use of many different technologies: robotic process automation (RPA), artificial intelligence (AI), machine learning, business process management (BPM), low-code/no-code. In 2023 all these technologies are being introduced within digital transformation suites letting companies manage all processes and tools in a single environment. As a result hyperautomation became an integral part of a digital transformation, aligning RPA and AI to eliminate most of the manual business work. It gives flexibility in those areas where automation has never been possible before: processes that are not supported by any documentation or do not rely on any structured data.
Today's digital transformation platforms provide for the agile technologies incorporation, giving a possibility to benefit from more technologies on the go. They effectively merge different tools and software within one environment empowering business people with automation capabilities. Advanced hyperautomation software includes the following functionality:
Benefits of hyperautomation
Speed up projects completion
Introduction of automation to everyday work lets involve all the employees into the business transformation process converting their knowledge into workload reductive actions.
Introducing digital workspace
Aligning different technologies within one platform creates a single digital workspace to improve employees performance. It gives freedom to connect business applications, work with unstructured data, optimize processes and find new growth opportunities.
Artificial intelligence power
When RPA works together with AI this is where the hyperautomation magic happens. It lowers the volume of manual control and reduces costs, improves efficiency on the employee and enterprise level, as well as business compliance.
Many companies do not feel ready to start automation because of the lack of data or technical specialists. But here when the low-code BPMS comes to action. Though the market is overwhelmed with products providing low-code/no-code possibilities, most of them will have limited functionality for hyperautomation. The advanced digital transformation platforms consolidate RPA, employees, CRM, bots and data to empower citizen developers for real time changes

Real impact of the hyperautomation
Healthcare
Hyperautomation can benefit the healthcare sector by improving patient satisfaction, boosting revenue, and producing more precise data. Hyperautomation is used to automate client communications, invoicing cycles, and data collection. Additionally, it can deal with managing patient records, gathering information, and producing meaningful output for more precise plans for treatment.
Hyperautomation is frequently utilized to ensure regulatory compliance, which is essential for any healthcare organization. Additionally, it can be used to schedule personnel and other resources as well as manage drug inventories and procurement. Hyperautomation has countless applications in the healthcare sector, and its advantages can benefit the company, its partners, and its clients.
Finance and banking
The banking and finance sectors are under constant pressure to lower expenses, boost productivity, and offer a more accessible and individualized service quality.
Higher data reliability can be made available to staff members through hyperautomation, allowing them to use business process management (BPM) more successfully to give consumers information that helps them decide more effectively. Hyperautomation also offers the side efficiency needed to support online banking and financial apps' constant availability, as well as the necessary rules and reporting. Large amounts of data are used in the financial and banking industries, which can be difficult to handle. By streamlining the procedures required, hyperautomation enables faster, more reliable, and error-free processes.
Oil & Gas
Energy industry companies are now able to manage the unpredictability and fluctuation that are typical of the industry thanks to AI and ML algorithms. Enterprises aim to foresee, optimize strengths, and minimize weaknesses in sectors like electricity generation, distribution, and trading procedures by using the capabilities and performances of AI-based systems. The fact that enormous processing capacity is now affordable and can be used to speed up the training of deep learning algorithms is one of the main reasons AI has become so popular in the energy sector. The tremendous growth in data availability and storage capacity, which gives businesses superior algorithm training material, is another important factor. And when it comes to energy volume forecasting, power optimization, distribution process set up or upgrade, current risks evaluation, digital transformation platforms give their automation power.
How CMW Lab can help
CMW Lab provides its customer with digital transformation and business process management solutions that are gathered in a CMW Platform – a low-code digital transformation suite unleashing the process automation power for building innovative business apps. It gained the trust of multiple government agencies and companies such as Hertz, Aetna, CVS pharmacy. Supporting digital transformation for more than 10 years on the US market, CMW Lab products are rated #1 BPM Solutions by Gartner Peer Insights.
Our analysts team can help with business process mapping, finding the bottlenecks and improving business results without millions spending on solution deployment and management. CMW Platform guarantees security and flexibility no matter the vertical you represent and can be deployed in cloud or on-premise. Fully Open API lets create powerful integrations with RPA, AI tools for a real hyperautomation happening within one software.
---