Why Education Switching to SharePoint Alternatives
Thursday, April 19, 2018
While some may argue that MS SharePoint is not a cure-all solution and is perhaps being overused in many industries, countless education institutions around the world are reportedly using it for educational administration, document management, websites creation and collaboration.

But among this, there is still confusion regarding SharePoint's ability to address particular university's process management needs and meet budget restrictions, and a growing number of educational institutions are switching to SharePoint alternatives.
What is SharePoint Good and Bad for?
Universities and colleges are spending huge budgets to deploy and maintain SharePoint in the hopes that their employees will actually use it and everyone from educational administrators to students will get benefits. But the exact opposite seems to be true – very limited list of SharePoint features gain real traction within organization due to reasons that include frustrating interface, hours wasted digging around for files, daily task list and approval process status, and lack of flexibility.
According to
AIIM Research
, SharePoint is mostly used for file sharing and employee-facing website creation and very few organizations use such functionality as
workflow
management and business forms creation: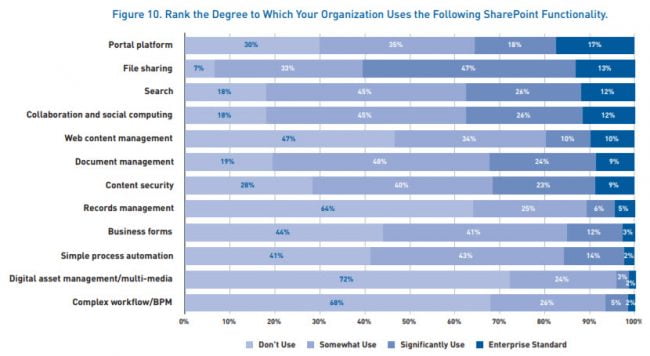 It is no wonder that educational organizations are seeking for SharePoint alternative able to centralize documents, digital assets, request capturing and processes, and deliver user-friendly interface empowering users to get benefit of all the offered functionality.
SharePoint Pain Points
People mention a huge amount of SharePoint weaknesses, but the whole list of cons reduces itself to the key pain points:
Interface is annoying
IT maintenance cost is too high
The situation with interface is pretty obvious – people find it difficult to find relevant information and stay in the loop on daily basis. As for maintenance, many SharePoint users report that several months into their contract, they're drowning in lack of IT resources to properly use their system and correct SharePoint workflows, and encounter high maintenance costs and efforts.
Here at Comindware, we developed and offer good alternative to SharePoint for those struggling to relying less on IT staff and enjoy both user-friendly interface and low maintenance cost. Meet
workflow automation solution for education
by Comindware.
SharePoint Alternative for Education
Comindware Tracker is a non-coding
workflow management
and tracking software that empowers non-technical users to automate educational administration processes and reduce dependency on IT resources. No more need to engage IT guys every time it is necessary to create new form or add new step in a SharePoint workflow.
Automate and adjust workflows in a snap, significantly accelerate processes like course development and handling financial aid, student housing and other requests, streamline cross-team collaboration and
document tracking
, cut down on administrative oversight and improve your bottom lines.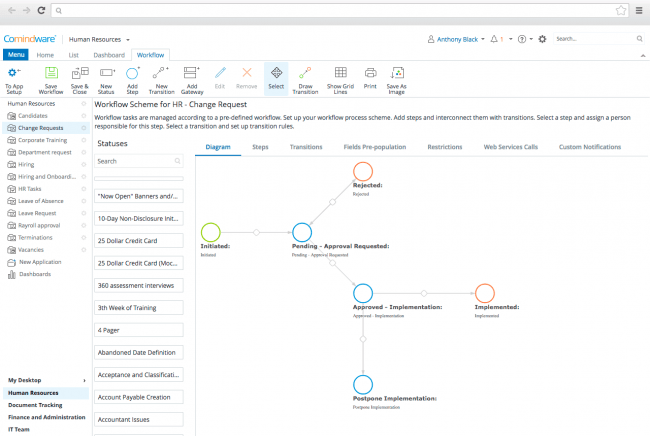 ---