What is Property Management Software – Benefits and Disadvantages?
Thursday, November 15, 2018
Advanced technologies change the way property managers' deal with different property-related management tasks. More and more satisfied property managers state that using
property management software
changed the way they work and perceive property management.
What is property management software
? Simply put, it is a program specially created for property managers with the aim of helping them manage all aspects of working with both residential and commercial properties.
Key property management functions are now sublimed in single software. Those include:
Trust accounting
Maintenance
Inspection
Communication
Reporting
Designing organizational changes.
A huge amount of property management solutions are available at the market and the same solution doesn't work for every business. CMW Lab provides a proven web-based platform —
CMW Tracker
— that enables landlords and real estate professionals to design their unique property management apps with drag-and-drop simplicity and get them running quickly. Read on for better idea about this solution and get 30-day trial to check it in action.

For who is the CMW Tracker designed?
When trying to fully answer the "
What is property management software
" question, it is important to understand who the CMW Tracker is designed for. CMW Tracker software is specially designed for managers of different types of properties, from single apartments to vast complexes and commercial facilities, as well as landlords and real estate professionals and managers. Small and middle-size business owners in the real-estate sector, as well as heads of department in large companies, will greatly benefit from this versatile property management software. CMW Lab offers a trial version upon request.
Advantages of using CMW Tracker property management software
Alike each tool, property management software has its advantages and disadvantages.
What is property management software
's greatest advantage? Hundreds of satisfied users state that automated property management workflows and the ability to track all trust account transactions are the greatest advantages of this software.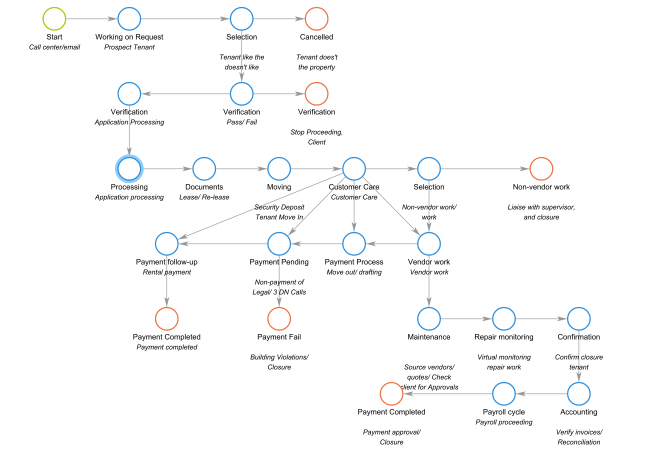 Workflow
management is a very versatile term and this software allows automated processing of rental applications, tenant screening, property inspection-related operations, lease operations and management of invoices, approvals management, preparing financial reports and other forms and documents. Here is an example of property management workflow designed in CMW Tracker: Furthermore, property management software will benefit your business as it:
Reduces add-ons
Saves time
Minimizes the administration costs
Represents a centralized, efficient document platform
Facilitates managing orders
Allows creating user-tailored property management forms
Saves money
Provides insight into daily managerial tasks
Provides real-time coordination between multiple users
Facilitates delegating work and keeping up with the deadlines
Notification and alert feature
Improves communication between the employees and colleagues by introducing task discussions
Facilitates the owner-tenant communication
Decreases chances of misunderstanding and disputes
Organizes your trust account audit data
Automatizes daily operational workflow
Automatizes finances and maintenance.
In addition, as this is a cloud-based software, it is also:
Cheaper than the server-based software
It provides automatic backups
It has increased flexibility and efficiency
Impeccable accessibility
Scalability
Remote-access option
Integration with other software and channel managers
Accessible from different devices.
Disadvantages of using a property management software
Disadvantages of property management software installation result from the inadequate use or picking the wrong system for your business. Those include:
Time-consuming if you choose the wrong system. Make sure you analyze your own business, the scope of the projects you lead and work on and decide on the type of the property management system which will suit you the best. If you are running a small business, choosing a simple, user-friendly interface PMS is the best option.
Might seem expensive for a small business. However, the system will pay off within less than a year as it will literally start making money for you. The investment is worth the expense in the long run.
Training (cost and time). This depends on the readiness of your staff to learn. However, the software is user-friendly and everyone should be able to learn how to use it within a week.
In conclusion, there are more pros than the cons. The disadvantages such as price and training should be observed as investments that will pay off within a short period of time. The advantages of the correct choice and use of property management software lead to more free time for other tasks, efficient task delegating, improved communication and organized documentation.
Automated workflows
and trust account transaction control are its strongest assets.
Try the risk-free trial version of the software and experience utmost flexibility while working from a café, a mountain house or your home while your personal CMW Tracker assistant does half of the work for you.
---