Flexible sales process
to address your ever changing needs
At a high-level the sales funnel workflow needed to sell a service or product are common for any organization and include prospecting, initial contact, qualifying, needs assessment, sales pitch or product demo, proposal, handling objections, closing and follow up. Meanwhile, when you dive into details, no one sales process is exactly the same in different companies. Even more, a well-established sales process can't stay the same and have to be continuously improved in order to stay competitive.
Workflow management software by CMW Lab is designed to empower non-technical executives to automate the entire sales process — starting with the prospecting, and initial contact to proposal, handling objections and closing — with drag and drop simplicity. It ensures that all sales are tracked in a single system with complete tracing of the processing history. It also eliminates manual data entry and time pressure from deadlines thanks to timely notifications, and enables central management of all related documents such as offers, contracts and the customer data.
Setup an automated sales funnel to transform the way the sales process is handled to improve customer journey and boost sales team productivity! The Best Business Process Management Software in 2023
CMW Platform is rated #1 BPM suite in 2023 to start your business automation.
Key sales process management features
Automated Sales Process
Have a new, automated sales process up and running within days, not months, and ensure your pipeline stays tight.
User-friendly workflow builder for easily workflow setup and maintenance
Any number of process steps, both as sequential and parallel
Timely and accurate lead routing and notifications
Escalations based on inactivity and due dates
Full automation and elimination of error-prone spreadsheets/email process tracking
Service catalog with configurable KPI's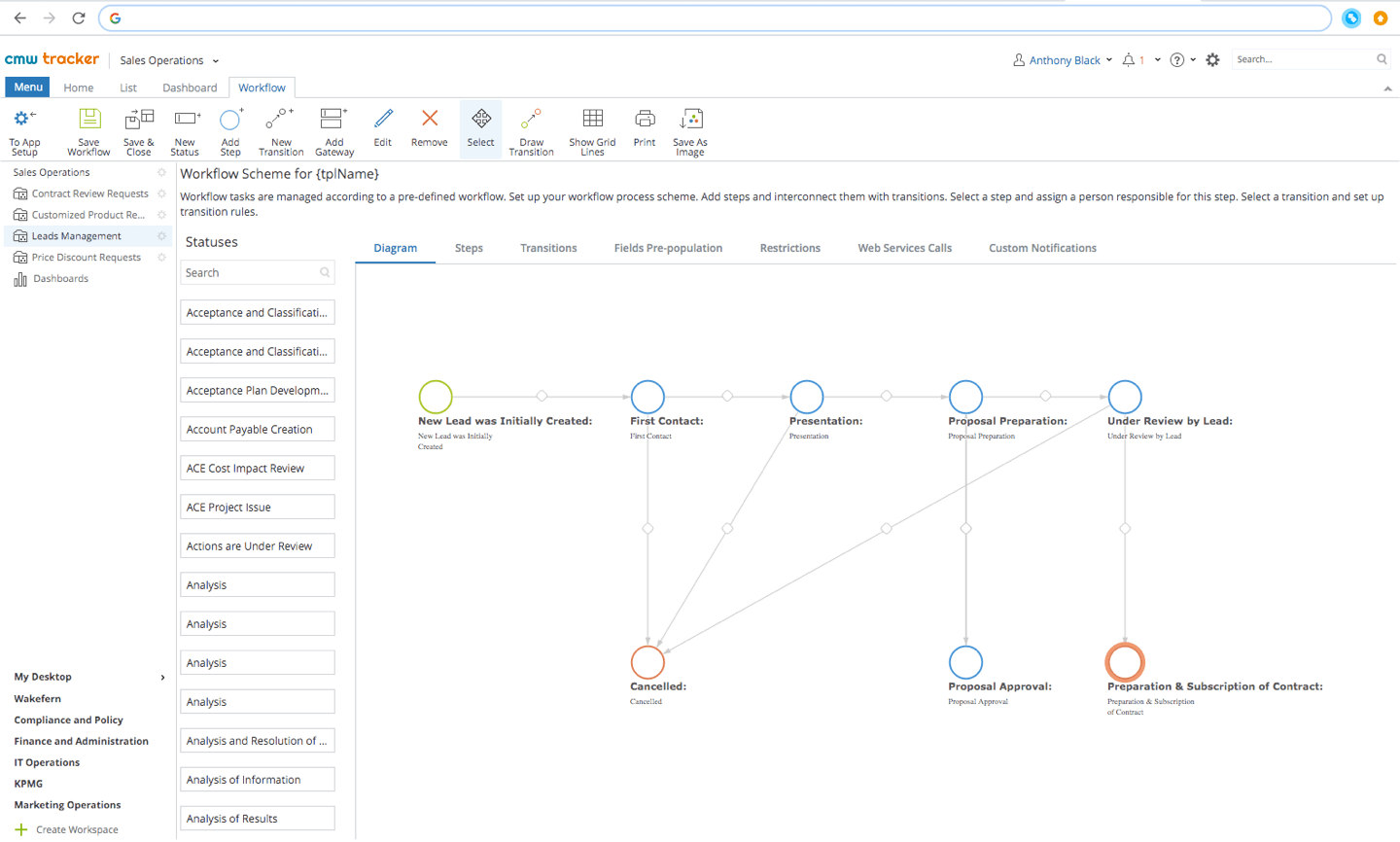 Sales Funnel Tracking and Reporting
Stop using Excel spreadsheets and get full visibility and real-time control over the sales process. Enjoy both execution and control of task flows within a single web-based sales process management tool.
Transparency of lead processing flows
Tailor-made sales funnel tracking dashboards
Notifications and reporting
Support for mobile platforms: execute your workflows on-the-go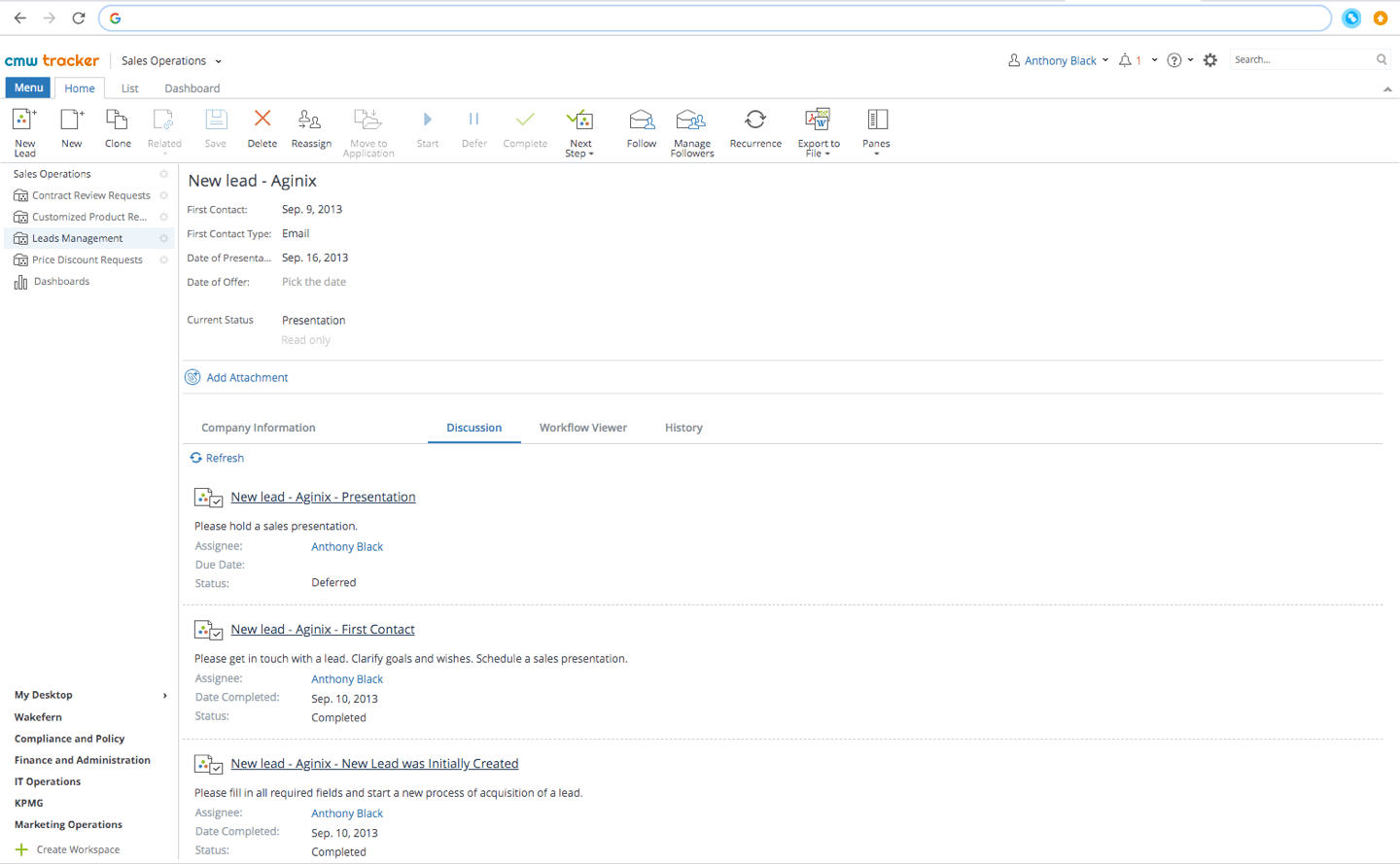 Team Communication and Collaboration
Improve your team efficiency and performance thanks to a unified working interface for the work group and built-in social collaboration tools.
Task and file commenting
Searchable discussions with reference to order
Document and knowledge sharing in work context
Ready-to-use contract approval workflow
Integration with MS Outlook, SharePoint and Active Directory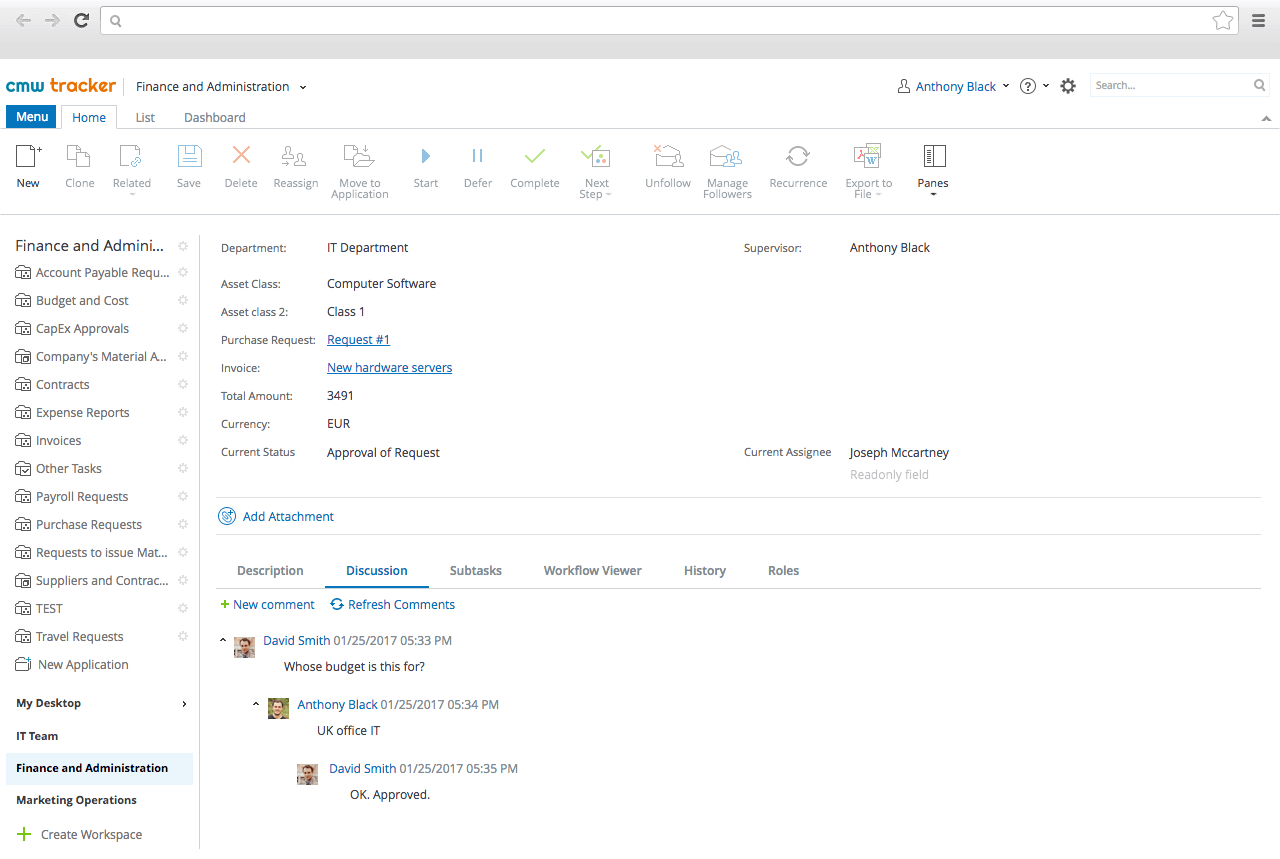 Additional Extensions To Connect
Get a sales process management tool that fits all your business requirements and simplify your work by integrating CMW Tracker with any API enabled web service.
OCR (Optical Character Recognition) services for scanning text documents and converting them into editable format
Automatic line matching services for capturing data from scanned documents and automatic form fields filling for further processing
eSignature services for proper signing digital documents
Financial management software by CMW Lab and 3rd-party alternatives
Outgoing email tracking services for attachment tracking, email open and click status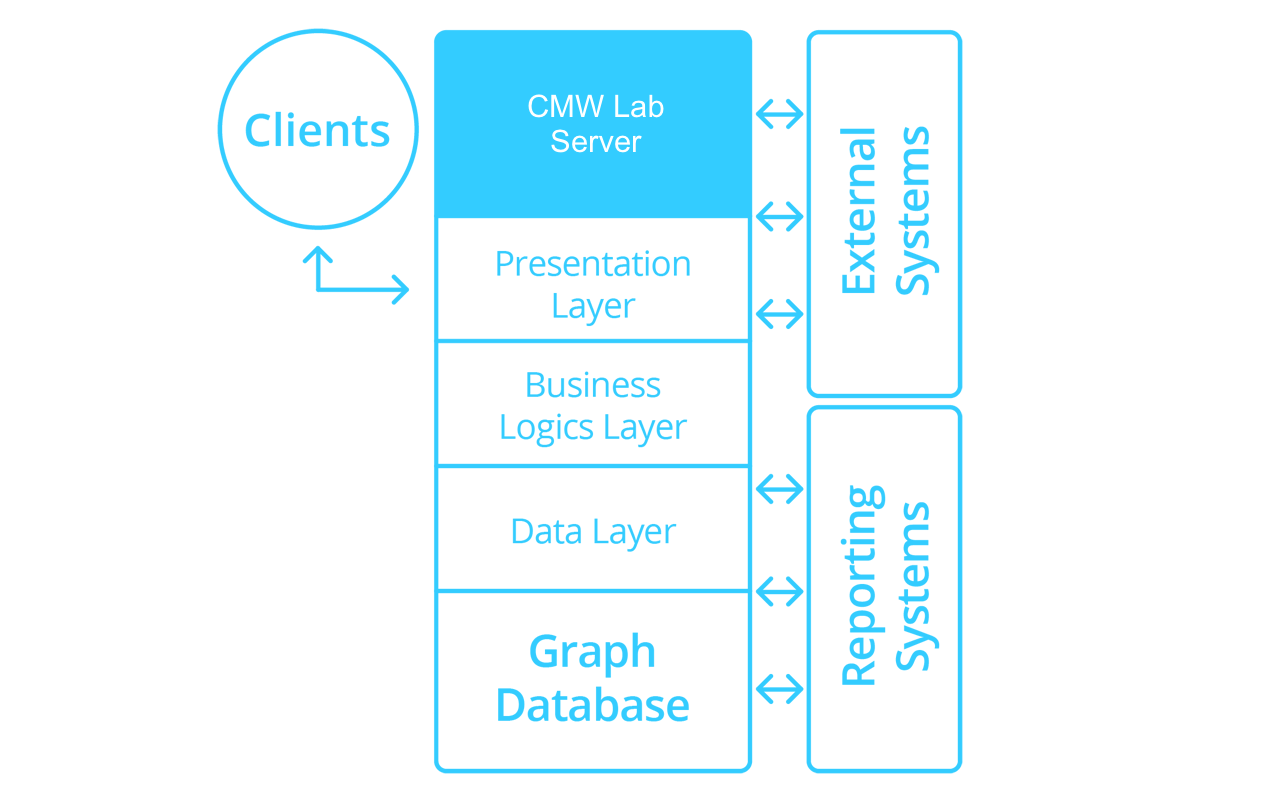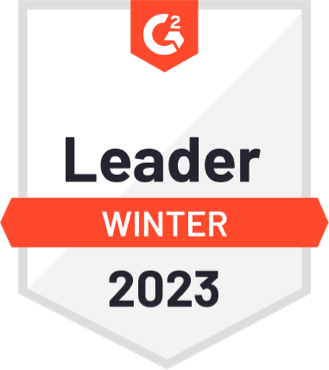 Powerful and easy Sales Process Management Software you were seeking. Risk-free trial!
What is a Sales Management Process?
It's important to keep in mind that there are various processes in sales, such as sales process, sales planning process, sales forecasting process, lead onboarding and data entry management process, sales order management process, budgeting, performance review or evaluation etc. 
Sales management process is an umbrella term which, in general, means the coordination of employees and resources for reaching the desired goals effectively. Diving in more details, an effective sales management process includes sales force development, and sales operations coordination, sales techniques implementation, and, doing so, ensure that a business constantly hits its sales targets. There are a number of common sales management methodologies and techniques, meanwhile, at the end of the day,each organization has unique sales management process steps on its way to success on the specific target market. 
When diving into sales automation it is vital to take into account that both leads and clients increasingly require service/product providers to switch for digital communication and quicker services, and businesses can no longer wait to invest in business process automation. It's time to start the ongoing digitalization process and make sure that technology you choose supports business innovation initiatives when being compatible with IT systems currently in use in a company.

In Cloud & On-premise
CMW Lab® provides both on-premise and in Cloud deployment options. Besides, flexible transition between cloud-based workflow solution and on-premise one can be rolled out if needed. Deployment options

API and Integrations
CMW Lab provides wide workflow integration capabilities.Take advantage of bidirectional integration scenarios, s support for both fine grained, and bulk export operations – all available through Web Services open API's and built-in enterprise services. Integration capabilities

Mobile
Run your workflow seamlessly on your desktop computer, iOS and Android phone or tablet and enjoy fully consistent user experience.