All-in-one real-estate processes and
game-changing flexibility
Whether you manage a single apartment complex or dozens of multifamily assets and commercial facilities, cloud-based property management software can significantly streamline tedious daily tasks and help with solving your operational challenges:
Filling vacancies on a timely basis
Maximizing the value of lease agreements
Handling both routine and emergency maintenance
Building and keeping up good relationships with tenants
Taking care of accounting and provide regular financial statements
Even more, commercial property managers are likely to require property management software to support asset management, including:
Reviewing and managing a real estate portfolio
Analyzing the investments performance
Identifying areas or opportunities for growing the portfolio
Capital projects management
CMW Lab provides a proven cloud-based platform that enables landlords and real estate professionals to design their unique property management apps with drag-and-drop simplicity and get them running quickly. Enjoy game-changing technology flexibility and automate rental applications processing, maintenance and financial management, and other operational workflows and ensure superior tenant or resident satisfaction, while keeping your real estate business protected from financial losses and legal liabilities and ready to address new business opportunities! The Best Business Process Management Software in 2023
CMW Platform is rated #1 BPM suite in 2023 to start your business automation.
Automated Property Management Workflows
Have automated workflows for every common task within your real estate business, up and running within days, with no IT resource required.
Drag-and-drop Workflow Builder available via any web browser
Any number of process steps, both as sequential and parallel
Transition and validation rules for automated workflows
Time- and condition-based notifications, assignment rules
On-the-fly changes to workflows by business users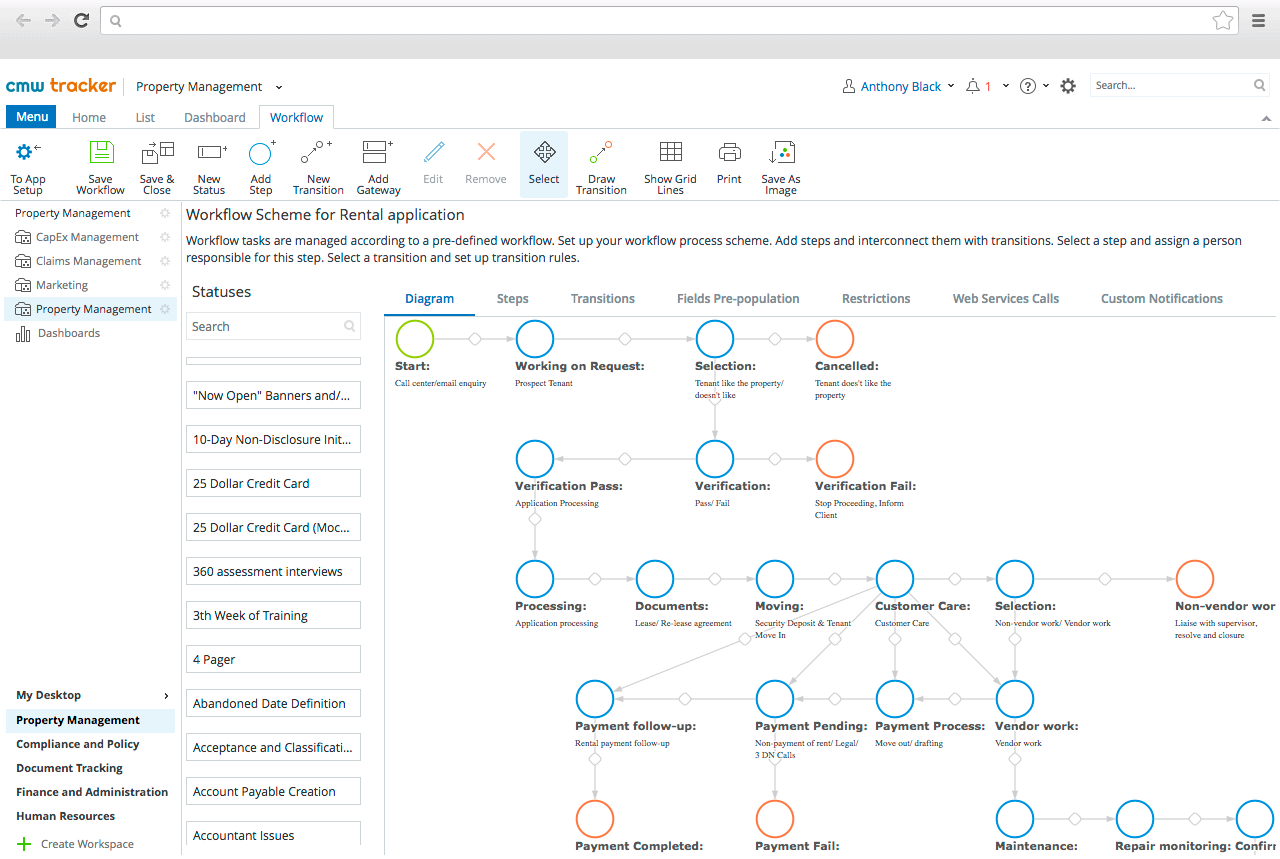 Customizable Property Management Forms
Easily design rental application, maintenance request and other property management forms and ensure that every request is handled properly:
Graphical Form Builder available via any web browser
Configurable tabs and data fields
Standardized and automated request processes
Changes to forms during workflow execution
Request data export to MS Word and MS Excel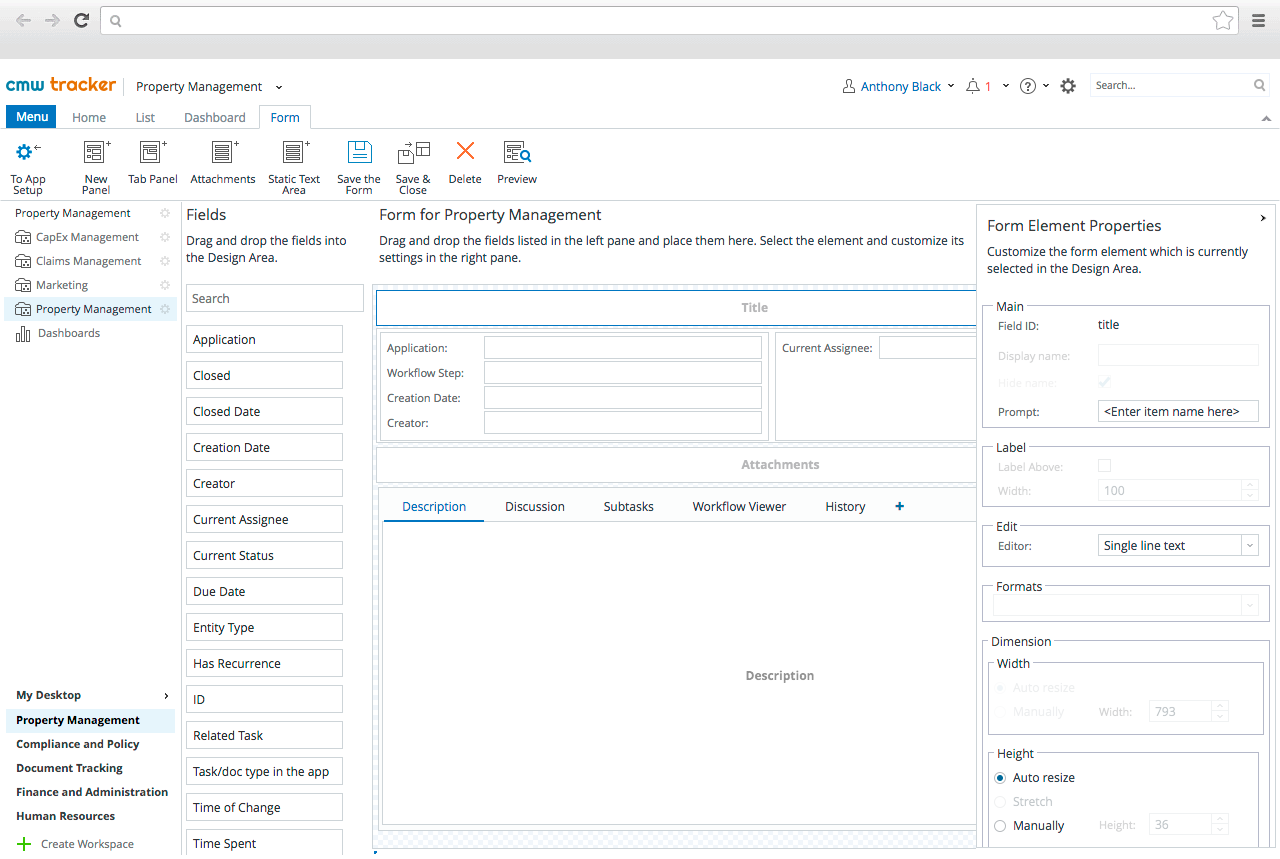 Maintenance Request Tracking
Manage work orders, assign them to vendors, automate recurring maintenance requests handling, improve response times and customer support service, and stay on top of the request tracking status in real time.
Configurable forms for maintenance request submission
Creating and updating requests by email or from mobile interface
Timely and accurate maintenance request routing and notifications
Automated handling of recurring maintenance requests
Maintenance task escalations based on inactivity and due dates
Vendor efficiency tracking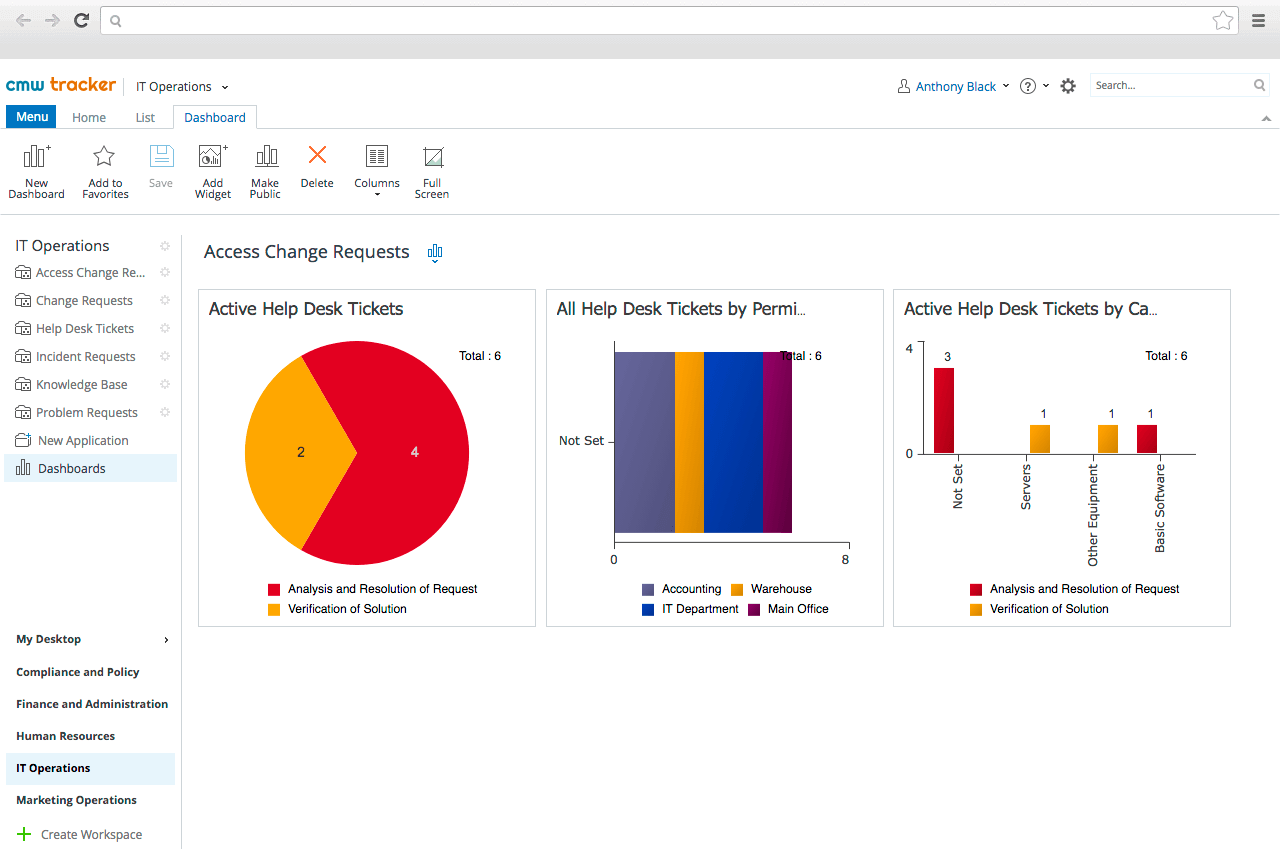 Process Transparency and Real-time Reporting
See the current status of requests and debt sent to collections and get easy-to-download reports through email.
Transparent view of the automated process and current status
Reports on efficiency of process overall or for individual requests
Clear, automatically-generated audit trail
Visualization for sophisticated property management process
API integration with 3-rd party accounting and ERP systems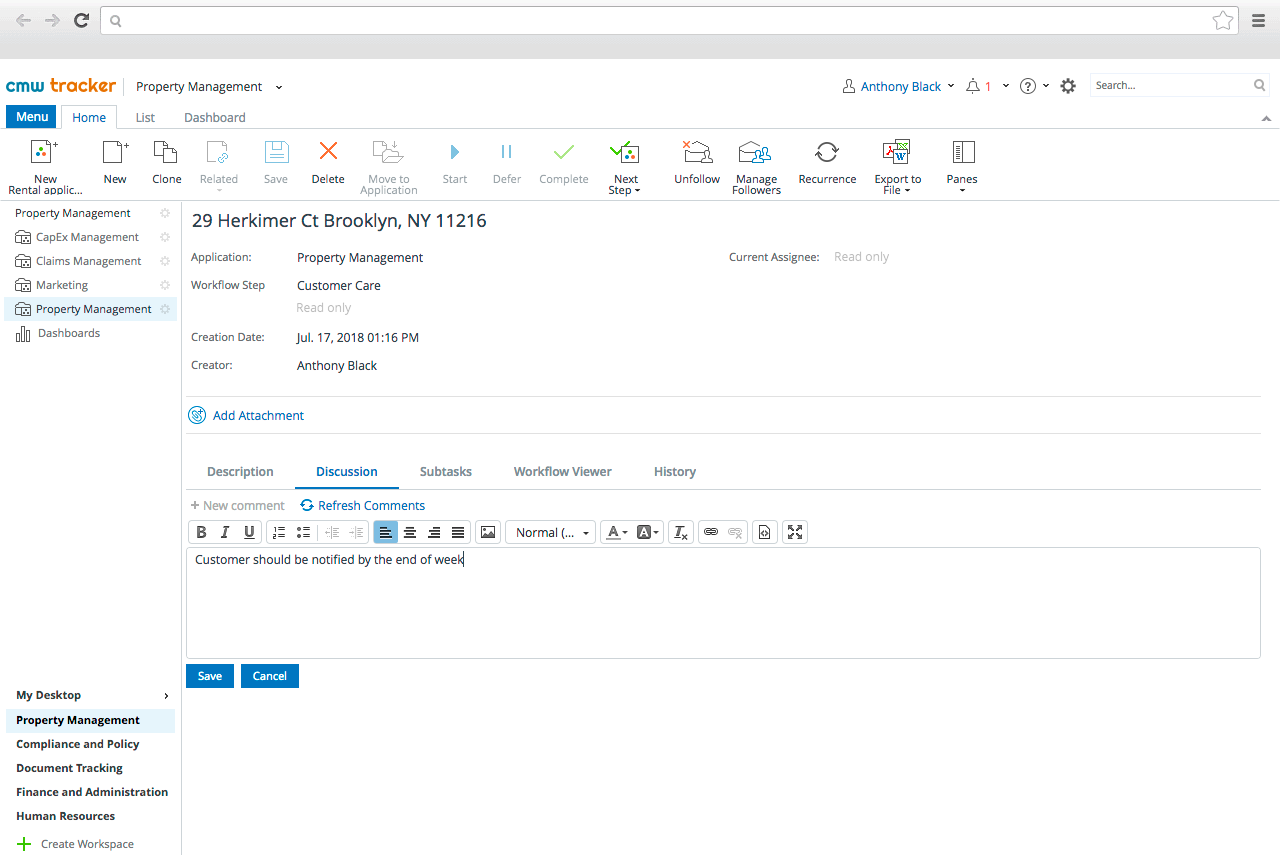 Effective Communication and Collaboration
Improve stakeholders communication and collaboration thanks to a single work environment for employees and tenants, automated property management workflows, documents, discussions and knowledge within a single property management software.
Task discussions allow getting rid of unstructured group emails and unrelated conversations common for instant messengers
Digital workspaces maximize access to all communications, tasks and data for all group members
Configurable notifications to ensure you and your team members and clients are up to date on activities and workflow statuses
Manager approval and request management by email or from mobile interface
Centralized data and document management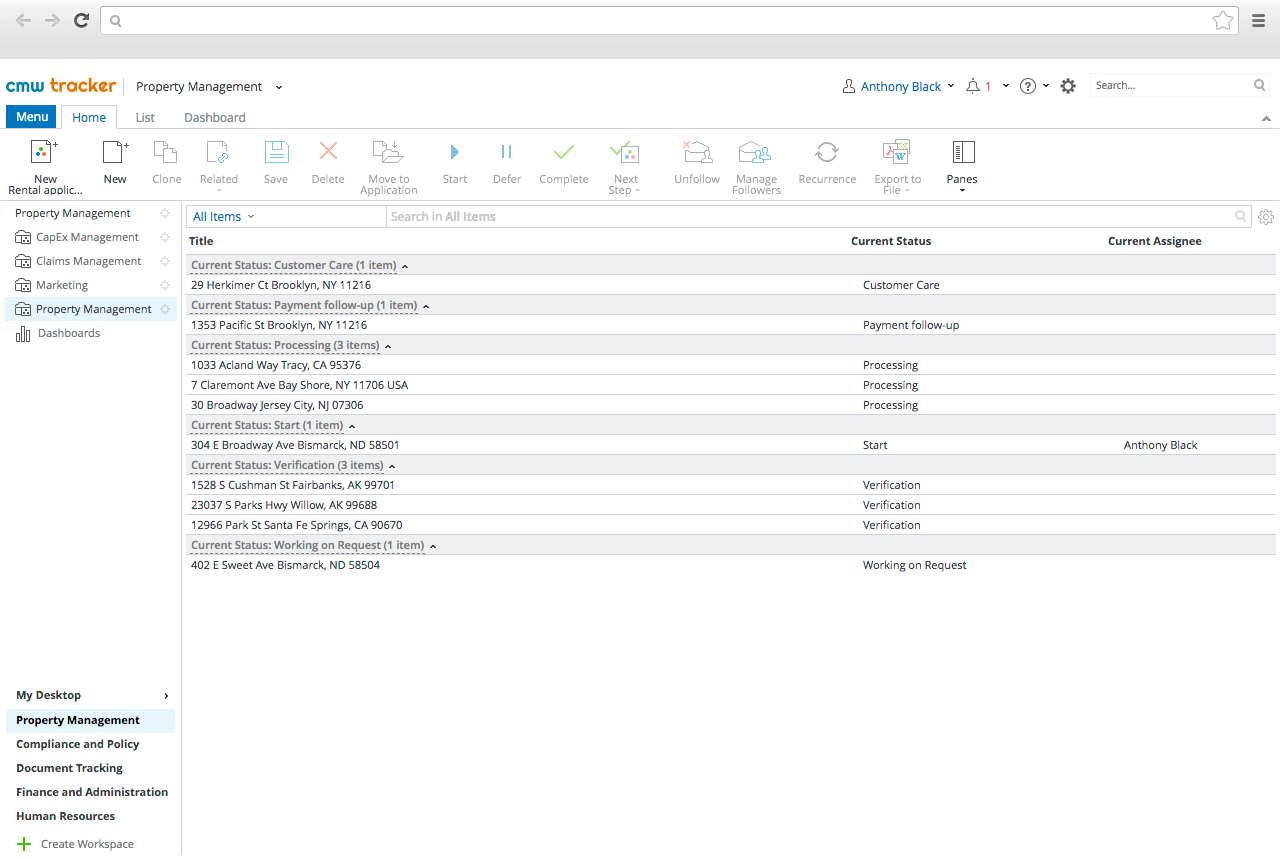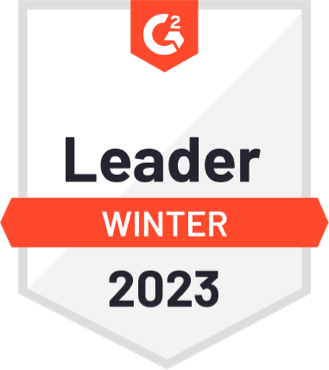 Powerful and easy Property Management Software you were seeking. Risk-free trial!
Workflows and Forms for Property Management Business
The day-to-day management of real estate properties requires automation. As with any software investment, when choosing property management software whether for small business or real estate corporation, it's important to have a clear objective and determine the exact workflows and forms needed. This is not an all-inclusive list of possible property management tasks for a rental management business or real estate company. However, the lists below can serve as a starting point for you to design workflows for important tasks involved in your property management business.
Here is a list of some of the property management workflows that some of both residential and commercial property management customers have automated in CMW Tracker:
Processing rental applications
Showing vacant properties to potential tenants
Qualifying rental applicants and tenant screening
Signing a lease
Invoice and other documents approval processes
Enforcing lease agreements
Preparing business financial reports
Conducting property inspections
Maintenance request processing
Coordinating property preparations and move outs
Property management forms CMW property management customers have designed:
Rental application form
Prospective owner questionnaire
Lease agreement form
Lease addendum form - pets, drug free, crime free, mold
Check-in form
Lease renewal form
Security deposit return form
Maintenance request form
Modification request form
No matter what number of units and what type of property you manage, automated workflow processes are a valuable business asset for any property management company committed to client satisfaction and business success. Make sure that the vendor you choose delivers high-quality customer service and property management software offers a full set of features including management tools for property, requests, tasks, workflows, documents; collaboration and reporting options. Take control of your real estate portfolio and business, and succeed.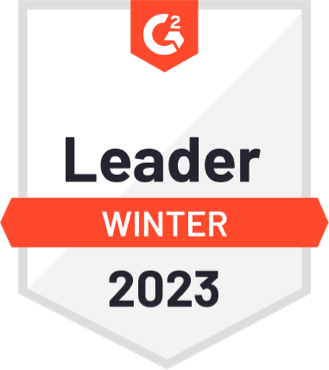 Powerful and easy Property Management Software you were seeking. Risk-free trial!

In Cloud & On-premise
CMW Lab® provides both on-premise and in Cloud deployment options. Besides, flexible transition between cloud-based workflow solution and on-premise one can be rolled out if needed. Deployment options

API and Integrations
CMW Lab provides wide workflow integration capabilities.Take advantage of bidirectional integration scenarios, s support for both fine grained, and bulk export operations – all available through Web Services open API's and built-in enterprise services. Integration capabilities

Mobile
Run your workflow seamlessly on your desktop computer, iOS and Android phone or tablet and enjoy fully consistent user experience.