Reliable technology for continuous compliance
Regardless of industry, it is necessary to ensure that your policies are compliant to regulations or industry standards and that those policies are followed on a constant basis. Compliance burden is high in standards-driven industries like education, legal, finance and healthcare. The regulatory burdens are lower in retail, professional services and other industries, but it is still vital to ensure business operations and workplaces are compliant with the latest rules and company's policies.
Workflow management software by CMW Lab is designed to empower non-technical executives for full control over ongoing compliance initiatives. Compliance and policy management solution can be configured to how your organization works and allows changing the process or improving it any time. Easily create policy compliant processes, set up necessary business rules, store and manage related documents as well as collaborate across the involved departments or business divisions, and ensure continuous compliance. The Best Business Process Management Software in 2023
CMW Platform is rated #1 BPM suite in 2023 to start your business automation.
Key compliance management features
Team Communication and Collaboration
Improve team communication and collaboration thanks to a single work environment for employees, automated workflows, documents and knowledge.
Manager approval and task completion by email or from mobile interface
Easy attachment of supporting documents
Centralized data and document management
Out-of-band integration with Outlook, SharePoint and Active Directory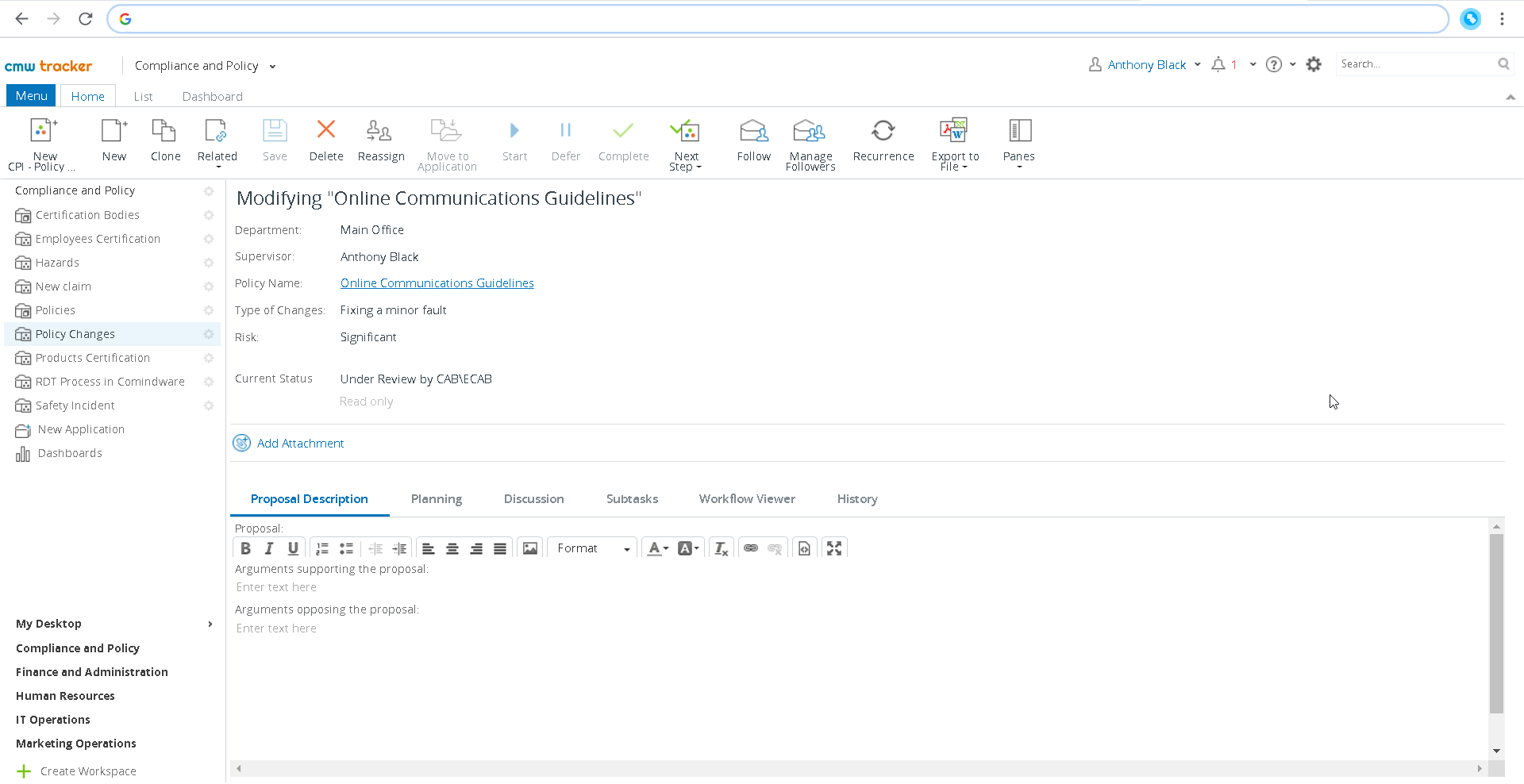 Workflow Transparency and Compliance
Transparency of task flows thanks to extended reporting and notifications
Reports on compliance of processes overall or for individual ones
Easy compliance tracking
Clear, automatically-generated audit trail
Cross-compatibility with 3rd party regulatory compliance management software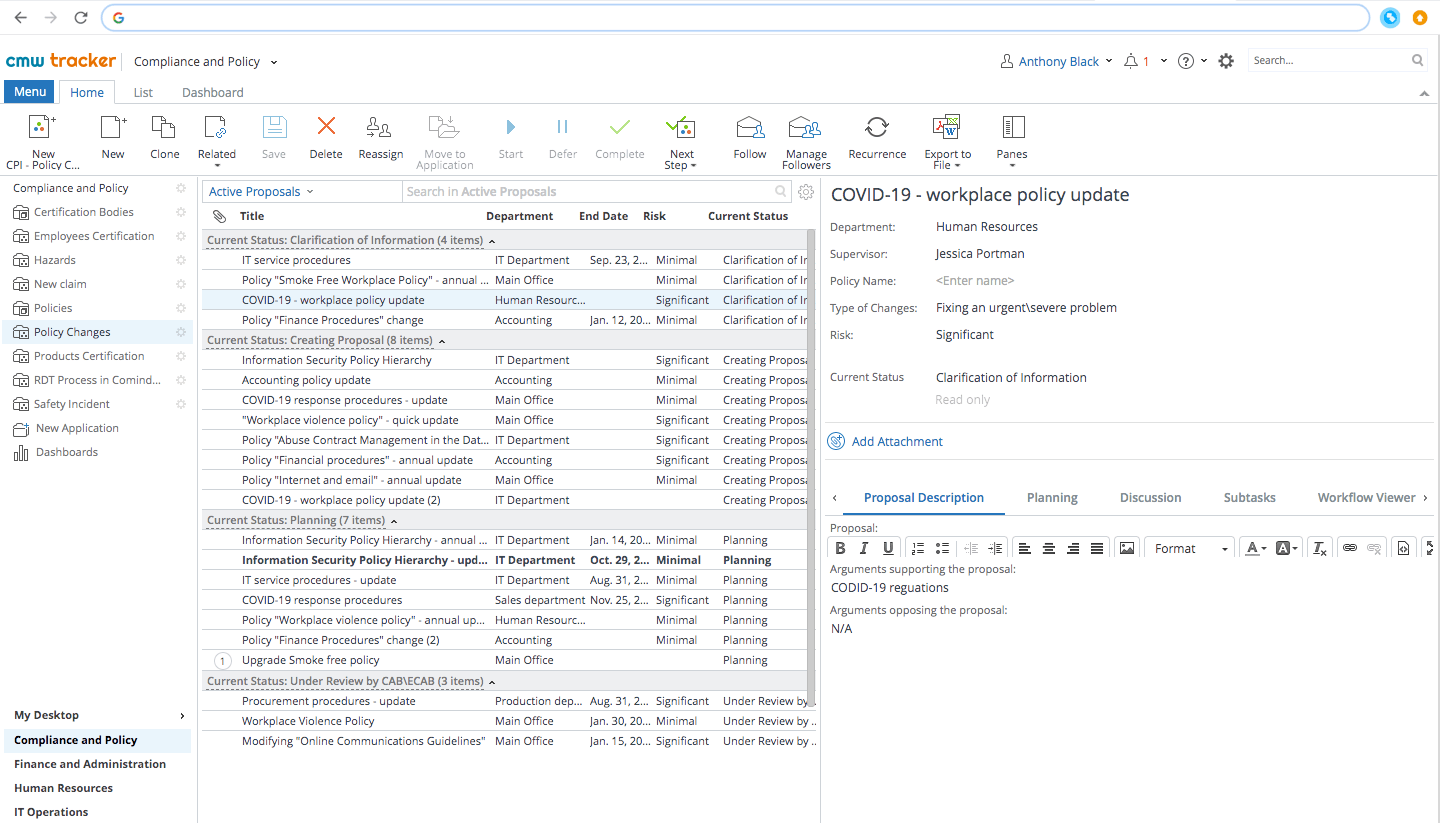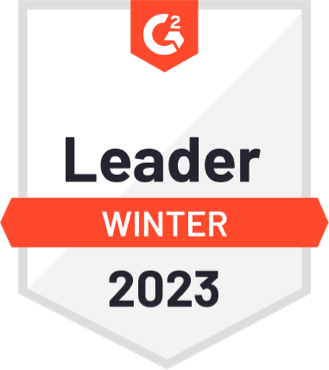 Powerful and easy workflow automation tool you were seeking. Risk-free trial!
Benefits of Policy Compliance Tracking Software
A robust set of corporate policies and detailed procedures plays a crucial role in organizational effectiveness and success. When addressing the challenges of keeping policies up-to-date, trackable and accessible, businesses consider using policy document management solutions and check whether expected benefits worth of efforts and money. After all, how does a policy management solution benefit your organization?
In a nutshell, it increases trust and efficiency thanks to proper hosting, managing, paperless distributing, and tracking policy and procedure content and ensuring that corporate workflows are compliant with policies.
Other benefits of policy compliance tracking software:
Central location for all the corporate policies and procedures
Improved policy collaboration
Document control and security
Robust version controls
Tracking compliance
A lot of organizations all over the world use CMW Tracker for addressing their policy and compliance management needs. This workflow-based tool helps compliance officers to create policies, get them reviewed and approved, make policies available to staff, track that employees have received copies, ensure that workflows are compliant with policies and minimize organizational risks. Organizations give big points to CMW Tracker for its scalability - you can start from using it for policy tracking and then go beyond and use the same software for HR workflows management, document tracking, CapEx approval management, financial management and more.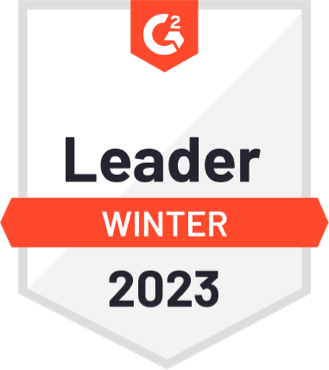 Get advantage of a powerful Corporate Policy Management Software by CMW Lab. Risk-free trial!

In Cloud & On-premise
CMW Lab® provides both on-premise and in Cloud deployment options. Besides, flexible transition between cloud-based workflow solution and on-premise one can be rolled out if needed. Deployment options

API and Integrations
CMW Lab provides wide workflow integration capabilities.Take advantage of bidirectional integration scenarios, s support for both fine grained, and bulk export operations – all available through Web Services open API's and built-in enterprise services. Integration capabilities

Mobile
Run your workflow seamlessly on your desktop computer, iOS and Android phone or tablet and enjoy fully consistent user experience.