How to Boost Lead Generation with Workflow Software
Thursday, August 12, 2021
No matter what your business, marketing, and lead generation are incredibly important. It doesn't matter how great or innovative your product or service is if nobody knows you are there. It is with marketing that word of our brand reaches the ears and eyes of those who may have an interest in what you have to offer.
Just think about the world around us. We are advertised pretty much everywhere we turn. On our phones, visiting a website, or driving down the highway, we are bombarded with advertisements and other marketing messages.
With this inundation in mind, it is also important to learn how to use your marketing skills to stand apart from the proverbial crowd and build branding equity. You have to make people actually want to see what you are all about via your marketing policy.
The Value of Data
There are so many aspects of our business operations that are tightly managed. We have detailed processes and likely use a wide range of technologies to manage and streamline these aspects of our business. But we often fail to do this with our marketing campaign and this is a mistake.
The data we can glean from metrics of those who visit our website and the demographics of those who have shown interest in our product or service is invaluable to deciding where to put your marketing dollars. Especially if these dollars are limited, you want to make the best use of them.
Using the data, you gather to target your marketing is a key.
The Marketing Workflow
Many of us are familiar with the concept of a workflow. This is a step-by-step breakdown of a given task. However, most of us don't associate these techniques with marketing and it can be really valuable.
Low-code software like Comindware's workflow management software makes it easy to create customized workflows to help better manage your marketing campaign. Through this software, you can use the data you gather to make smarter marketing decisions about when, where, and how you reach out to potential customers.v
While some aspects of marketing may require creative pursuits like writing ad copy, much of it can be broken down into steps like a traditional work process. Some of this software will allow you to automate certain parts of your marketing cycle, such as when new content is submitted or uploaded.

Boosting Leads Through Efficiency
The use of workflow software to enhance your marketing campaign and improve your lead generation capabilities can have a dramatic impact on the amount of business you get. Some suites of software have powerful AI tools that can help you generate leads and manage a database of consumer information with ease.
With this software, you can automate many aspects of your social media, posting of articles and other content, and the unveiling of new marketing campaigns. Having this automated will help ensure that you have timely and meaningful engagement with potential customers.
Workflow management software can make it easier for relevant parties to access marketing data and the ability to communicate with other parties, such as content creators and the like.
The ability for all relevant parties to access the data and workflow processes and share content and other relevant information across the marketing team.
These suites of software can be tailored to the exact needs of your company and a given marketing campaign. Making use of these tools in your marketing campaign might not be an obvious thing to do, but it can really streamline your marketing campaign and also help you to get your product or service in front of the people who are most interested in your products or services.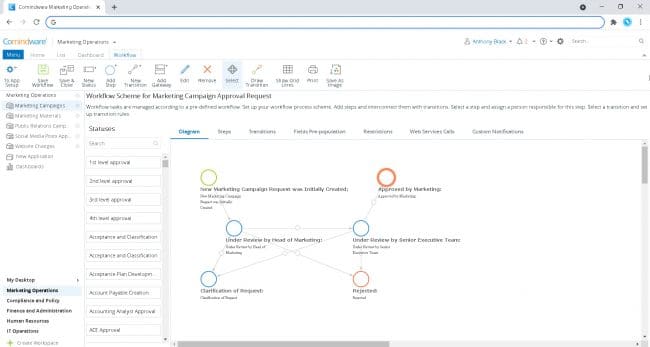 Modern workflow management software makes it easy to build and automate your marketing workflows and ensure that every team member is engaged properly
In Closing
Marketing is something that we fail to properly address at our business peril. You can have the most innovative and cutting-edge product or service in the world – far better than any competition – and your business will still fail if nobody knows your name. You have to utilize marketing techniques to get your product or service in front of those who may have an interest in it.
No matter how large or small your business is, you can benefit from a solid marketing camping and benefit even more from utilizing workflow software in the said marketing plan. Low-code workflow management software makes it easy to automate certain elements of your marketing campaign, such as automating social media posting. Workflows help bring all information into a single space that all relevant parties can share information, look at data, and communicate with ease.
---