Approval Process Automation and What It Can Mean for Your Business
Monday, August 12, 2013
When budgeting for household expenses, I make sure to allocate an amount for unexpected expenses – school projects, allergy medication and leaking roof, among others. If a high-ticket purchase needs to be accommodated, the husband and I sit down to talk about it.

The corporate approval process follows the same principle. The execution, however, isn't always that simple. If a department decides it needs additional computers, desks, a brand-new air cooling system or a stack of shelves to house its supplies, pleading eyes and/or phrases like "Please, Mama!" aren't going to make the dollars appear.
The approval process has to undergo, well, a process, a systemized series of steps until a verdict is reached.
The approval process explained
The requestor
The approval process generally starts with a requestor. The requestor, depending on your protocols, can be anybody. It can be a staff with personal leave requests, the IT department needing additional infrastructure, the maintenance department with their cleaning supplies, extra security personnel to man the graveyard shift – the list can go on and on.
The approving committee
And then there's the approving committee that determines whether or not a request is valid based on the files and documentation submitted along with the request, and if the company is equipped, financially or otherwise, to grant the request. The approving committee is comprised mostly of senior officers, top-level management and other authorized personnel.
The diverse nature of approval processes
The approval process isn't exclusive to approvals involving money, at least not right off the bat. Some requests, like additional personnel or move to another location, can eventually mean expenses for the company, unless other mitigating actions are devised. There are also requests that are urgent, those that when not carried out on time may cost the company a huge contract or sales prospect. Or worse, force the business to face sanctions and pay penalties.
Comindware and the approval process

Because the approval process is part and parcel of a company's day-to-day operations, regardless of scale and size, utilizing an automation tool to streamline and speed it up is a wise investment. Comindware Tracker's pre-built templates cover common approval process workflows such as the following:
Employee or regulatory certification
Some job posts involve certification requirements. Lean Six Sigma, for example, may be required of management trainees before they assume management duties, particularly in businesses that foster the "growth from within" concept. This concept means grooming a company's employees to handle leadership roles as it expands.
Industries like biotech undergo rigorous regulatory approval processes before they're allowed to mass market their products. If the company has several products requiring certification, automating the workflow can mean time and manpower efficiency, and data accuracy.
Expense approval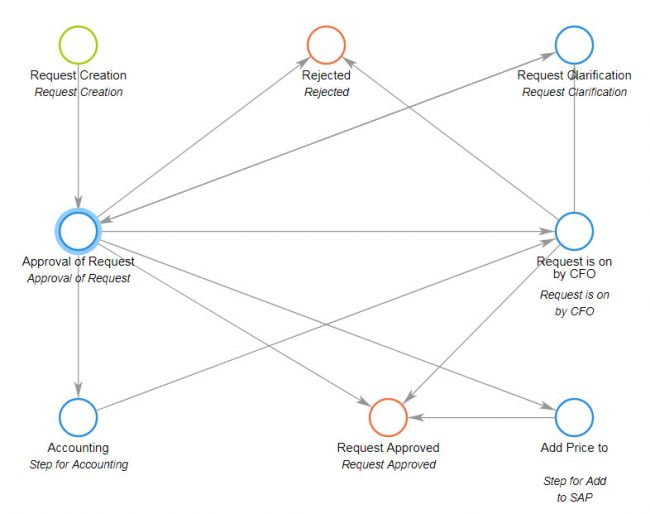 The same way a household budget helps with a family's financial health, a corporate budget is the yardstick by which a company's spending power is measured. That's not to stay there won't be any allowances, but the allowances will have to coincide with the company's overall financial goals.
Leave/time-off requests
A request for time-off and/or personal leaves, while a basic right granted to every employee, needs to undergo an approval workflow process to ensure that workforce and service level requirements at any given time are met.
An automated HR approval process workflow eliminates unnecessary back-and-forth between HR and employees, as redundant requests are filtered, confirmation receipts are automatically sent out and employee leave credits are tracked, one task that HR would no longer manually track come year-end, or whenever an audit is mandated.
Logistical considerations
Let's say a department needs to transfer to another location, either because of structural damage to its side of the building or the department has grown in size. The approval committee will first have to determine the validity and urgency of the request, and if the company is able to afford the ensuing expenses.
This request may need to involve different departments – the requesting department, Finance and Logistics, being the most obvious candidates. Automating the process approval workflow and at the same time deploying it in the cloud will result in a timelier resolution, especially if a face-to-face among the parties involved is unlikely.
Supplies requests
The world is moving towards a paperless environment. Meanwhile, until the most fitting paperless alternatives are devised, there is still the need for stationery, corporate envelopes, manila files and folders, and the like. And sometimes, there will be requests for things like corporate giveaways for, say, a sponsorship event or brand awareness drive, T-shirts, team uniforms and other supplies for a community sportsfest, and so on.
Conclusion
"The world is moving towards a paperless environment."
Time and money are resources that don't always come in abundance. Where money is involved, prudent allocation is a must to maintain a healthy bottom line. Automating your approval processes affords your approving committee the chance to thoroughly study each request despite a limited time window.
Similarly, it saves you, your employees and your company a lot of time, time better spent executing more productive tasks instead of constant follow-ups and email exchanges, especially when a confirmation number is all that's needed.
---