Quick Vacation/Sick Leave Requests Template Fill-out
Friday, March 15, 2019
Automated online forms for basic HR processes remove headache from the HR department and dramatically improves effectivity of internal human interactions. When ready to get online forms working, you are likely to get started by choosing proper templates. The short list looks like this:

After choosing the proper templates, it is useful to make sure that you can easily customize them and extend with automated workflow. Read ahead for step by step instruction for creating your own electronic vacation request form and get it work. You will definitely be empowered to do the same with other necessary forms.
The template of the vacation or sick leave request form is given below along with the request approval process diagram. You can take it and use it manually or, in case you have many employees, you can make it work with our HR software solution which does most of the work for you and saves your time.
Sick Leave Vacation Day-off Request Form Template
Here is how typical absence or employee vacation request form looks like: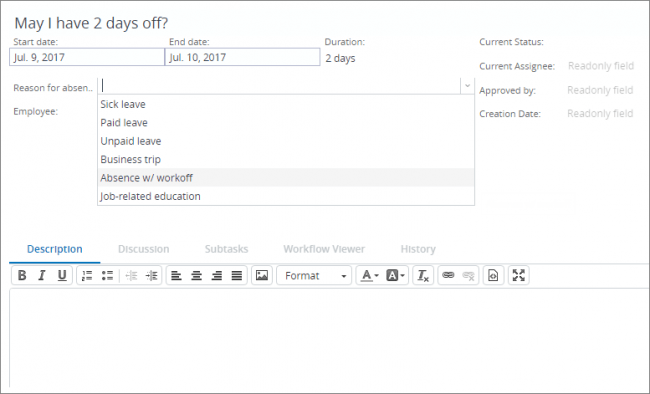 You can add other fields in the holiday request form for employees or delete unnecessary ones with drag-n-drop simplicity in Comindware Tracker. Meanwhile the basic day-off request form includes the following frields:
The employee name
Date when the request was created
Some sort of calendar area to indicate days requested
Description area for notes (indicate circumstances, if any special)
Blank areas for the employee and the supervisor to sign in
Check boxes for approvaldisapproval
Blank text area for an explanation in case of disapproval
"Did you know that HR operations tracking software can help you out and save your time with routine tasks?"
If you are reading this text then, let me guess it right, you do the HR paperwork manually. Did you know that HR tracking software can help you out and save your time with routine tasks?
Probably, you didn't consider using it because you thought it's costly or hard to learn. Not at all.
The vacation day-off sick leave form template you see above is already set up in Comindware Tracker HR Solution and it's ready to use.
Just imagine: instead of printing out papers, using day off request email templates, filling out forms and signing them, you can just hit a button and initiate the vacation, day-off, sick leave process for any of your employees. Oh wait… you don't even have to do that: the employee who wants to obtain, for example, a vacation hits the button online, and thus starts the perfectly organized HR process for you. All records are kept under strict business rules so the initiation of the process and the request approval are recorded online.
"…the request goes to the right person in the right form, and the request can't be missed or left aside…"

When the requester has filled out the online form and hit completed, you get a new task on your to-do list along with an email alert of it. This way, mistakes and misunderstandings are avoided from the beginning: the request goes to the right person in the right form, and the request can't be missed or left aside.
Comindware HR Solution guides you and others through the whole process until the request is approved and completed. The requester doesn't have to bother you with emails or visits, asking if the request has been processed or not: they along with their manager and yourself are able to see the request status live and online. Do you still use paper-based vacation tracking templates? Comindware Tracker makes vacation tracking easier with personal web-based dashboards.
No man is an island, and you don't work alone. Comindware Tracker helps you by sending notifications to other managers when they need to take action. You can also interact with them through the comment threads.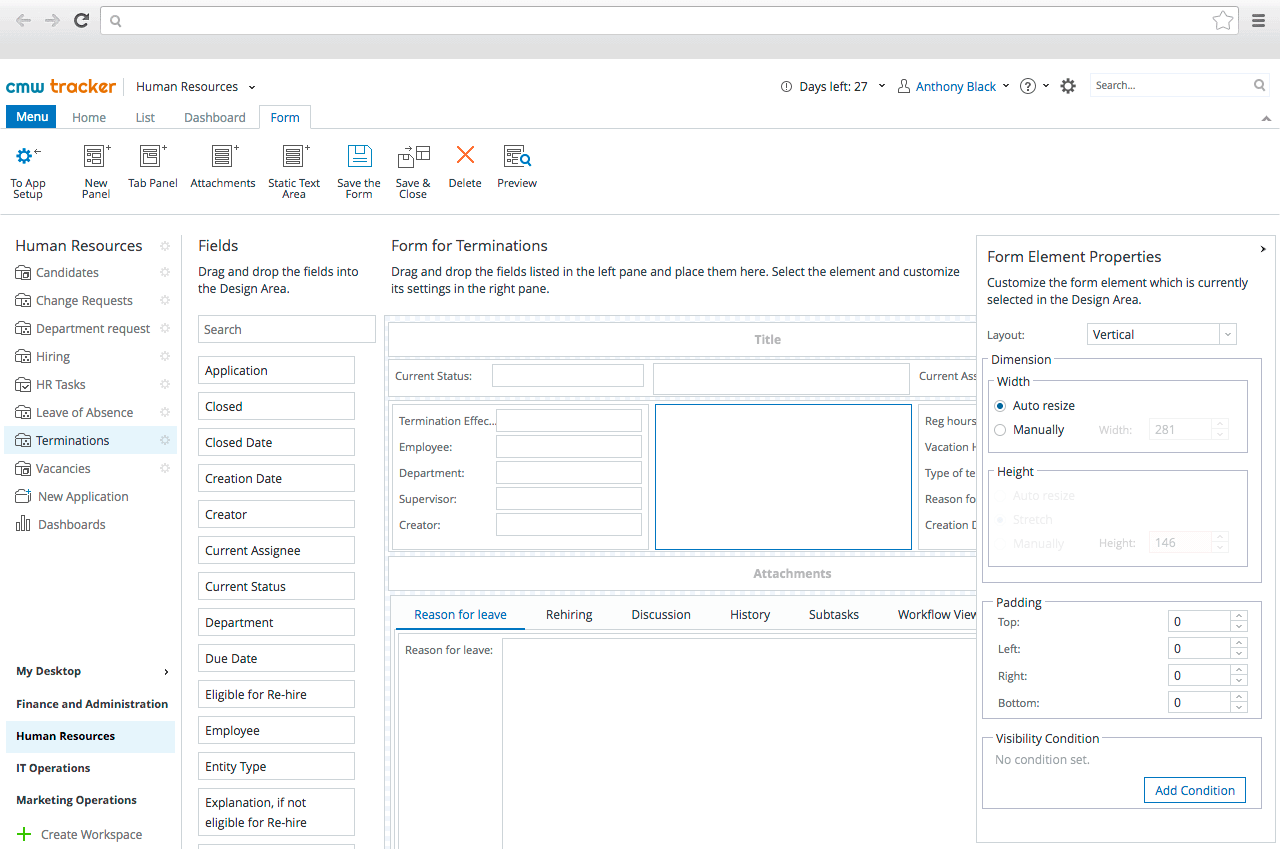 Vocation or sick sick leave requests are just a sliver of the full scope HR department work. Comindware Tracker allows creating any type of online forms with drag and drop simplicity right from a web-based form graphic editor:
Any additional software or settings are not needed with the Cloud solution: enter it through your browser, with your personal credentials, and immerse yourself in what we've tried to construct as an almost ideal work environment for an HR manager. And you're just a click away from it: hit the button below and it will take you to the pricing page (the price is really low for Cloud!). Then I suggest you to try the solution for 30 days for free.
---