Workflow Notifications to Empower Simple Process
Tuesday, August 24, 2021
No matter how well we streamline our business processes and rely on technology and automation, there is still a huge reliance on human power and ingenuity. Managing this human power, especially if employees work large distances from one another, has become a bigger problem.
More work is done remotely than ever before. More offices are spread out throughout different parts of the world. However, despite these challenges and distances, employees and other parties need to be able to communicate and have an effective and reliable means to reach relevant parties.
Some of the most common ways we communicate are through email or text messages. Some of the communication we receive is important and needs a timely response, whereas other communications can wait. But how do we tell the difference without getting a notification each and every time we receive a communication?
Workflow Notifications
This is why businesses are turning to workflow notifications. Using workflow management software like Comindware's offerings allows you to create a set of notifications that alert the relevant party in the event that a workflow inbox message is received. Low-code software solutions like Comindware's workflow management software can easily be utilized to create custom notifications that meet the exacting needs of each project or process.

A workflow inbox is one that is designed for your important communications that require a timely response. This will help ensure that you get a notification when you get a communication you need to quickly respond to, but not when you get something in your junk email box or a text from the kids.
Different Notifications
Most technology allows for notifications whether you are on a smartphone, a desktop computer, a laptop, or a tablet. Using workflow software to create a special notifications element can dramatically reduce the amount of time it takes employees to respond to important communication.
This is for more than just email notifications. With a well-designed workflow inbox, you can choose to be alerted every time someone sends you a file, makes a comment on a file, has a document that needs approval or has some need for correspondence. It ensures that your employees only receive notifications for important communications, document shares, or other office needs. It reduces the amount of time spent attending to communications that can wait and that are not as important as more time-sensitive ones.
Benefits of a Workflow Inbox
It should be easy to see how beneficial an automated workflow inbox can be for a business, regardless of size. With these notifications, employees can receive a notification through email or on their device that alerts them to something that needs their attention.
Low-code software makes it easy to customize your inbox and notifications to the exact needs of your project or employees. The ability to send these notifications through email or SMS makes it easier to get in touch with employees traveling or on the road.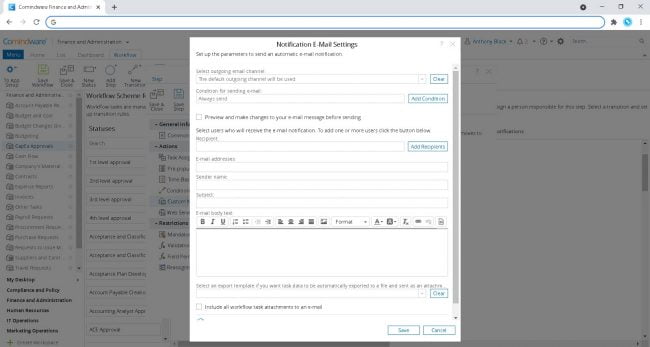 You can easily attach documents using email or SMS, which reduces the amount of time it takes to share relevant information. You can submit approval or rejection for a process with a simple response. It doesn't require you to log into your office software to make your decision. This can save a ton of time.
In Closing
There are a lot of things that technology can replace human labor, but there is still a need for human communication and input in various steps of a business process, no matter how advanced the process may be. Employees get tons of communications throughout the day. Some of these communications are time-sensitive, whereas others are simply junk or can at least wait until a later time.
But how do employees differentiate between communications and requests that need a timely response and those that can wait? This is where workflow notifications can come in really handy. Low-code workflow software makes it easy to create custom notifications for all or relevant persons in your office.
This notification system allows relevant employees to receive an email alert or SMS notification when a document, comment, message, or approval needs their attention. This helps to ensure that important processes get the attention they need and helps reduce employee distraction from communications that aren't important or pressing.
The ability for everyone to easily get notified whenever there is something that needs their attention helps to streamline business processes, reduce the time it takes for approval, and more.
---