Top 10 Best Procurement Practices for 2021
Wednesday, December 23, 2020
To get ahead and achieve success in the world of business today, one has to be willing to innovate, try new things, and remain flexible with the ever-changing times. There is a lot of impetus to reduce costs and increase efficiency and that tends to be the focus of many successful and growing businesses. Learning how to get the results you want, while improving efficiency, lowering costs, and increasing transparency might seem like a far too daunting goal, but it is not.
What is required is good procurement practices. This is vital to business success. As the costs of doing business continue on their upward trajectory, finding ways to reduce cost and improve efficiency are incredibly important aspects of the procurement process. This department is vital in an organization since this is where the bulk of the money is spent.
Sadly, there are still businesses that rely on a physical, paper, procurement manual to guide their processes and that is woefully out-of-date and inefficient. Overhauling the procurement process can be a key step towards improved efficiency and with automation software suited to the task, this has never been easier.

What follows are ten best practices that will work to improve the procurement process in your business and keep it on the path to success.
Top 10 procurement practices detailed
1) Create a procurement team: this will not involve everyone in the procurement department, but having a small, select team of professionals from within this department will help determine strategic planning goals, identify potential issues, and help further the overall goals and needs of the business at large. This will need to include several higher-ups from the procurement department, and maybe even some additional resources such as company leaders, shareholders, and other managers.
2) Make sure you have the right staff: Hiring can be a difficult and tricky process, but when it comes to the procurement department, making good hiring decisions is paramount. You want people who have the knowledge and skill, as well as the technical aptitude to make the needed changes and management of any new procurement process that may be used.
3) Don't forget about technology: One of the biggest mistakes a business can make is failing to use valuable technology that can improve efficiency, transparency, and reduce error. Workflow automation software, such as the procurement offerings we have at Comindware, can dramatically reduce the amount of time it takes to resolve accounts, track down payment, manage payments, and so much more. This software provides a great return on investment (ROI) as it increases the speed of the process and reduces error, all while increasing the transparency of the process for key stakeholders within the organization.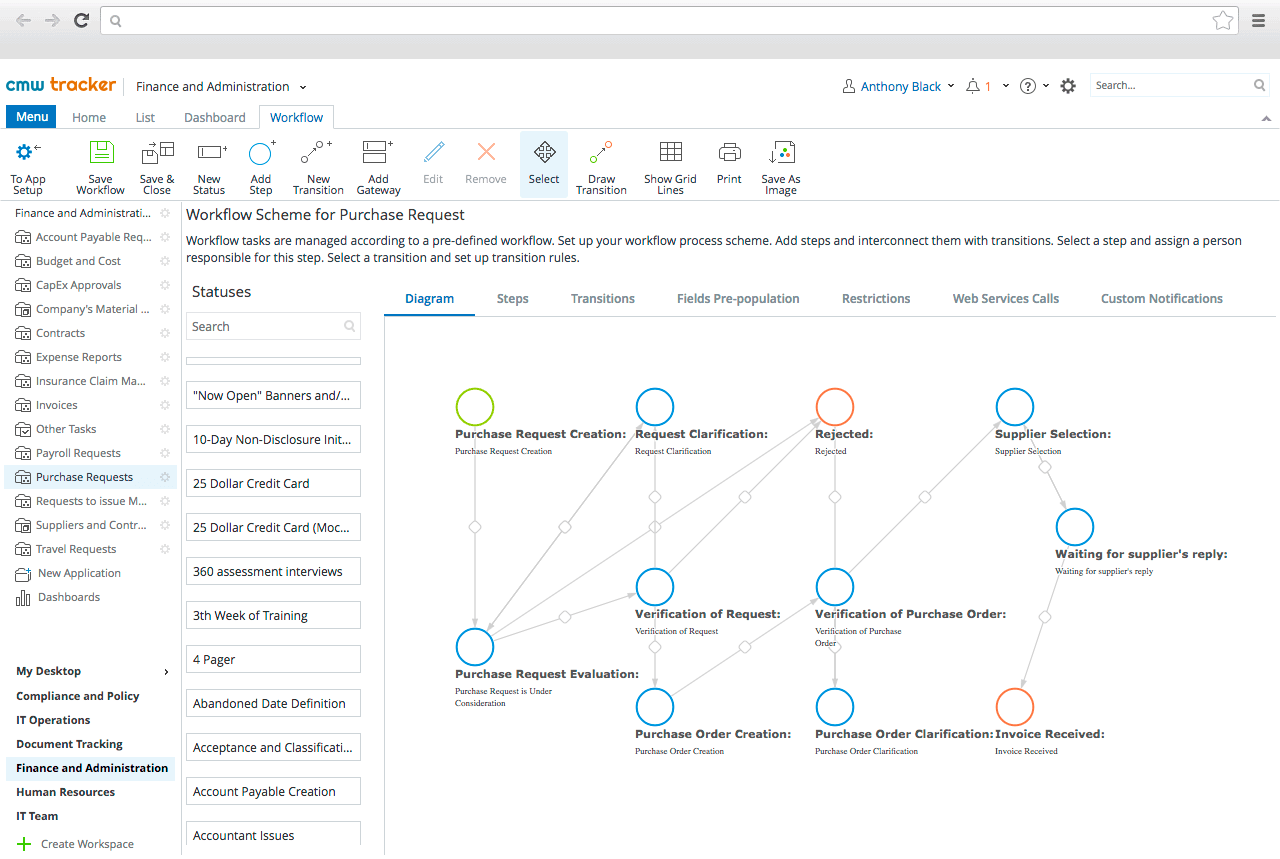 4) Don't forget to collaborate: There are many great minds within your organization and department. There may also be good partners to have outside of the organization as well as within other departments. You must bring in trusted individuals that can have great results by getting more people from different backgrounds involved in the process and even how the process operates and functions.
5) Think about the return on any investment, not the initial cost: say you are investing in some rather costly new automation software. It can be easy to see that as a huge expense that may or may not pay for itself at some point down the line. The amount of time spent tracking down, managing, troubleshooting, and the like can almost be eliminated with the implementation of some solid software, but this will entail an outlay of capital. However, when the result of that outlay of capital results in streamlined and more efficient processes with greater transparency, the cost is most certainly worth it.
6) Rely on the cloud: cloud-based tools provide powerful and flexible solutions for procurement departments. This type of software allows users to work remotely or on-site and provides the tools needed to automate data entry and other repetitive functions and can integrate into a variety of other software tools.
7) Embrace transparency: The best way to achieve strategic goals and business success is to have an open and transparent organization that values the input and assistance of many different actors within the organization. Transparency can help optimize and streamline processes, as well as the use of any software or automation tools that may be employed.
8) Engage any suppliers you may have: getting your suppliers involved in the procurement process at a deeper level can open up avenues for more beneficial relationships with suppliers. Fast payment and an open relationship can make it easier to receive specialized services, get needed repairs, and even just be more responsive with scheduled maintenance.
9) Optimize everywhere: one of the keys to business success is efficiency and that means streamlining various aspects of the business and this can be especially crucial in the procurement department. Keeping too much inventory can be a big mistake for a business trying to run optimally. Holding inventory comes with its host of costs and with good automation software, you can determine what is the optimal amount of any given item to retain on-site at a given time.
10) Make an effort to improve corporate social responsibility: There are many issues in the modern world, from income inequality to climate change, and more and more people are looking to the corporate world to do their fair share to help solve the problems. Whether going green and reducing the carbon footprint of the business or phasing out the use of a certain non-renewable resource, these things can have an immensely helpful. Investors and consumers alike look towards these issues more closely than ever before and is a trend that experts expect to continue. By improving the efficiency of operations, reducing the amount of floor space and energy you have to dedicate to material, and other things that can be achieved through streamlining and automation, are not only green solutions, but they make more financial sense as well.
These practices will help to dramatically improve the efficiency and reliability of the procurement process which can lead to savings in overhead as well as the ability to take advantage of certain buying opportunities. Cloud-based solutions like Comindware Tracker allow you to get enhanced functionality and improve the entire procurement process by reducing lag time and the potential for error. Software like this allows for greater transparency within an organization and allows all involved players to add their input as a way to further improve the process.
---