Accounts Receivable Basics and Automation Benefits
Thursday, July 9, 2020
The accounts receivable department at any organization is responsible for some of the most important business functions: they manage the money that comes into a business or institution. Given the importance of this department within most organizations, it is strange to find out that this department is often lacking when it comes to using innovative new tools like automation.
Automation software provides a wide range of powerful tools that can enhance and improve efficiency in pretty much any area of business, including accounts receivable. Business process automation is becoming more popular and widely used as it has proven to improve efficiency and reduce errors. It frees up time from mundane, repetitive tasks, and leaves more time for innovation and creativity.

Most people start by asking "what is accounts receivable?" The short answer is, this is the department that takes in any revenue. Any bills or money owed to a company will come into the company through the accounts receivable department. When looking at this, the answer to what is the difference between accounts receivable and accounts payable is pretty obvious. In one department (receivable) money comes in, in the other department (payable) money goes out to pay bills, vendors, and the like.
How do companies benefit from automation software?
There are tons of different kinds of automation software that can improve efficiency and streamline operations in most aspects of the business. Many companies utilize any number of workflow automation tools to reduce the amount of time it takes to perform basic processes and manage data entry. Machine learning and artificial intelligence have developed to the point where these technologies can be used in more complex business processes, like processing applications.
How businesses benefit from accounts receivable automation.
One of the biggest reasons so many companies are moving to automation technology is because it just plain works. Many studies have shown that these technologies quickly pay for themselves and provide metrics that prove their utility. For example, a study done by QuotingPaystream Advisors found that there were reductions in past-due payments, bad debt, and a reduction in the number of days that an account has an outstanding balance. The research also found that many businesses see a return on their investment and recoup the costs of said investment in as little as two months.
This is a huge boon to accounts receivable departments. It makes it easier and faster to obtain payments from clients and provides solid metrics that allow you to view your progress and improvements.
Automated tools are coming into prominence for many reasons from the current Covid-19 pandemic to pressures to improve efficiency and stay competitive in a tough marketplace. Many small businesses are reluctant to make a large investment into an unproven technology, but now, there is too much evidence of the benefits of using automation software for even small businesses to ignore.
Studies of successful business done by the Aberdeen Group has shown that some of the fastest-growing businesses are those that utilize automation technologies and the trend is towards an increased use in these technologies across the board and industries. Digitized processes and automation are techniques used by some of the best-run businesses and for good reason. The investment pays for itself in a very short period and efficiency, speed of payment collection, and reduction in error also result.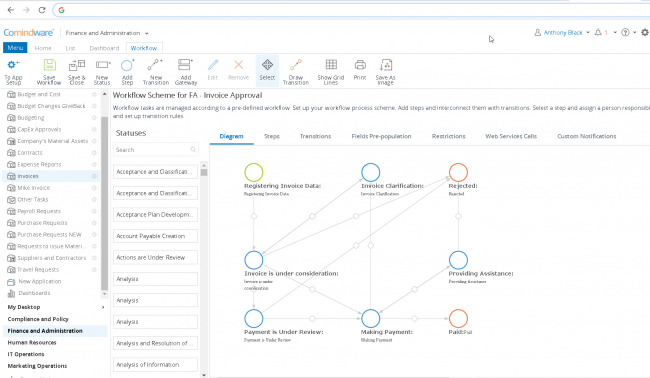 Brian Shannon notes that switching from a paper-based system to an automated and digitized one helps businesses reduce overhead costs, streamlines the inflow and outflow of money and resources, and can help to reduce error. Mistakes take time to resolve and wasted time can hurt the bottom line. It is easy to see why many businesses, especially those that deal with a lot of data, are keen to incorporate these tools into their business operations.
The world of paper and pen belongs to the world of the past. Not only is the old way of doing things inefficient and more difficult to track, but it also leaves way too much room for error. Almost all business sectors have data entry or other manual tasks that could be dramatically improved with the use of automation software. For an accounts receivable department, this software will allow you to resolve accounts faster, receive payment faster, give you a better ability to track needed metrics, and more. Many companies that utilize these technologies see a very quick return on their investment, along with improved payment speed and a reduction in error and delay.
Comindware's no-code workflow software empowers you to manage accounts receivable workflows effectively, automatically verify invoice validity, keep track of the process status, timey response to delays with payments, and much more.
---