5 Tips for Effective Release Management Process
Tuesday, April 13, 2021
The development of any process, whether it be a new user interface or the development of backend technology that makes data collection and collation easier, requires many different steps. Many of these steps occur before any coding or actual building of a new environment occurs. While this initial part of the planning process might not seem very important, finding ways to better track, plan, and prepare for even these steps can help a project run more smoothly.

What is Release Management?
Release management is a subfield of process management that is rapidly growing in importance. This is a process by which every aspect of a project is laid out and monitored to help better control the building of a given process throughout all stages of development.
With the growing importance of and reliance on web applications and software suites of varying sorts, we need better ways to manage complex processes that may change as our business becomes larger or more sophisticated.
Basically, with a release management process, you are able to improve the efficiency of a project by prioritizing the most important elements, facilitating the release of information, and managing any resources that are needed, whether a process is in development, testing, or is about to be deployed.
Software suites like Comindware's Software Development suite allow you to easily update projects that are ever-growing in complexity. It also allows for the inclusion of additional stages in the development process and more easily collaborate with parties across different departments as well. The workflow management software allows you to remain flexible in an ever-changing environment.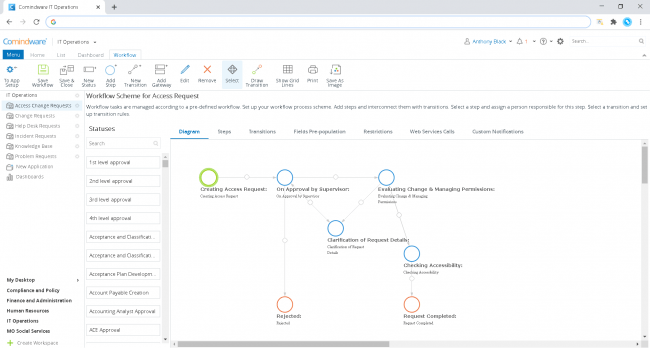 Automate your workflows quickly and implement changes on-the-run easier than ever.
Many managers want to know how to implement release management into their workplaces, so we have collected five of the best tips we've been able to find.
5 Tips for More Effective Release Management
Make Sure You Focus on Infrastructure
Making sure that the infrastructure you plan to use during the release of a new process should be one of the first things you have your team focus on. It helps to know in advance when building a new interface or another process, the elements and structures you want the finished product to have in place and go ahead and work on this.
It can really slow things down if, at the end of the development cycle, you find areas of the infrastructure that you failed to properly consider or plan for.
Have A Regular Release Cycle
It is important to have a cycle for releasing a new process or project that is regular and where all the stakeholders understand the process. Having a regular way of managing processes can help simplify the rollout and keep everyone on track.
When you have a regular release cycle, people have plenty of opportunities to discuss, collaborate, and still stay on task for the release of the process. It also creates a timetable and a routine for everyone to follow and gives your customers or clients the peace of mind that you will get the process developed and rolled out in a timely manner.
Have Realistic Expectations and Solid Goals
Your team needs to know when a process in development is vital so they understand that they need to put their best effort into it. All members of the team should go into a release management process knowing what is expected of them and when. If the importance of the project is made clear and everyone knows what their role is and the schedule they will need to follow, it is easier for everyone involved to get the process complete, properly, in a timelier fashion.
Understand the Importance of People
While software and technology are important, it is vital that you remember just how important the people who use the software are. To get the most out of software or techniques to improve release management processes requires a team of people who understand the goal, can communicate well and can deliver when they need to. No matter how much technology you have and use, this will always be of the utmost importance.
Use Automation and Standardization
The more elements of a process you can automate the less you have to rely on your team to perform redundant and time-consuming tasks. Having a standardized process makes it simple for team members to learn the steps in a given process and reduce confusion.
When you can automate, you improve efficiency, reduce the likelihood of error, and free up team members for more important tasks. Creating solid standardization will help ensure that processes remain consistent.
Using best practices and good software when working to improve your release management process will help ensure that new development and roll-out will take less time and run more smoothly.
---