4 Best Practices for Your Vendor Workflow Management
Tuesday, August 10, 2021
There are many elements of business operations that don't get the attention they truly need and deserve. One of these areas is vendor management. All companies require products and services to operate, regardless of the business field they are in.
This means that there is management required to ensure the timely flow of materials and payment of accounts. Failure to properly manage your vendor workflow can be a huge mistake that can cost the business dearly.
You can use things like low-code software such as that offered through Comindware to create a vendor workflow system that is efficient and transparent. There is a lot of software available that can dramatically improve the efficiency of many areas of your company. They may help you automate certain processes and/or give you a visual representation of steps required to complete a process. This gives all parties involved the information they need, and the same information as others have, to help ensure smooth operation.

Let's take a look at 4 of the best practices when it comes to managing vendor workflows.
4 Best Practices for Your Vendor Workflow Management
Streamlining Your Processes
Traditionally, the process of onboarding a new vendor was done by hand. This means it takes days or weeks to complete the review process. However, the use of software such as a low-code option by Comindware can reduce the amount of time this process takes significantly.
This software makes it easier to manage information that is required to complete the vendor onboarding process. Notification systems and reminders for approval also help reduce the amount of time it takes relevant parties to review and approve new vendors.
When the process is standardized and much of the information is collected automatically, it takes a lot less time to complete the onboarding process. The notifications will help ensure that parties who need to take a look at the documentation do so in a timely fashion.
Managing the Approval Process
As we mentioned earlier, when vendor onboarding or other approval processes are done by hand, it takes a lot of time. This is also true when you are waiting on one or more people to approve the process so it can move forward.
You don't want these processes lagging behind as this reduces the overall efficiency of the company and can be a real headache to your vendors. Vendor workflow software makes it easy to automate data collection and to provide notifications and reminders to relevant parties to ensure more timely completion and approval.
The software makes it easier for all parties involved to supply the necessary information and to ensure the approval process works as smoothly as possible.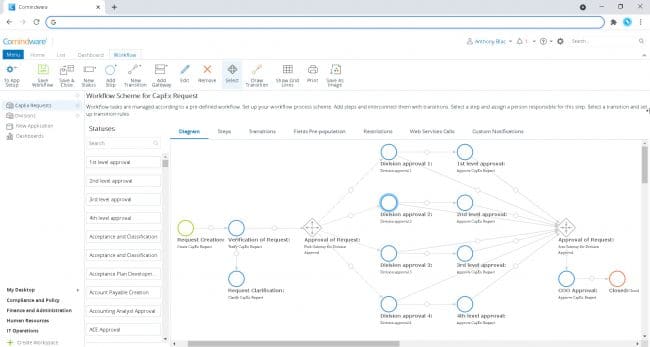 It has never been so easy to design your own approval workflow and ensure that it is automated and works as smoothly as possible.
Improve Efficiency
Purchase orders as those that deal with any materials or other resources that are necessary to the functioning of your business. Too often, this process is archaic and incredibly inefficient. A failure to properly understand the purchase order can mean that redundant or unnecessary products are purchased and things the business needs fall by the wayside.
All of this can create delays and make this element of business operations more costly than it needs to be. You can streamline and automate much of this process using low-code workflow software. Not only will this ensure timelier order and payment, but it can also reduce redundancy and the time it takes for orders to be placed and payment completed.
Simplify Processes
Not only do you want to make sure your ordering process is streamlined, you also want to make sure the payment process is as well. It isn't fair to your vendors to make them wait an inordinate amount of time to receive payment for the products or services rendered.
Sometimes these processes are complicated, and when done by hand, this not only takes more time, but leaves more room for error. In order to ensure proper payment and approval for said payments a workflow process needs to be created to ensure that this is done in a timely manner.
When you use workflow management software, you can create processes that streamline and simplify this process. It gives all parties involved access to the information they need to approve payment and enhances the ability of relevant parties to communicate with each other in more transparent and timely manner.
In Closing
All businesses must have relationships with vendors. These are the people and companies who provide the products and services your business needs to function and operate. Too often, these are outdated and inefficient processes. This means it takes way too much time for vendor orders to be managed approved, and paid for. This reduces the overall efficiency of the company and can leave vendors frustrated as well.
Low-code software solutions like Comindware make it easy to create a comprehensive vendor workflow management process that gives all relevant parties access to the information they need. This makes the process more transparent and ensures it is completed in a timely fashion.
---