Top Workflow Management System Trends and Features
Monday, February 1, 2021
New year has come and we believe it is the right time to get insight into workflow management system trends shaping 2022 and suggesting valuable ideas for improving your business effectiveness. Recent years it has become common for CIOs to delve into workflow management through the lens of digital transformation, which is all about ensuring your business is ready to welcome the future and succeed.
In 2022 having focus on digital transformation, Gartner and other research and consulting companies predict the next logical step, which is expected to improve the quality and the efficiency of digital experiences for both businesses and customers. In a word, the next step and a large IT trend is hyperautomation. In this article below, we'll dive into the key workflow management trends with respect to hyperautomation context and bring to recollection 2018-2021 trends which are still actual.
Hot Workflow Software Trend in 2022
Hyperautomation is a business-driven, disciplined approach that organizations use to rapidly identify, vet and automate as many business and IT processes as possible. It involves the orchestrated use of multiple technologies, tools or platforms. Gartner
Hyperautomation, which is a huge 2022 trend, brings together technologies like Artificial intelligence (AI), Machine learning, Robotic process automation (RPA) and a vast range of decision, process and task automation tools. It's hard to imagine a future where all these technologies still operate independently and low-code platforms with advanced workflow management features don't play a crucial role – they definitely will.
In 2022 a powerful workflow management and BPM (business process management) systems become the control center of your successful hyperautomation strategy.
A workflow system orchestrates all of the employees and technologies that complete that entire sequence of tasks autonomously and make sure all the resources work together effectively. So, you can easily deploy any of the hyperautomation technologies mentioned above at any waypoint in the workflow and be sure that the entire process will keep generating expected results. So, in 2022 a low-code workflow software, like CMW Tracker, is the beating heart of your hyperautomated, traceable and effective business.
The Key Workflow Software Trend in 2021
In 2020 we highlighted that businesses are switching to a new document management approach and prefer to handle data in document cards instead of getting stuck in scan copies or Word files. This trend stays actual in 2021 as surely as the trend of migrating to an integrated digital business platform instead of standalone applications.
The key workflow software trend in 2021 worth your attention is the technology "democratization". This trend emerged in the 20th century when Apple introduced the Macintosh with a radically new user interface. Do you still remember that at the dawn of the personal computer era users controlled the machines via text commands? Since then, everyone's got a device that can even respond to your voice commands and help whenever you need it to. Nowadays low-code and no-code technology democratization expands and empowers non-IT professionals to discover and effectively apply specialized skills beyond their expertise. Right now, low-code platforms are a basis supporting the democratization trend to put the power of digital tools into the hands of non-technical users (often named "citizen developers"), so they could develop and design business apps, gain knowledge from expert systems, and do even more.
For instance, technology democratization would enable employees to automate workflows without having programming skills. They would instead rely on a low-code / no-code platform like CMW Tracker to generate the business app and ensure proper workflow operation.
The synergetic effect of the recent technology democratization and integrated digital business platform adoption trends is rapidly bringing us into the new world:
Smart spaces build on the people-centric notion. A smart space is a physical environment in which people and technology-enabled systems interact in increasingly open, connected, coordinated and intelligent ecosystems. Multiple elements — including people, processes, services and things — come together in a smart space to create a more immersive, interactive and automated experience. David Cearley, vice president and Gartner Fellow.
Specializes in emerging and strategic business and technology trends
and explores how these trends shape the way individuals and companies
derive value from technology
Workflow Software Trends in 2020
Documents Without Documents
The paperless office mantra has made executives' mouths sore and a significant number of them claim that their companies started heading toward digital transformation and became paperless or lowered their paper footprint. It brings tangible benefits, but many executives report that changing paper-based documents to digital versions in MS Excel or Word doesn't make enough difference for business.
On the way to the much quicker document approval processes businesses tend to consider modern workflow management systems capable of processing data effectively during the approval process, obviating the document exchange steps. For example, in CMW Tracker you can create a document template with all necessary data fields and get the document automatically generated when all data is reviewed and approved by a proper person. Such an approach dramatically improves and speeds up the approval process and fuels digital transformation.
Switching From Standalone Solutions to Platforms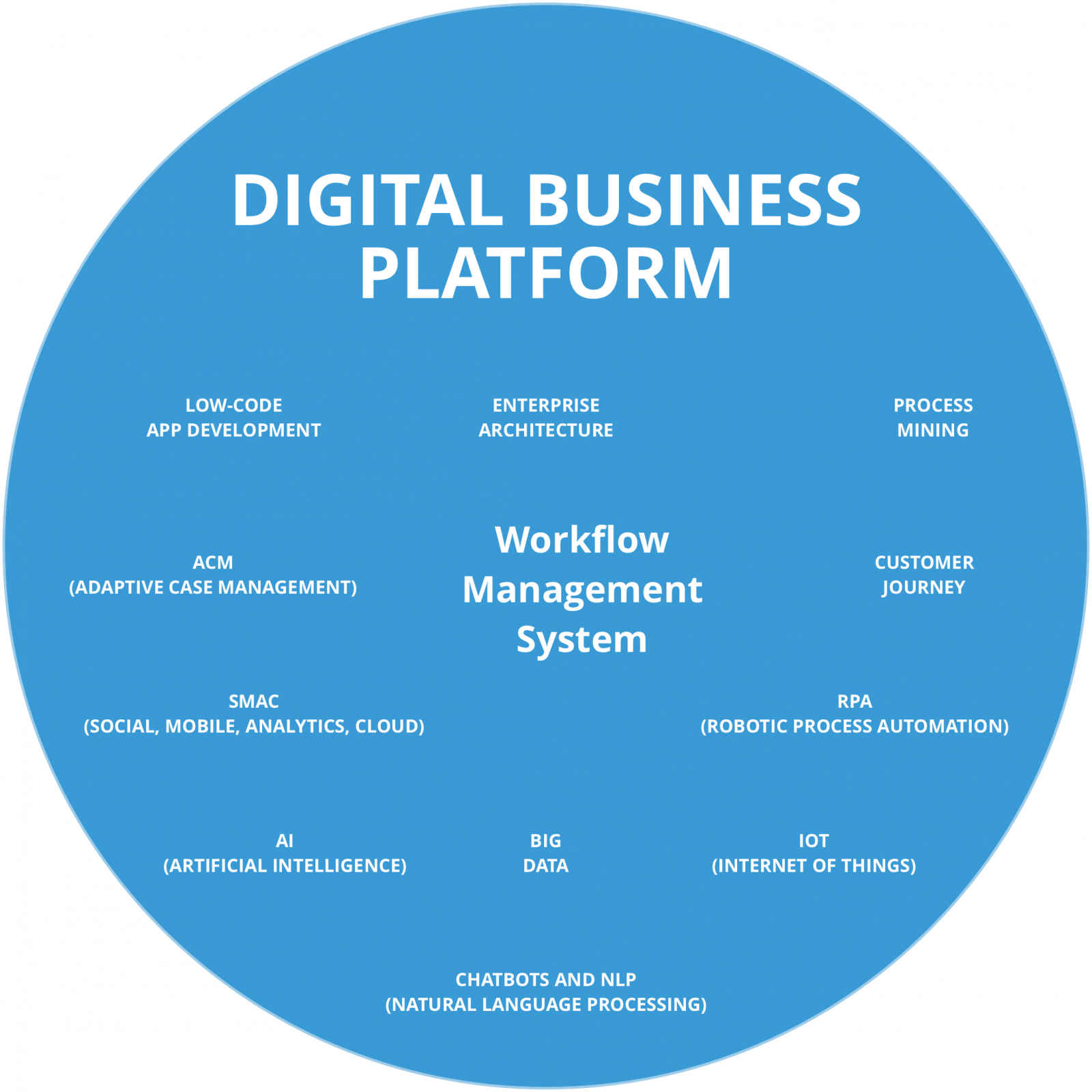 The ongoing digital revolution brought up a whole bunch of new technologies – Big Data and IoT (Internet of Things), neural networks and artificial intelligence, RPA (Robotic Process Automation) and additive technologies, natural language processing, chatbots, and counting. The new technology pilot projects look promising for digital businesses and are expected to bring even more benefits when scaled in the enterprise environment. All these technologies are also perfectly combined with workflow management systems –there are more and more examples of synergy in recent years.
Integrated platforms will be implemented, allowing us to consolidate a wide range of digital technologies and get even more benefits from their synergy. Gartner names this new type of platform a Digital Business Technology Platform and encourages CIOs to consider building such a platform to get their companies ready for obstacles and continual change, all while integrating systems and adding new technologies. Experts note that workflow management systems and BPM systems efficiently working in convergence with numerous technologies are expected to be a reliable core of an integrated digital business platform.
The above workflow management system trends are emerging, and it's worth considering them together with the notable 2019 trends that are gaining momentum.
Workflow Software Trends – 2019
A workflow may be a simple sequence of work activities or a complicated collection of processes that take place in parallel. During the past few years, executives realized that workflow automation is vital for business competitiveness, and the BPTrends Report confirms this fact. Year after year businesses report that integrating a workflow management system capability within the company's methodology can bring tangible and even impressive overall efficiency gains and cost savings. No surprise that companies report their intention to increase spendings on business process management and workflow automation:
How do you expect our organization's investment in BPM technology is going to change over the course of the next two years?
2017
Increasing by more than 100%
9%
16
Increasing by less than 100%
46%
84
Unchanging
40%
73
Decreasing by less than 50%
4%
7
Decreasing by more than 50%
2%
3
Totals
100%
183
The State of the BPM Market – 2018
BPTrends Report
In recent years the business world has been inundated with talk about the benefits of innovative features needed in the right workflow management solution. In 2019, workflow management matured. Now businesses stop thinking in terms of features when choosing a workflow management system and instead focus on strategic advantages a solution delivers.

More businesses are looking to embrace digital transformation, which means blending digital and physical business while improving operational efficiencies and performance. If you're among the businesses working to reimagine and enhance existing processes, open the door to dynamic, agile workflows and build a digital strategy. Here are the strategic workflow trends to consider in 2019:
Trend 1 – Transforming Customer and Employee Experience
Unarguably, when a person gets used to the convenience of mobile apps for hotel, ride, or flight booking they will never accept the old experience. Expectations from interfaces and overall service experience rise. So, serving customers the usual way would kill your company's competitiveness. Meanwhile, 84% of organizations working to improve customer experience report an increase in revenue (Dimension Data). Not surprisingly, Gartner surveys confirm customer experience is the new battlefield, with 89% of businesses expectedly soon to be competing mainly on customer experience.
In the meantime, employee expectations rise too, and serving employees in an old-fashion way will ruin their loyalty, resulting in high employee turnover and related costs.
New employees who went through a structured onboarding program were 58% more likely to be with the organization after three years.
SHRM Presentation" by The Wynhurst Group
Taking into account new employee expectations, many companies build an automated onboarding process supported by workflow management software to streamline and speed up the employee assessing, hiring, training, and onboarding workflows. It is also worth noting that in addition to a modern onboarding process employees expect to have a one-stop shop for IT-, HR-, procurement and other internal services.
So, there's a trend to converge user-friendly interfaces, easy access from various devices, customer mapping, artificial intelligence, and many other features in concert to serve customers and employees in an ever-improving way. When choosing a workflow management tool, make sure that it is capable of supporting your service improvement initiatives.

Trend 2 – Synergy of RPA and Workflow Management
RPA (Robotic Process Automation) is gaining momentum as bots can be leveraged quickly and can displace humans in low-level and redundant work. According to Deloitte Global RPA Survey, 53% of respondents have already started their RPA journey and the benefits of RPA adoption are significant across multiple dimensions including:
improved compliance (92%)
improved quality/accuracy (90%)
improved productivity (86%)
cost reduction (59%)
Meanwhile, it is important to remember that bots can't work with implicit processes while humans can. So, in 2019 many businesses use both technologies together: RPA and workflow management. The tasks to complete a workflow are done by bots or humans, while task assignment and flow control are managed by a workflow management solution. This approach becomes more popular and there may come a day when you need humans and bots to work together. So, ensure that your workflow management software has an open API for easy integration with RPA systems and supports human-bot intimate cooperation.
Trend 3 – The Shrinking IT Department Role
In the digital era, the IT department still plays an important role in every company. Meanwhile, according to Gartner Research, the modern IT infrastructure is very different from the one used in the 90s. As more business solutions, including workflow management tools, run in the cloud, have more user-friendly interfaces, and allow no-code changes to the solution business logic, there's no longer a need to rely on the IT department for all the IT tasks. Modern workflow management software is expected to ensure that employees with basic IT skills can address most of their issues and build workflow applications quickly. A 2017 low-code adoption survey shows that in three-fourths of companies at least some business apps are developed by the civil developers, not the IT departments.
Conclusion
CMW Lab is the company behind one of the most powerful no-code workflow software on the market. With CMW Tracker, you can easily create workflow graphical models, define role-based access, and design workflow patterns with tremendous flexibility. Furthermore, you get features like form pre-filling, easy-to-use status views, and powerful reporting, all in a cloud solution that takes away the worry of on-site server and software maintenance.
Look ahead by looking back
Below you will find a retrospective look at our evolving understanding of the must-have workflow solution features, which have progressed as new technologies have matured.
Workflow software features you needed in 2018
1. Easy-to-use Graphical Workflow Builder
The first step to understanding and potentially streamlining a process is to
create a graphical model
of the process. It is a formal description or a diagram that defines the process steps and each step's results. Intuitive visual modeling is one of the most valued workflow management software (WMS or WfMS) features. With a graphical model, you can see the process and activity definitions, resources, individual and department roles, along with the expected outputs from all process steps. By capturing and depicting the process flow, you get all team members on the same page and help everyone understand why they're doing their tasks. Here is an example of a workflow created in
CMW Tracker
with simple drag-and-drop:
2. Access Control Based on Participant Responsibilities
The fact that modeling and transparency are desirable workflow management system features doesn't imply that anyone should be able to alter the process or access workflow phases in which they're not involved. Your workflow management software should allow you to define who is supposed to do what. People with various process roles should be able to update their status but shouldn't have access to the entire workflow. At the same time, a project or workflow manager should be able to reassign roles when needed. Administrators should be able to do this quickly, and with ease.
3. Flexibility of Workflow Patterns
Some workflows are simple sequences. Some consist of multiple sequences working in parallel. And some workflows contain several process tiers that must be accomplished in a particular order or a mixture of process types. (
What is a workflow?
) The flexibility to design and model workflows in different ways is one of the features workflow management software should not skimp on. Ideally, a workflow management system should define and guide processes, but not constrain them. Every organization has particular workflows, and workflow management software shouldn't stand in the way of creating the exact patterns and workflows that are necessary.
To support the execution of workflows in a restless world with shortening cycle times, workflow management tools must provide reliable support for flexibility in easy and simple ways. CMW Tracker ensures benefits in the long run and delivers dynamic, adaptive, and flexible workflows thanks to the support of on-the-fly changes to workflows, forms, and data with visual tools and without coding:
4. An Option to Pre-Fill Forms
This may sound like a nice convenience, but once you use workflow management software that allows pre-filled forms, you won't want to go back to doing it any other way. One of the greatest workflow management software benefits is being able to automate repetitive processes, and pre-filled forms can go a long way toward accomplishing this. When data is entered once, it can populate multiple forms, cutting down duplication effort significantly and helping keep error rates down as well.
Pre-filled forms
may not sound like a big deal, but it is one of the most important features workflow management systems can offer.
Workflow software features you needed in 2017
1. Easy-to-Interpret Task Status Visual Representation
Workflow management software (WMS or WfMS) should let project or workflow participants check on
task status
at any time. Features like automatic email alerts, which can tell the next person in a sequence that the process is ready for their input, help keep things on track. But being able to check at any time whether a particular step has been accomplished can save a lot of time and phone calls to project participants asking the step statuses. Knowing where everyone is in a workflow helps your team members plan their activities effectively, for maximum efficiency in executing the workflow steps.
2. Visual Form Builder
Every workflow is expected to be associated with a proper web form for convenient and reliable data collection. And nowadays it is difficult to accept a scenario when you have to rely on IT guys with programming skills whenever you need to add a new form field. In 2017 it is common to have a workflow management system that delivers a drag-and-drop form builder to create your perfect forms and correct them on the run without coding skills.
3. Reporting Features Workflow Management Software Should Have
Reporting features, particularly when coupled with strong workflow analytics, are among the most valuable workflow management software features.
Automated workflows
are designed to make it easy to understand the performance. But when reports can be generated easily to show who is doing (or has done) what, when the next step is likely to be accomplished, and what workflow participants are still waiting on, everyone has a better understanding of their accountability. Plus, it's empowering to look at a workflow report and see the actual results of your work. Look for a workflow management solution that offers a dashboard interface that facilitates easy report creation.
4. The Cloud Hosting Convenience
While there are still some businesses that need their work management software running on their on-premise servers, most businesses can take advantage of the many benefits a
cloud-hosted solution
offers. Cloud solutions are cost-effective, easy to scale up or down, and offer employees the flexibility of working from any number of devices and locations. If you have work team members located elsewhere or telecommuting, a cloud workflow management system is the only way to go. Cloud systems ensure the latest patches have been installed by the vendor, and that everyone working on a project is using the latest version of the workflow management system at all times.
Give a try to a workflow management software by CMW Lab and make sure it is as user-friendly and flexible as this digital era demands.
---