BPM Core: Workflow, Process Analysis and Execution
Tuesday, October 11, 2016
One of the issues that businesses face today is difficulty managing workflows and business processes. Comindware's
BPM Core software
 is a modern low-code platform for building and running business applications. It provides declarative tools for
workflow modeling and automation
. The key platform capabilities include task management,
workflow
and business process setup and management, case management, as well as following execution and analysis. Users are able to capture a great deal of business data that they may not be able to capture otherwise. What's more is that the software is fully configurable, which means IT and non-technical users can design and execute the desired business processes as they are needed.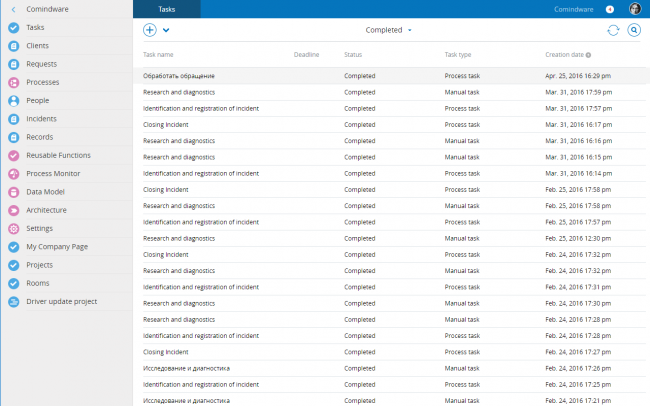 Simple Configuration
Configuring BPM is simple in that it uses a drag-and-drop interface. You can set up your visual process and workflow modeling without having to bury yourself in coding. Through web forms and configurable Comindware Records, the functions can be configured in-house with no IT help required and changes made "on the fly". Once configured, the processes are immediately available on any platform.
What is Workflow?
Workflow is a sequence of tasks in which a piece of work passes. Some types of work will pass through more processes than others. Process analysis will indicate the processes a piece of work has to move through. Process design is the designing of the definite path that work will take to completion. These processes go hand-in-hand with task management. Each individual task must be managed to ensure it is done correctly, so that it could be
effective task execution
for the company. This involves the management of resources across all processes and projects. Both workflow and task management go together like a hand fits in a glove.
Process Design and Analysis
Process design brings together all of the components involved in the completion of a task. You have to have a process before you have the tasks needed to ensure a well-built workflow. BPM helps with process design and the preceding analysis that leads to the development of every facet of that design.
To go more in-depth, deep process design differs from basic workflow in that process design leverages formal tools such as the BPMN notation to reflect the process logic, status transitions, and rules to a much higher extent.
Business process analysis
usually comes before process design so that the right structure can be established for the completion of a project.
Process and Workflow Execution
BPM software
helps with process execution in that a process engine is needed to orchestrate status transitions. Right workflow configuration must be put in place, but must also reflect the process logic. If there is no logic, there can't be a smooth flow to a project that will successfully reach the point of completion.
In the end, what occurs is maximized productivity through a digital workspace that facilitates data, tasks, and communications for all parties involved. Through unified task management and a collaborative environment, interactions are traceable and all tasks can be recorded to ensure that they coincide with the established processes. Through integration of
workflow software
with other enterprise applications, you can ensure that everything is in one place. This allows for great resource management, unified administration and security, and a top-down view on business processes in real-time. Read here to learn which mistakes to avoid using a
resource management software successfully
. Other capabilities are topics for future discussion.
---