Effective Task Management Software
Thursday, September 1, 2016
Task management is the act of managing a task from start to finish. The task management definition is broad but specific in regards to certain steps that are involved. These steps include the planning of the task, testing, tracking progress, and reporting the results. Task management helps individuals and groups meet goals by setting personal or collective milestones.

Definition and Role of a Team Task Manager
A team task manager is responsible for overseeing the tasks of a single team or multiple teams. Managers can assign tasks to team members, establish deadlines for those tasks, and keep track of progress. They can then gather data from the project and analyze that data in order to increase team efficiency when completing future tasks.
The task manager has a lot of responsibility, but who is a task manager? The fact is that not just anyone holds this position. They are usually people who have experience with technology and managing projects. They will most likely be in some sort of trusted management position, or they may be a qualified employee promoted to the position. Experience in analytics is usually important in this capacity.
Modern Task Management Software Capabilities
Office task manager software has evolved over the years to the point that you can manage many functions from a simple platform. This increases the efficiency of automating workflow and other tasks. You can expect these functions out of modern task management software:
Setting and planning tasks – Defining the task at hand.
Scheduling tasks – Determining when a task is to begin and when it is due.
Setting up task dependencies – When some tasks rely on the partial or total completion of other tasks, a logical relationship and order has to be established so that all tasks can be completed correctly and on time.
Task due date estimation – Using information to estimate how long the task will take to complete.
Delegating tasks – Assigning certain responsibilities to different employees.
Tracking tasks – Keeping track of who is doing which part of a task and keeping track of progress in order to stay on track with the deadline.
Tasks reporting and analytics – The result is reported, and the data gathered can be analyzed for future reference on similar tasks. This information can be used to improve workflow during the lifecycle of a task.
Advantages of Task Management with Comindware Solution
Comindware is workflow automation software that allows for the unification of tasks, documents, resources, and people in a single work environment. This leads to increased productivity, which impacts visibility. If you've ever wondered how to manage tasks in the easiest way possible, the following are the helpful advantages of using Comindware within the business:
A unified view of tasks and resources within cases, processes, and projects – This is ideal for group tasks so that everyone stays on the same page.
Easily configurable workspaces – Individuals are able to focus on specific tasks assigned to them.
Centralized management of document and data – Documents and data are managed in one centralized location. Again, everyone is able to stay on the same page.
Enhanced social collaboration capabilities – When working in a group setting, it is important that everyone knows what is going on. Communication is key, and this feature makes communication easy.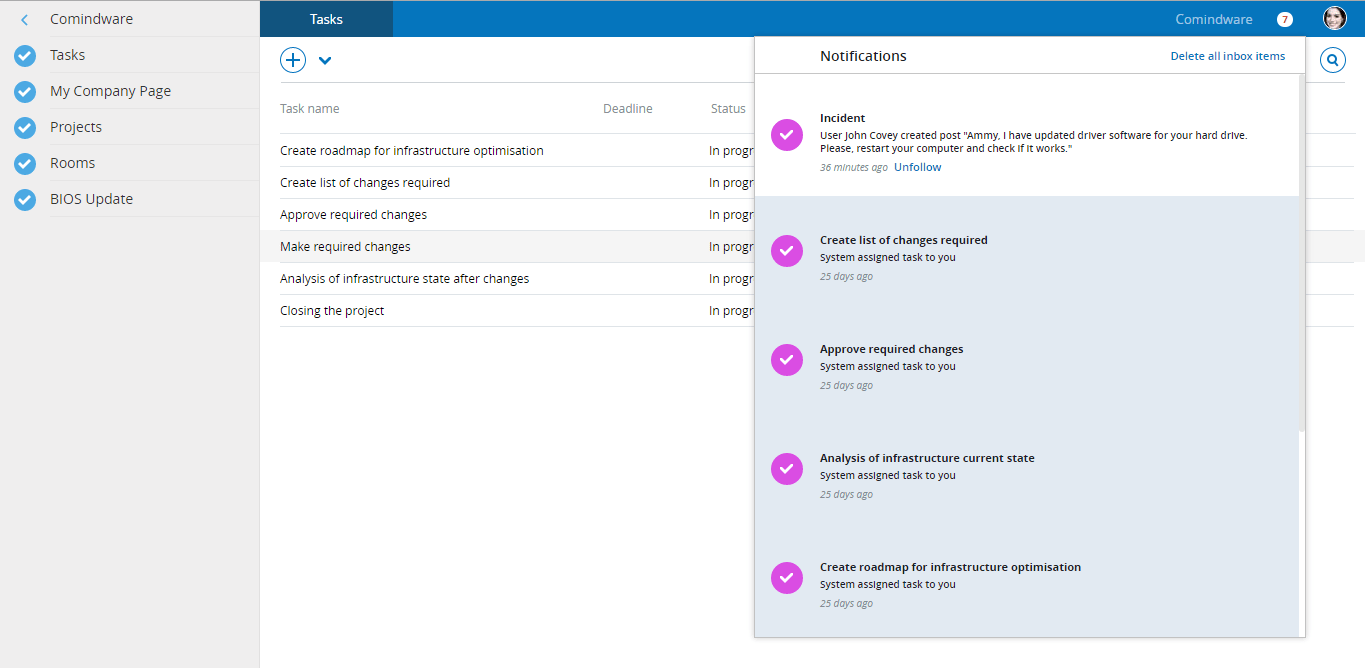 So, what is task management? It is the ability to effectively and productively manage a task from start to finish. Whether it's working a customer's case or completing a service for him or her, managing every step of the task through software that outlines the workflow and controls the workload can make a considerable difference in the outcome and have a positive impact on the business's bottom line.
---