How-to Manage Multiple Tasks
Tuesday, October 18, 2016
How many times during the day do we multitask? We are so used to multitasking that we most probably do not even count. The problem is that unstructured work on parallel tasks often brings significant productivity loss that effects on all our daily activities and results generally. Some of the negative consequences of multitasking are: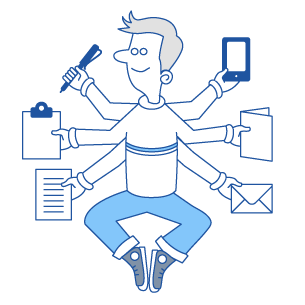 Time wasted on switching from one task to another,
More time needed for task to be completed when multitasking,
Misfocusing on important details,
Missed deadlines,
Incomplete tasks.
This creates work chaos and that is why multitasking leads to decreased productivity. If you are running big projects that have multiple tasks and multiple people working on them, it can be very easy to lose track or have no idea where the project is going at any point in time.
Multitasking: the inevitable evil
"…you can't get rid of multitasking. It's a natural part of work and life…"
If, as it's said in the quote, we cannot get rid of multitasking, we need to know how do we better handle multiple tasks and which solution to use for this goal. Task is a key component of any workflow. It is a simple activity that is usually executed quickly by a responsible person. However, your projects might need to assign and track multiple tasks and in this case, you need to think about such elements as:
Connections and dependencies,
Roles and skills,
Steps and approvals,
Other additional features.
To cope with all of them with minimum mistakes you better use a workflow management system.

Workflow – is a sequence of interdependent tasks usually assigned to people with different roles and skills. A workflow defines the rules specified in the company for distributing tasks to employees. A workflow's configuration matches tasks into queues, assigns each task's priority, and configures time-based rules for escalating the task.
How we're solving it
To manage your tasks effectively, I highly recommend you try CMW Tracker. I found this tool to be extremely effective in managing my tasks as a copyrighter and more importantly remembering all the details of a task on one slip. I will demonstrate it on my own example. Here is my plan for the future blog topics:

Plan in Execution with CMW Solution
As you can see, I have many blog entries to write. The only disadvantage is that no one but me can see this Excel file and status updates, including my manager, web marketing team and designer, who are involved into the process and need to know about details, as well as plan their time and availability. There are no action items, even though we work in tight collaboration. That is why I switched to CMW Tracker to execute my plan.
CMW Tracker is an online workflow and task management solution. It allows to design, run and modify workflows using drag-and-drop interface. Since I've started using this system, anybody who needs to see my plan, task execution progress and assignees who are working with me on tasks can do this at any time. It's nothing like a single-standing Excel plan, because now it is opened for my coworkers and superiors to see. Moreover, it has a powerful functionality that brings significant advantages, including:
Drag-and-drop Workflow Editor,
Workflow setup via Excel-like forms and business rules,
Unified document and data management,
Outlook-style interface,
Advanced analytics and reporting,
Cloud and on-premises deployment,
Plan in Execution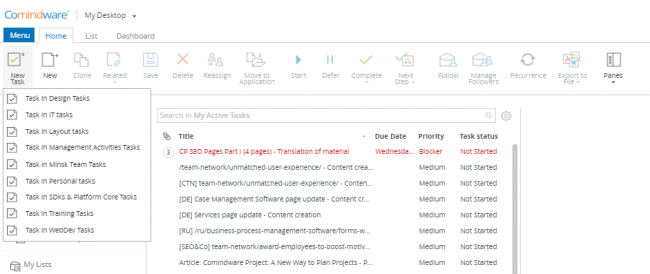 CMW Tracker helps you manage your daily work tasks and eliminates headache that walks hand in hand with multitasking. You will spend less time on organizing your work, and more time focusing on getting tasks done, because this solution allows for:
Unified tasks, data and documents management with deadlines and priorities,
Transparency of task flows and full control of daily activities,
Reduction of unneeded communication and increased amount of work done.
---