How to Choose the Best Expense Management Software in 2021
Friday, December 4, 2020
Tracking and managing expenses are some of the most important and vital aspects of running a business. Finding ways to make the process more efficient and transparent is incredibly useful to business success. With expenses from different organizations and money coming in and out of the business at different times, it is easy for delays to occur when humans are responsible for management. This is why many are looking towards automation software as a means to streamline and reduce errors in this process.
With the advent of the cloud and advances in machine learning and artificial intelligence, automation software is now incredibly powerful and can provide an immense benefit to businesses large and small. These are powerful and innovative suites of software that take a lot of the tedium and headaches out of managing business expenses.

How to choose expense management software
To choose the best software for one's company and its specific needs, you will need to do a bit of planning and consideration. What types of business does the company do? Is in national or international? Is there a lot of employee travel? What types of expenses does the business most often deal with? These and other questions are vital to helping guide your ultimate decision. You want to make sure that the software you choose is up to the task, but you also don't want to spend a ton of extra money on features or elements that aren't relevant or useful to the business.
You will also need to consider the technological capabilities of the company, as well as how employees typically interact with business functions. For employees that still use a lot of paper in their tracking and management may require different software than those who are already using smartphones or tablets to do parts of their work.
You must be familiar with the accounting software, if any, that is used by the organization to ensure that any expense tracking software you get is compatible with what you already use.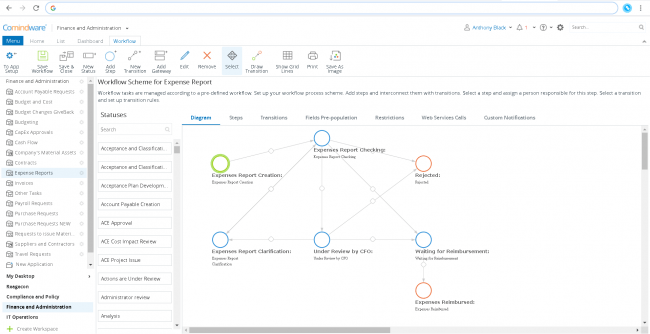 Automate key workflows with ease and get expense management simplified
Benefits and features of expense management software
Regardless of the product you ultimately choose, there is a learning curve involved in the implementation of expense tracking software. It has to be integrated into your overall business operations in a way that is not only useful and effective, but that also makes sense to everyone tasked with using it. That can be a lot easier said than done.
Any software suite you consider should be one that is a quality service that can meet the needs and technical aptitude of the people who will be tasked with using it. The point of using this type of software is to save time, money, and reduce errors, so those are vital things that any software was chosen will need to provide.
Any software you choose will need to abide by current laws such as the Sarbanes-Oxley Act which addresses expense abuse and manipulation. Most expense management tools comply with this and other important and relevant legislation, but anything chosen must take these rules and laws into account.
Expense management software should dramatically simplify the expense reporting and management workflow. Say, for example, you have a company that does a lot of business travel and thus manages travel expense reports regularly, good software that will allow for mobile integration such as through the use of smartphones to input receipts and other spending, takes multiple people and layers of bureaucracy out of the reimbursement process.
This software will reduce error, help resolve expenses far faster than when multiple people have to be involved, reduces error, and streamlines the entire workflow with the use and integration of basic technologies most already use like smartphones and other mobile devices. There are a lot of options out there at different price points and levels of sophistication and it does take some reflection about the individual needs of the company to make the right choice. With our workflow management software, a business can easily manage their expenses simply and efficiently.
In closing
Managing expenses is one of the most vital aspects of running a successful business. This process needs to be efficient, transparent, and flexible to the needs of the future. Doing this with paper and pencil or on a computer manually by a person not only reduces the efficiency of the process but leaves room open for error and delays. With quality expense management software, the process can be managed automatically and with dramatically reduced lag time. With many of expense management software options, you can easily integrate the software into your existing structure and expand its use for greater remote availability, such as via a smartphone.
---