What is Visual Workflow Management and How Can It Help Your Business?
Monday, November 8, 2021
Visual workflow management is a technique, and it is adaptable to any organizational setup. One essential component of visual workflow management is developing processes that can be visualized from a "top view," so that all steps in a process can be seen at once. It's similar to how a flowchart works, but better because you can build automated steps into visual workflows.

By taking the time to make workflows visually-oriented, you lay a foundation for better information exchange, faster resolution of conflicts, easier near- and long-term planning, and an overall more productive and effective team.
Without continual growth and progress, such words as improvement, achievement, and success have no meaning. Benjamin Franklin
Business process management isn't like a task with a defined start and end date. To get the best results in growing and adapting your business, you need to continually improve your business routine.
So lets' dive into visual workflows and see how they can help your business.
Visual Workflow Management Demands Outstanding Visualization Tools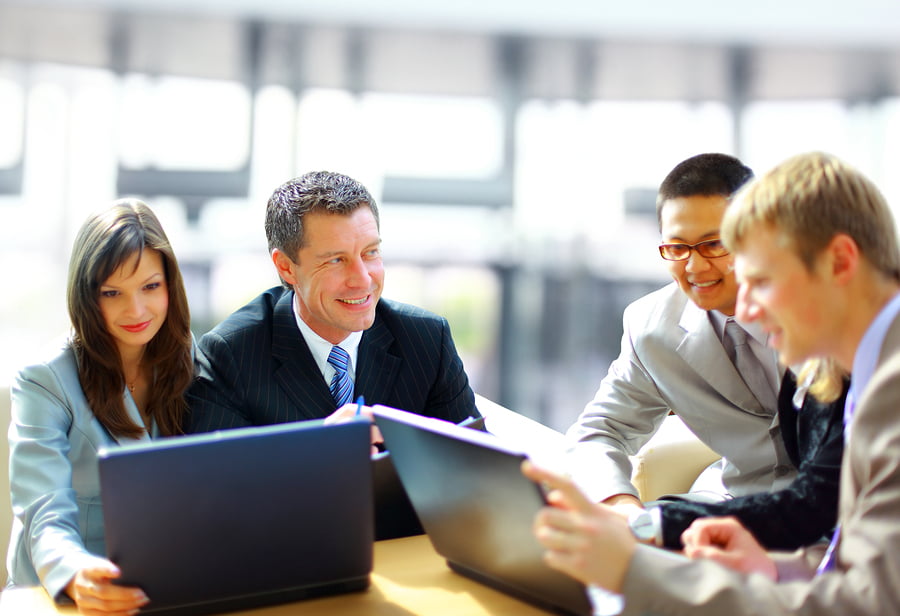 Transparency in workflows boosts efficiency and morale.
Don't think of a visual workflow designer as just another way to create flowcharts. While visual workflow management used to involve flip charts and handwritten lists, today it may communicate actions step by step and incorporate various rules to change what happens next. For example, a rule may state that if an invoice total is above a certain dollar figure, it must gain the approval of the department head. And the right visual workflow software will automatically determine that the invoice total is above the threshold and route it to the correct person. A visual workflow offers authorized users a "snapshot" of project status and progress at any given time and lets everyone know what the next steps are.
How your team can benefit from workflows:
Get your team organized
Simplify your processes and keep the projects on track
Check project status
Get more tasks done in less time
By implementing a visual workflow, you are creating a solid ground to improve communication, data exchange, short and long-term planning. It will obviously result in increased productivity.
Don't hesitate to make the first step in business process management. Request free trial – banner with a button
A Visual Workflow Is a Workflow That Makes More Sense
When a workflow is visualized using a visual workflow designer, it's easier for all project or process participants to see not only what they need to do, but where it fits into the overall project. Suddenly, steps that may have seemed to have no purpose make perfect sense. Modeling and visualizing workflows is typically done in a web-based interface that allows the non-technical user to drag and drop workflow elements and steps into place and incorporate business rules where necessary when decision points are reached in the process. Ideally, your visual workflows should be mobile-friendly for the increasing number of people who use tablets on the job.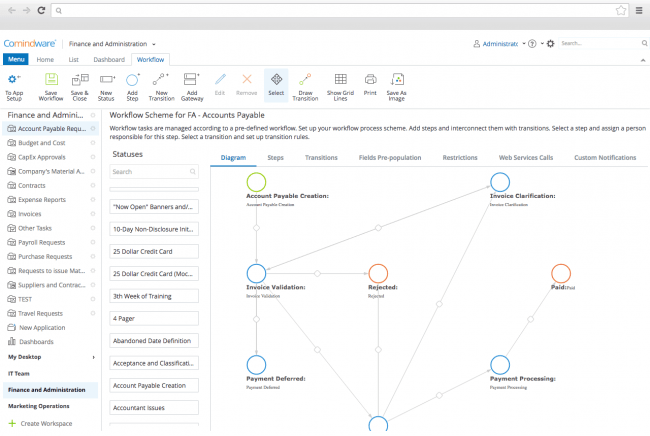 Example of a workflow scheme
A visual workflow empowers managers to evolve the workflow and improve it on the fly. It has a high level of adaptability and ensures that a workflow has the maximum possible sense for business.
The Right Visual Workflow Designer Gets Everyone on the Same Page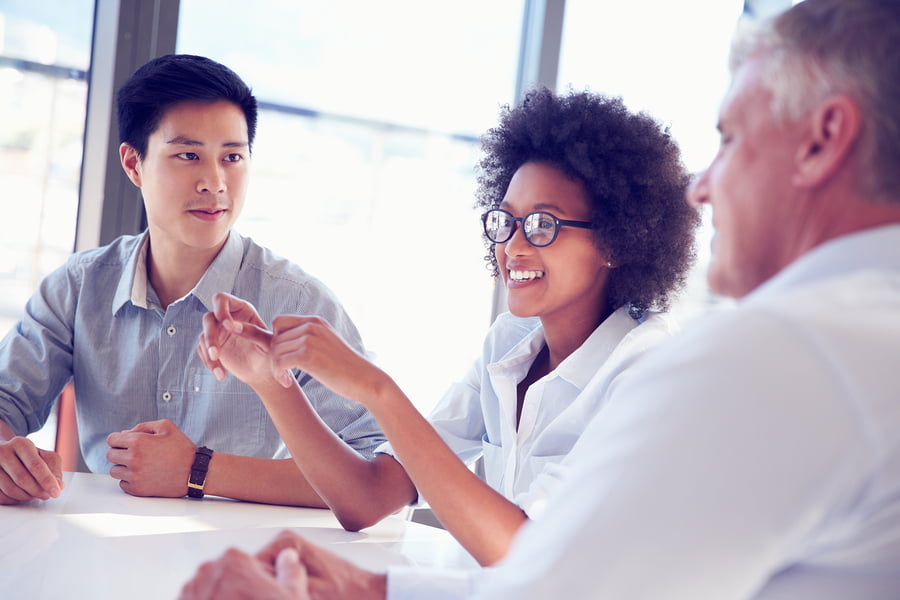 Visual workflows help everyone see their contribution to the overall product.
When everyone involved understands the game plan and strategies, processes and workflows take place with far more precision and efficiency. You don't want team members feeling as if they're nothing more than a cog in a complex machine, repeatedly completing certain tasks without ever knowing how they affect the final product. Visual workflow management gets the entire team on the same page, so to speak, and that alone can be great for motivation and morale. Furthermore, visual workflow management allows both management and front-line employees to detect problems and inefficiencies, so they can be rooted out and addressed promptly.
Maybe you have tried a bulk of project management methodology and some of them have made your projects even more complicated for a team – then visual workflow management might be the solution. Visual workflow designer is all about simplicity and makes it a snap to build a simple process, avoid mess and get more tasks done in less time.
Monitoring Workflows Is Easier with Visual Workflow Management
What is visual workflow management?

It is an efficient project management approach and technique. Key feature: it makes use of visual cues and flows to aid project implementation and management.

What is visual workflow modeling?

A design feature that allows non-technical users to drag and drop the sequence of events and steps in a workflow along with the various business rules to be met.
Learning the status of even one aspect of a project used to require unacceptable levels of time and effort, but visual workflows help change all that. Has an electronic approval form been completed and forwarded to the approving authority? The right visual workflow automation designer shows you instantly whether it has. Who was the last person to edit a section of the annual report? Visual workflows make it easy to find out. When you can monitor workflows easily, you can identify bottlenecks and problems before they can fester. If a step in a process needs to be modified to make it better, visual workflow management software should allow you to do so easily.
Standard Features and Functions of a Visual Workflow Designer
| | |
| --- | --- |
| Features | Functions |
| Global template creation | Creating and assigning actions or tasks |
| Process overview | Collaboration on tasks |
| Visual consistency due to standard toolset | Creating parent and child processes |
| Automatic line and shape drawing | Implementing business rules |
| Linking to switch between tasks and processes | Low-code design with drag and drop functionality |
Build Your Visual Workflow Foundation Quickly
For those struggling to lay a solid foundation for improved business process, communication, information exchange, rapid problem solving, and boosted productivity it is vital to get a visual workflow foundation built within days or a couple of weeks, not months.
Building visual workflows are logical and easy with CMW Tracker — workflow software. The workflow builder lets you create and manage every step of a business process while incorporating any necessary data and forms. And you don't have to be a programmer or an IT expert to use it. Simply drag and drop steps into the workflow creator and connect them using data, forms, and business rules. With easily-visualized, logical, repeatable workflows, your organization will be more efficient in its use of time and money and will set the stage for a more engaged, motivated workforce.
---