When Managing Your Workflow, Cloud Automation Tools Get It Right
Tuesday, June 17, 2014
As an enterprise expands in scope, workload increases. Automation of repetitive work becomes mandatory, as a consequence. Because of the scalability and cost-effectiveness of cloud-based software solutions, among other things, to improve the efficacy of a company's workflow, cloud implementation is one of the first considered options.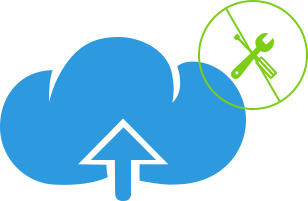 If an enterprise already has an existing metadata hub or document manager or another software  solution that's vital to the continuity of its operations, the best-fitting workflow cloud software should also possess one very specific capability – the cloud workflow software must easily integrate with third-party applications.
Why manage your workflow in the cloud?
First, let's review some of the advantages of the cloud workflow software. Microsoft presents seven reasons why more and more businesses are now switching to cloud-based applications for their operations:
Improved productivity. Document access and communication dissemination can be accomplished in just a few clicks. And since access to workflow software is practically anywhere, as long as there's Internet connection, remote/mobile workers stay productive.
Reduced upfront costs. Companies, especially startups, need not purchase costly servers to store emails, documents and other files necessary for their business functions.
Collaboration. Employees can collaborate on projects/tasks real-time, eliminating the need for countless emails to get things done.
Business resiliency. Because your data is stored in the cloud, hardware loss (such as when your work laptop suffers irreparable damage or gets stolen) doesn't equate to business closure due to data loss.
Ease of use. With a cloud workflow automation software, hardware or software installation isn't necessary. Even IT administration becomes irrelevant, as information transfer into the cloud is uncomplicated.
Accessibility. Access can be done on any smart device – phone, laptop, desktop or tablet.
Security. Aside from RBAC (role-based access control) protocols, cloud software providers use multiple security levels into their data servers.
Cloud workflow software and the Comindware Tracker advantage
As you might have already surmised, the workflow cloud software market is a vast and competitive one, with hundreds, if not thousands, of providers vying for a share. So, what makes Comindware Tracker a viable choice for workflow management and document tracking?
API (application programming interface). Comindware's Web Services API integration feature enables you to address software interoperability issues by linking your existing solutions – e.g., SharePoint, Salesforce, SurveyGizmo – so that your data can be utilized between different platforms and applications.
For example, if you're using Salesforce for customer transactions and Comindware Tracker's IT Help Desk solution to track customer issues, with API, you eliminate the need to switch between applications to make sense of data that's scattered across two independent software systems. Once pulled into Comindware Tracker, pertinent data from multiple applications is aggregated in a single customer record.
SharePoint, by the way, is already pre-integrated with Comindware Tracker, and no additional integration work is needed.
Drag-and-drop simplicity. Aside from the familiar MS Outlook style user interface, with Comindware Tracker's built-in graphical workflow builder, a business process can be visually designed with drag-and-drop ease. Yes, even if you absolutely have no coding/programming knowledge.
Superior adaptability. Unlike predesigned commercial off-the-shelf software that would take time, money and IT expertise to tailor to your specific workflow needs, Comindware Tracker lets you instantly adjust your process workflows as needed. Ad hoc, one-time processes can be created at any stage, and without having to redesign the entire workflow.
Conclusion
To squeeze maximum benefit from your existing SharePoint workflow solutions and/or other software systems, your workflow cloud software choice should support third-party application integration. Aside from time and money, this feature buys your business the freedom from frustration over redundant data entry and multiple software usage.
---