Salesforce Workflow Integration: Use Case Examples
Wednesday, July 21, 2021
Many companies use powerful CRM software like Salesforce, however, there are other pieces of software that can be integrated into this powerful suite of tools for enhanced versatility and usage.
The biggest problem with Salesforce is that it doesn't have all the tools available that really let you streamline your operations and automate a range of functions. This is why so many people use other workflow management software like Comindware Tracker, to get enhanced usage out of their Salesforce software.

Ways to Integrate
There are numerous ways you can use Comindware Tracker to enhance your workflow management and improve the efficiency by which your business operates. For example, you can use this software to create custom notifications.
The great thing about these custom notifications is that they are sent to the appropriate person via email, SMS, or within the custom work environment you create using the software.
Since this software makes it easy to capture information and data, you can easily keep your information updated within Salesforce as well. This can be done automatically, which not only saves time but ensures that everybody is always working with the same, current information.
You can use this integrated software to create rules, approvals, and other decision-making points for new workflows. And you can also use this software to help create a number of different, very useful templates that will save you time when sending out alerts or reminders.
With a suite of software like Comindware Tracker, you can easily create a custom workspace that allows relevant parties access to vital information in a safe and secure environment. You can use this software to better map out workflows.
Having a visual representation can also make it easier to improve and enhance a given process as well. When you pair this software with an already powerful suite of tools like Salesforce, you have at your fingertips a wealth of powerful tools that give you everything you need to implement, troubleshoot, track, communicate, and update a process.
Integrating this software into Salesforce also gives you the ability to automate different elements of your business processes. This not only improves efficiency, but also reduces the likelihood of human error, which can cause lags, bottlenecks, and costly delays.
Pairing a powerful tool like Salesforce with high-quality workflow management and automation software is an excellent way to give your business all the tools they need to compete in today's cutthroat business world. You need to be able to easily and quickly address any bottlenecks or issues your business may face. You need to have the ability to quickly integrate new information into your system to ensure that everyone is working with timely and current data.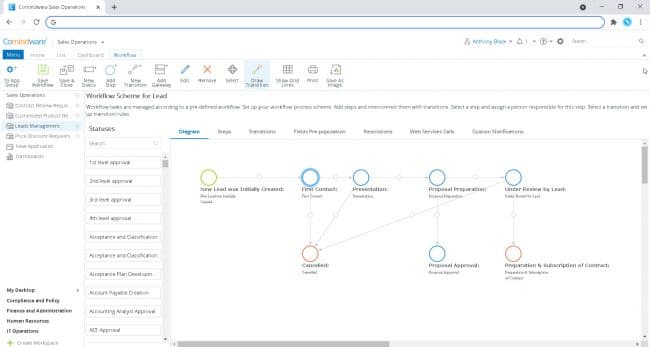 In Closing
With a powerful suite of tools like Salesforce, you have much of what you need to create, maintain, and update a given process or workflow. But this software works better when integrated with another workflow management and automation software like Comindware Tracker. When you integrate these two powerful pieces of software, you get everything you need to run an efficient, safe, and secure business process, regardless of its level of complication.
You can use the software to easily create custom workspaces where relevant parties can gather to communicate and share information. You can also use these tools to create custom notifications that are sent to relevant parties via email, SMS, or even within the workspace itself. This helps ensure that processes and issues are addressed in a timely fashion and with care.
You can also use this software to help automate a range of processes for your business. This further enhances the efficiency by which your business operates. But more than that, it frees up employees to focus on more important aspects of business functions. Since it is automated, it also reduces the possibility of human error. No matter how diligent we are, we are human and prone to mistakes. In a business process, this can be a huge problem. When you automate these processes, you take the potential for human error out of the equation.
The ability to integrate powerful tools like Comindware Tracker into Salesforce is a great way to get the most out of your tools and set your business up for success.
---