Project management vs. Process management: So Happy Together
Monday, January 21, 2013
In simple words, project management (PM) system is a way to manage your project that demands to make a plan first. According to this requirement, project management software tools usually come in the form of planners with timeline, Gantt chart, calendar, milestones, base lines and other common project management tools.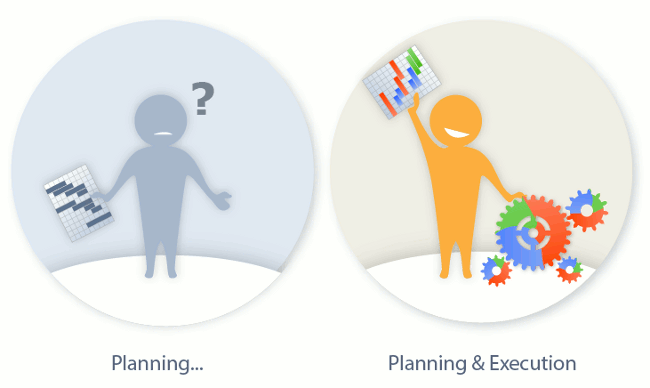 Planning vs. Execution
In other words, project management is, first of all, about to plan and manage your projects according to the project plan. It makes sense because if you don't have a plan, it's hard to track project progress and achieve goals.
Process management is aimed at the execution of the plan. A process management solution in a proper sense would let you make an executable scheme of the process also called a workflow. What does it mean? Here is what an executable process or a workflow looks like: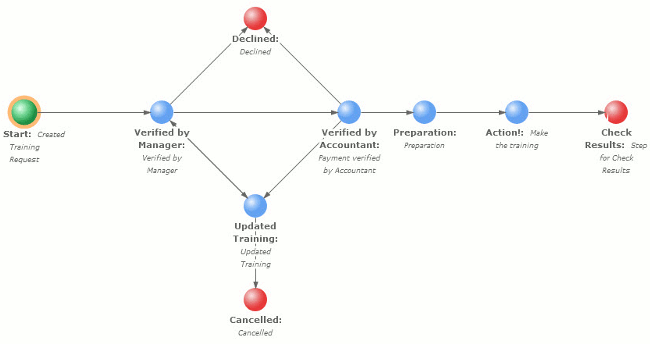 The difference with a picture on a paper and an executable process is that this process is programmed in special workflow tracking software. What does this software does? It gives out tasks to your team, one after another. And usually it stores all the information about your work context: files versioning, discussion treads, deadlines, priorities, statuses, statistics.
Benefits of a plan coupled with execution
"Yet only Comindware Tracker is built on ElasticData technology which makes the system light, quick, simple and easy."
Comindware Tracker stores your plan in a form of lists and there is always a process behind each item on your plan list. There are some other solutions that combine project management features with processes. Yet only Comindware Tracker is built on ElasticData technology which makes the system light, quick, simple and easy.
You used to plan and manage processes in separate software pieces, and had to connect parts of your work manually: starting from manual plan updates and ending with relevant files that you had to attach to emails each time you needed to share work information with your co-workers and superiors. Sometimes different files were scattered over different computers and resources, and it took you time to get them all in one place. Not anymore.
With Comindware Tracker all the working context belongs to the work item, including priorities, deadlines, statuses, history track, discussions, files (with versioning). When you get your task from Comindware Tracker, you get all the relevant information automatically: nobody will forget anything.
Processes paired with the project plan in Comindware Tracker enable real-time status updates, and you have access to all of them online at any time.
Plan and execution of the plan cannot exist separately, yet they should be combined in the most efficient and easy way. Comindware Tracker makes it. Your plan is available online with real-time updates, and processes give out tasks to your team automatically with all of the relevant context inside. Plus, the system is very light and easy to transform adapting to your business needs.
"Planning means nothing without execution."
Planning means nothing without execution. At the same time most process execution solutions are heavy: a process can't be easily changed on the fly. This compromises the very use of process management solutions, because processes should be adapted to the business situation, not vice versa. You will never be in this trouble again because Comindware Tracker adapts to your processes on the fly: see how it works.
---