5 Reasons Why e-Commerce Workflow Management is So Vital
Wednesday, February 2, 2022
Just think about the explosion of online shopping we have seen in the past decade. What was once the purview of the brick-and-mortar store is not the purview of the e-commerce platform? Today more people shop online than ever before and for many this is the primary option to obtain goods and services.
While this is, of course, a boon to any e-commerce site, there is a lot that goes into operating a secure, effective, and efficient e-commerce site. Especially in light of the competition one faces from huge companies like Amazon.
This is why e-commerce companies need to use every tool at their disposal to improve the efficiency and effectiveness of their business operations. This is where e-commerce workflow management software can prove so beneficial.

E-commerce workflow management software takes a wide range of forms from comprehensive and complex suites of software that require a lot of technical knowledge, to Low-code solutions that are more versatile. CMW Lab workflow management and automation software is a great solution for companies large and small.
Let's briefly take a look at the top 5 reasons that you need effective and efficient e-commerce workflow management solutions.
Easier Management of Vendor Accounts
Regardless of our business, it takes resources for it to operate. This means we have financial relationships with outside providers and this requires management and tracking.
For an e-commerce site, vendors play a much larger role and need to be onboarded as quickly and efficiently as possible. Using workflow management tools to handle vendor management is a great way to dramatically streamline this process and make it more transparent as well.
You can upload contract templates to a workflow server that acts as a centralized workspace for all involved parties. This gives everyone access to all the documents and information they need to initiate and approve a vendor onboarding or make some sort of change.
Automate Your Listings
Most e-commerce sites regularly update their listings when new products are added or older products are discontinued. Automating this process saves a ton of time and hassle and helps to ensure that your e-commerce site is also up-to-date and accurate about your inventory.
Workflow automation software allows you to automate many aspects of this process with ease, from managing inventory data to updating listings on your e-commerce site.
Automate Returns and Cancellations
Sometimes people make mistakes when they place an order or the product they ordered wasn't to their liking. This is when a process of order cancellation or return is initiated. Major e-commerce sites like Amazon have an automated process to manage this and there is no reason you shouldn't as well.
Having automated cancellation and return policies allows you to offer the security and convenience that large stores offer, even if you are just starting out. This is important when the competition is so stiff.
You can automate this process by having notifications sent to the warehouse in the event of a return or cancellation. This will, in turn, update your inventory and provide notifications to the appropriate parties to ensure timely completion of the process.
Customer Feedback and Complaints
No matter how good we think our business runs, there is room for improvement and customers may have comments or suggestions. These are invaluable and shouldn't be ignored, especially if you want repeat business.
A delay in a refund or a response to a relevant query can negatively influence your reputation and the likelihood that someone will shop at your e-commerce store again.
Automating the process of complaints and comments, sending the correspondence to the appropriate party, and responding to customers in a timely manner is an incredibly important part of customer service and client retention.
Streamline Internal Processes
E-commerce workflow management software can also help you streamline and enhance the efficiency of the underlying processes of an e-commerce business. Software automation can prove very useful for a wide range of internal business functions.
For example, using automation software to automate invoice approvals if certain standards or conditions are met helps ensure that accounts are paid in a timely manner. This reduces the number of labor hours that go into the approval process and helps it come to fruition far more quickly.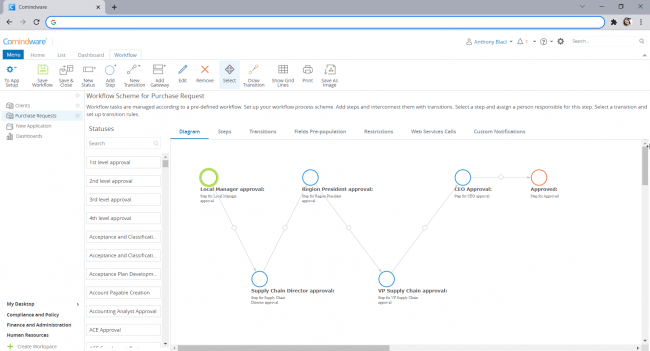 In Closing
E-commerce is one of the fastest-growing retail sectors. More people than ever before rely on e-commerce solutions for many of the products and services they use on a daily basis. This is why it is so important for any e-commerce store to have solid e-commerce management plans. Using software that allows for centralization and automation allows an e-commerce establishment to run far more efficiently, effectively, and securely. It provides us with the tools we need to create processes that will allow us to compete with larger operations.
---