What is procurement and how to keep it effective?
Thursday, July 16, 2020
Procurement process flows are one of the most vital aspects of business and where far too much room for error can happen when data and processes are managed manually. With automation software, this process can be streamlined and errors reduced or eliminated.
There are many aspects of the business that can greatly benefit from the use of automation and other workflow technologies. These technologies can help improve efficiency, reduce the time it takes for accounts to be resolved, and streamline a vast number of basic and even sophisticated business processes. One of the most important processes any business utilizes is the process of procurement, which can also benefit from automation.
What is procurement?
Procurement is a very important aspect of business functioning, regardless of what industry the business is in. Procurement management simply refers to the processes involved in getting various products and services, raw materials, and the like in the most cost- and time-efficient manner possible. It is easy to see why this is such an important department within any business structure, but sadly, for many organizations, the techniques, and technology used in procurement processes are woefully out-of-date and inefficient.

The old way of managing the procurement process
Until very recently, procurement was done by hand, using a pencil and paper, which not only reduces the efficiency of a company but leaves them open to human error. All of these things end up harming the all-important bottom line of a company, reducing efficiency and leading to problems associated with human error.
Inefficiency is a huge drag on any type of business, but within the procurement department, it can mean real cash flow issues. This can lead to disputes about transactions, which requires even more time to resolve to everyone's liking. It can lead to a loss in revenues and end up delaying payments or purchases. All of this can start to add up over time, really dragging the business down in the process. In today's cutthroat world of business, mistakes like this can spell the difference between success and failure in a business.
There are money-saving benefits to moving from the old manual way of handling procurement that can allow you to take advantage of early purchasing or payment discounts and also reduce the amount of time it takes to resolve accounts.
While we don't want to oversimplify a pretty complex area of business operations, the procurement process entails three things: process, people, and paperwork.
Procurement in business will start with the process. The process simply refers to the different steps or tasks that are involved in each step of this part of business operations. The acquiring and paying for goods and services can become more complicated depending on the scale of the sale and this can leave more room for administrative error.
Next is people. This refers to the people within your organization that is tasked with handling each step of the purchase order process. Finally, we have paperwork. This is all the documentation that it takes to complete the purchase order process. Any documentation used is also going to be stored and kept for record-keeping purposes.
Procurement Process Flow
This involves detailing all the steps that are entailed in a purchase order, noting who is responsible for each step in the process, how the steps work together to complete a process, and the like.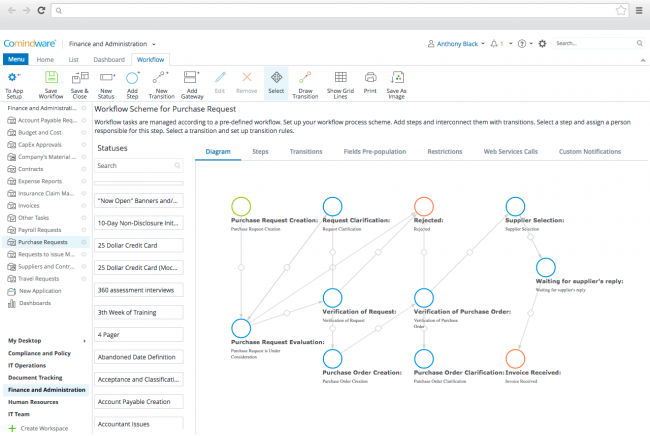 Benefits to automating the procurement process flow
Given the importance of the procurement procedure, it is easy to see why this department would be a great candidate for the use of powerful automation software. This department doesn't have room to make errors and yet, when people manually handle these processes, it is bound to happen. Not only can it reduce errors, but a process order app or other automation software can also increase transparency and simplify the different elements of the process. What follows are just some of the benefits of automating the procurement process.
Reduced errors
Increased transparency
Less paper and confusion
Reduces the amount of time it takes to resolve accounts and purchases
Provides for a consistent process
In closing
Given the importance and vitality of the procurement department and their various processes, reducing error, the time it takes to resolve accounts, as well as simplifying the process and increasing transparency are all just plain good for business. The complexity of the purchase order process and the lag time for accounts being resolved is inefficient and wastes time and money. A failure to streamline this process puts businesses at a disadvantage against those who do use this powerful software. This type of investment not only reduces error, saves time, and reduces the need for human manual data entry, it will also pay for itself in a short period.
Ready to check in practice how workflow automation technology can help with effective procurement management? Don't delay and give a try to Comindware Tracker, workflow software that is widely used by Chief Procurement Officers all over US and has proven its reliability.
---