How to Manage a Small Team: 3 Ways to Ensure Effective Tasks Completion
Thursday, October 22, 2020
This article reviews the essentials on how to delegate tasks and manage a small team.
Consider this scenario:
You're spearheading a research and development project. A problem crops up, and the client wants the cause investigated. You tell her she'll get the details in the next monthly meeting. Because your plate is already brimming, you assign the task to a team member. The next meeting comes, and the client asks for the details you promised. Sitting next to you, quite visibly shaken and all color drained from his face, is the person you assigned the task to.
Even without uttering a single word, you know that the task hasn't been carried out, but, in your mind, the more pressing question is: How could you possibly have forgotten about this very important task?

To steer a project to success, project managers must always keep their eyes on the big picture, making
effective delegation
a vital skill. But delegation isn't just about handing a task off to someone else and crossing it out of your to-do-list. As a matter of fact, while it's no longer on your list of personal to-dos, being the manager, it remains your responsibility. At the end of the day, the task needs to be carried out as planned, and it's your job to ensure the person you assigned it to is working on it as expected.
To do just that, here are three tips to consider when managing small projects and, as a cherry on the cake, a recommendation on what to look for in a task management and
workflow
automation software.
Assign the task to a single owner
A task may need to be carried out by a group of individuals. However, there has to be somebody responsible for its execution and completion, a team leader managing a small team within a larger team, so to speak. This is to ensure that when things go off course, a key person is available to step up and keep things on track. It's also worth noting that for a task handover to be considered a success, the task owner must understand what the task is about and the responsibilities attached to it.
Communicate, communicate, communicate
There's this thing called "status-ing people to death," a situation you wouldn't want to heap upon your team members. Then again, under-communicating is venturing into dangerous territory, largely because it's crucial that your team members are aware of their duties, responsibilities,
deadlines
, and task dependencies on a daily basis.
To propel a project forward (whether managing small projects or larger endeavors is secondary), every bit of relevant information must be put out there. It's one way for people to trust you. Besides, you don't want anyone in your team, particularly those who've been assigned essential tasks, to operate on incomplete information.
Balance, therefore, is key when communicating the important points.
A few things about communication to keep in mind:
Explicitly communicate deadlines.
Be specific with your expectations. Leave no room for guesswork.
Encourage people to ask questions.
Ask for suggestions on how to more easily and speedily complete the team's tasks.
That is vital to have a full set of collaboration tools for effective information exchange within your small team and workarounds within a single work area. Here you can check how the most used collaboration tool in
Comindware Tracker
look like:
Use a collaborative task management tool when managing small projects
Globalization and the growing complexity of most projects have warranted the use of task management and
workflow automation
software to manage team tasks and projects, as successful
project completion
entails that project managers must effectively manage small teams – and larger ones, for that matter. There are numerous collaborative management tools a team leader can use to help to manage a team more effectively and it might be a challenge to choose the best fit.
Cloud-based tools, like
Comindware Tracker
, afford teams and their members from various parts of the globe a single repository where they can communicate, update the status of each task assigned to them, and upload and share files and documents on a real-time basis, among others. It allows project managers a snapshot, as well as a detailed view, of how each task is faring, and whether or not the team is anywhere near the achievement of its goals. Even more, Comindware Tracker makes it possible to automate repetitive tasks flow and get sure that they are completed properly on a constant basis and increase team productivity. Here is an example of a workflow that can be easily created and executed in Comindware Tracker for better idea: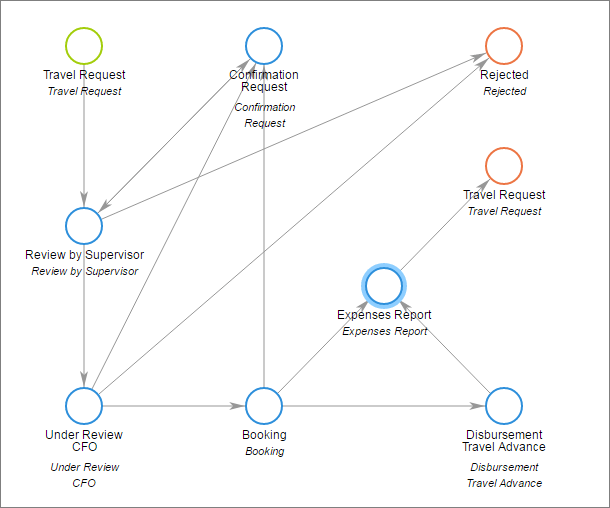 Final word on managing a small team
The fundamentals in succeeding with managing small teams lie with the understanding that it's just as difficult to manage small teams as it is midsized or even large teams. Project managers often mistakenly believe that managing a small team is easier, but that is not always the case. And unless the key principles, which include appropriate software implementation, are applied, you may actually be destined for failure.
What is the best way to manage a team? What other tips can you recommend?
---