Comindware Tracker is one of the best BPM solutions 2013
Tuesday, July 2, 2013
Comindware® Tracker® is one of the best BPM solutions 2013

[Woburn, Mass.] – Jule 2, 2013 – Comindware, Inc., a provider of web-based collaborative Workflow, Task, and Document Management software, is recognized by Innovation IT 2013 Award among Top BPM Solutions by Initiative Mittelstand for its flagship Comindware Tracker product.
Initiative Mittelstand awards the most innovative products and solutions for businesses in the technology, information, and telecommunications industries with the annual prize 'Innovation-IT' since 2004.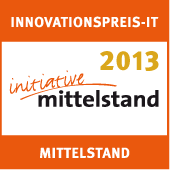 Comindware Tracker, a process management and productivity system, designed to manage teams and streamline routine processes, convinced the expert panel and came second among more than 4,900 applicants in 40 categories, competing for a place in the Top Ranking of Business Process Management solutions.
'Innovation-IT' prize serves to highlight the most benefit that the winners provide for businesses. A point of differentiation of Comindware Tracker lies within its focus on the human factor. With Comindware Tracker, users are able to process team tasks in an effective and collaborative manner.
To bring an order in a chaotic work environment, companies need flexible software solutions boosting team productivity and providing real-time visibility into departments' processes. Comindware Tracker helps businesses get a full control over teams and projects by turning routine tasks into automated and transparent workflow processes.
Task and Workflow management functionality of Comindware Tracker is also built natively into Microsoft Outlook, a primary work environment of most of the companies. Thanks to 'Comindware Tasks for Outlook' teams stay productive with no need to switch between different applications.
Max Tsypliaev, founder, president and chief executive officer for Comindware, describes their drive to innovation, "Our award-winning ElasticData technology provides a maximum flexibility that allows companies to easily adapt Comindware Tracker to their specific business processes, not the other way around. With Comindware Tracker, our clients deliver 30-50% more in less time by avoiding unnecessary steps in planning and tasks coordination."
Pricing & Availability
U.S. pricing is very competitive and includes the Comindware® Advantage® maintenance and support program. More pricing information is available here. Comindware also offers live online demos on request, to test-drive the solution for both the Cloud (on Comindware servers) offering and the private Cloud (on users' servers).
About Comindware, Inc.
Comindware is a pioneer in collaborative work management software for teams across the enterprise. Its mission: to help people work together more effectively. Comindware was founded in 2010 and is led by a team of successful serial entrepreneurs with roots in several industry-leading software companies, including Acronis, Inc., Parallels and Kaspersky Labs.
A privately-run firm, Comindware is headquartered in Woburn, Mass. and can be found at www.comindware.com
For More Information Contact: +1 (888) 317-4608
---