What is ESM? When ITSM Spreads in Other Departments
Tuesday, May 21, 2019
Over the course of net surfing for software solutions pertaining to IT management services, you are sure to come across a number of terms like ITSM or ESM more than once or twice. IT being the diverse field that it is, is full of acronyms that if unfamiliar with can be quite confusing.
That aside, however, we want to highlight a few details about a particular set of acronyms that deal with IT management services. They are ESM and ITSM and in this piece, we'll answer the question 'what is ESM' as well as providing a number of other details.

What is ESM?
ESM, in this case, stands for Enterprise Service Management. Breaking it down further, it is essentially a means towards providing both your customers and employees with more value through the use and adoption of service management principles.
Generally speaking, the term ESM is being used to describe the implementation of IT service-focused business frameworks mainly geared for use in functions that have little to do with the field of IT or that don't usually rely on IT, throughout the organization.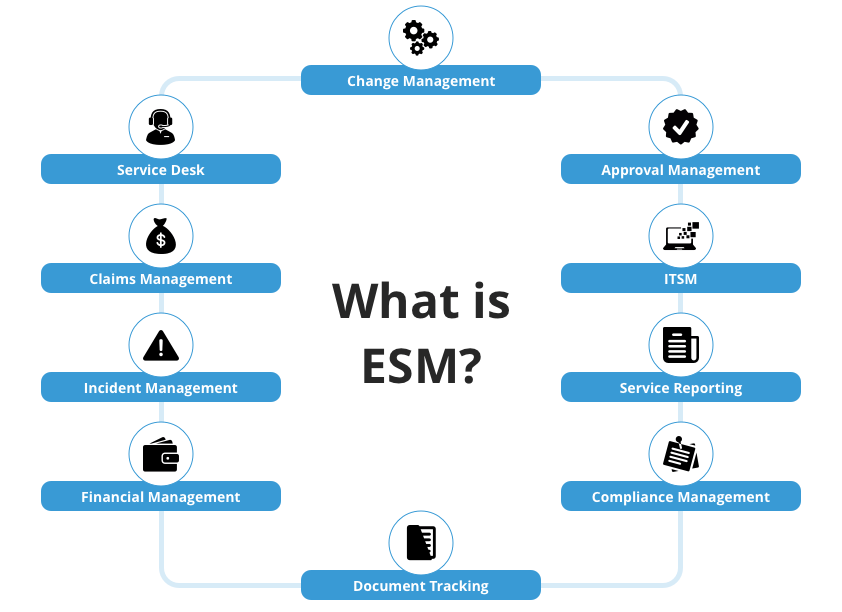 Since the whole idea was borne out of a kind of evolutionary need that many organizations faced, it has yet to take a definite or exact shape where it can be universally declared that 'This is what ESM' is. As a result, no exact definition exists for it but as a general rule of thumb for any organizations looking to get in on it, the following two elements are required in order to have an ESM:
Management regulations that define the idea, aim, and operations that define what ESM is and what role it will be used for in the organization.
ESM software or mechanism used to implement and deliver the ESM services throughout the company.
ESM vs ITSM vs SSM
Having addressed the question 'what is ESM', let's now highlight a few other terms that you may come across in this area of business and IT:
ITSM –Meaning IT Service Management. This aspect deals with the control, operation and maintenance of IT service only.
SSM –Meaning 'Shared Service Management'. It is in many ways similar to ESM, the only difference is that its scale of operation is restricted in terms of both reach and scope.
Steps in Implementing ESM
The following steps show how ESM ends up being integrated throughout the organization:
Step 0
This is the first stage of the cycle. At this point, nothing connects the organization's different departments.
Step 1
In this step, a shared tool or service is introduced. Names and other important terminology for the processes that are to be used in the newly introduced system are defined so as to ensure consistency throughout the entire organization.
Step 2
At this juncture, for the ESM to further flourish, a shared service desk is introduced. This is an important step since agreements on how the various departments in the company will cooperate and have workflow throughout them are ironed out. This ensures efficiency doesn't suffer but instead improves.
Step 3
At this point, all the involved departments draw up a united methodology for ensured delivery of services.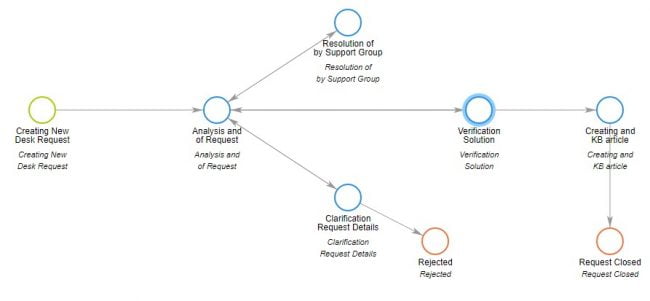 An example of service management workflow created in CMW Tracker with drag'n'drop simplicity.
Merits offered by ESM
The fact that ESM is geared towards practically uniting the whole company with a single resource of this magnitude should tell you a bit about the kind of merits you can expect of the ESM systems. A few such merits include:
This is in terms of both time and resources. With an ESM system uniting the departments spanning the entire organization, this means the system is accessible to personnel no matter where they may be in the company. Also, retrieving and sending info is much easier.
With processes in the ESM clearly defined, goals can be achieved faster and more efficiently. If a problem occurs, it can be quickly identified and dealt with.
Since such a system offers them nothing but convenience. They'll appreciate getting their tasks done quickly and efficiently.
Conclusion
In answering the question 'what is ESM', this piece has explored a lot of different aspects on it. It is a sure way of gaining a competitive edge over other companies that fail to see its merits and any company that does implement ESM will enjoy not only having a better technological edge but better growth margins and customer and employee satisfaction.
CMW Tracker delivers a full set of features for effective enterprise service management.
---