Social Task Management, Collaboration and Seamless Execution: How Comindware Tracker Ties Them All Together
Friday, March 7, 2014
Back in the day when social task management tools were unheard of, managers scheduled team meetings to distribute tasks and/or check members' task statuses. Meetings were also required to discuss task execution challenges and brainstorm ways to ensure effective task management. Progress reports were then sent as a spreadsheet, or some other file type, via the company's internal shared drive or through email.

Whenever recommendations were made, the file in the drive was updated or another email was sent out. This eventually caused serious data versioning problems, as in the case of a team member downloading the file to his work terminal to work on data in the file. And then there, too, were task confusion and, thus, project delays, particularly when the email wasn't explicitly worded and people started taking things out of context.
What is a social task management software?
A social task management software is a collaborative, real-time approach to managing individual and team-based tasks. Web-based social task management software takes status updates and file sharing to a whole new level, as illustrated by the following benefits:
Activities (updates, files, conversations, annotations, and others) that are tied to a task are streamed real-time for all involved parties to see.
Threaded commenting and conversations are within the context of a task/project, effectively providing clarity and eliminating confusion.
Aside from spreadsheets and simple text files, other file types, such as PowerPoint presentations and images, can be uploaded and shared with the entire team.
Word and phrase tags can be used so that items are easier to locate by team members later.
Project management vs. social task management
It is important to note that social task management is different from project management. While we can all agree that projects are broken down into tasks for faster execution and delivery, a social task management software cannot necessarily replace a real project management solution, especially in the context of large-scale projects and tighter internal controls over schedules and resources, such as staff, time and budget allocation.
Regardless of what project management vendors claim, it is best to remember that the need to migrate from a simple social task management tool to a full-blown project management software is totally dependent upon your organization's project management needs.
Realize that some projects can be effectively carried out by enterprise collaboration tools with a strong focus on social task management, like Comindware Tracker, and even by standalone social task management tools, so that the purchase of a project management software may be deemed premature.
Comindware Tracker and what it can do for effective task management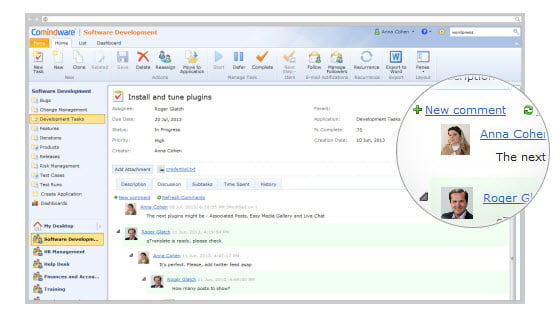 Comindware Tracker is an adaptive business process management platform that's user-friendly and allows on-the-fly workflow changes to ensure effective task management at all stages of the execution phase. Its graphical workflow builder lets you create and edit workflows, add and delete tasks via drag-and-drop technology, eliminating the need for an advanced degree in programming to efficiently utilize the software.
Comindware Tracker's unique ConnectStep technology also streamlines workflow and task completion through automatically generated next-step tasks. Comindware Tracker also supports all of the aforementioned social task management software benefits.
---