Cross-departmental collaboration on business processes from Outlook
Thursday, February 20, 2014
It's great if you are into optimization when it comes to your department. Yet it really makes sense when you think big and use cross-departmental optimization. This is especially the case when it's so easy with Comindware Tracker to keep your entire department under control and have them working together without any kind of software boundaries like implementation difficulties or difference in formats.

Let's take the example of a commercial offer for a client. At least three departments work consecutively to form the offer:
Sales initially who attract the client and find out their needs
Technical professionals for creating the body of the offer
Finance professionals who calculate the offer price
There can be also marketers, technical support, implementation professionals, and testers – depending on the industry.
Cross-departmental work items tend to get lost due to their nature: too many cooks spoil the broth. When there are too many people responsible for each step of the process, at some point, it can end up that nobody is responsible for it. It's very easy for any important piece of data to get lost in this collaboration.
When Jim says:
I have sent it to Simon and now have no clue where it could be – and Simon is like – I donno I haven't received anything – that is exactly what happens: you lose control over your process.
Well when it comes to a single department, everybody still knows each other and there are chances that the document in question will be found. People from different departments may not even know each other.
This problem can be easily prevented with Comindware Tracker and Comindware Tasks for Outlook whose main value is control over processes provided through transparency and collaborative work. With Comindware Tracker you always have an assignee for each task, a person who is responsible for each step of the process – the person who cannot say 'I've sent it to someone and now I don't know why'. Because it's clearly indicated who's responsible for each task and who's working on the process right now. There can be no such situation when a process has no responsible person or a paper is sent to 'I don't know where' – all papers are attached to a single work item. And all of those work items, along with attachments and relevant work data are available from your Outlook – you don't even have to change your habits! You simply get more comfort for work, control for processes, and collaboration for your team.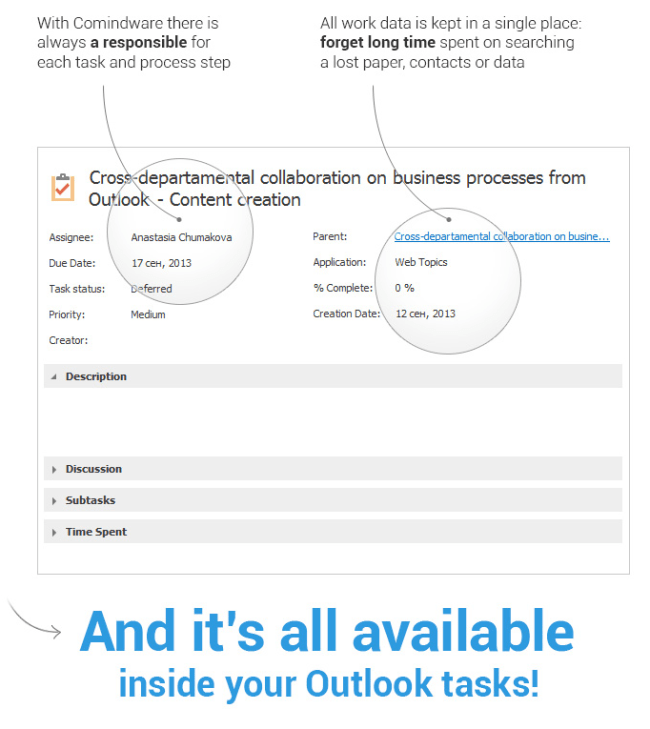 With Comindware Tasks for Outlook your processes become much more controllable, and your cross-departmental work becomes as transparent as never before. It can take you a long  time to set up something as efficient to ensure enough accountability. Comindware solutions can be far easier  than most solutions for BPM on the market due to the possibility of quick adaptation to the existing business processes.
---