Why Implement a Rapid Application Development Platform?
Tuesday, October 4, 2016
So how does it work – building business applications without having any technical or programming skills? And what is most critical in a
rapid applications development
platform to enable that?

Depending on the app specialization – data apps, process apps, request management or mobile apps, the core functional capability is provision of visual declarative tools and drag-and-drop technologies to "citizen developers" in order to avoid hand coding and enable setting up and configuration of data forms,
workflows
and user workspaces by mouse clicks.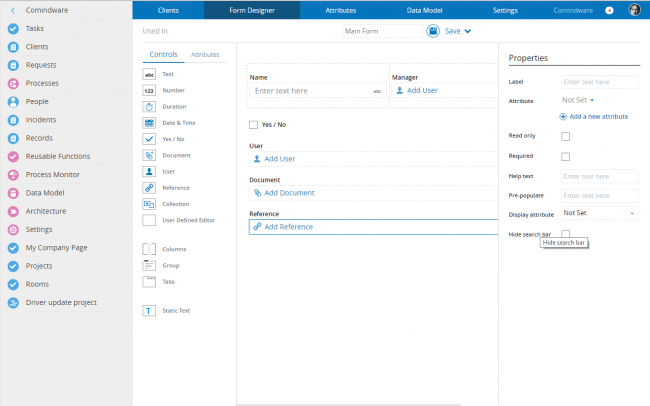 Drag'n'drop interface for rapid application development
The ability to leverage visual tools for application design and launch as well as avoid complex rapid application development methodology significantly extends the app developer pool, ultimately meaning you can get your apps for less, and even more importantly – quicker and in agile "sand-box" projects where business users have the freedom to experiment and come up with solutions just right for their current business needs.
Critical to app development process is maintaining application coherence and data security. Before rolling out yet another application, due analysis has to be performed to determine whether business needs can be addressed by existing software or with minimal configuration effort. This puts IT back in the app development cycle – but in a different role and with different objectives: given that IT will always be interested in keeping lean and minimizing the number of applications they ultimately will have to support, there will be less push backs in terms of providing quick fixes and delivering the change on business time.
Without a doubt, the advent of
rapid application development tools
open new opportunities for
every business
and true indeed, every company is becoming an IT company on today's high tech markets.
---