Basic Workflow Software – Must-have Features and More
Monday, August 30, 2021
When it comes to workflow management software, there are tons of options to choose from. In fact, it can quickly become overwhelming. But the thing is, this type of software is incredibly important to modern business operations. It can allow you to streamline many aspects of your business process and some of this software also allows for the automation of a range of different tasks.
All of these things allow our business to operate more efficiently and transparently. But how do you know which software is the right option for you? We recommend no- and low-code workflow management software like Comindware Tracker, as it doesn't have the learning curve that other software has. Additionally, it is a powerful suite of tools that allow you to streamline and better manage various aspects of your business.

Let's take a look at some of the most important features that basic workflow software should have.
Low- or No-Code
There are a lot of powerful, versatile workflow management systems, but not all of them are created equal and this doesn't just mean the variety of features they offer. Some workflow management software is highly technical. This means that only those who have a detailed understanding of coding and technology can really make the most use of this software. If others at the business are to use at least basic workflow software, generally someone with expertise must first set everything up. This is a bottleneck that is unnecessary.
Like we mentioned earlier, Comindware Tracker is a low-code workflow management tool. What this means is that you don't need a ton of technical or coding knowledge to use all the features of this software. This makes the software far more versatile and relieves your IT department from having to take part in every step of the workflow process development.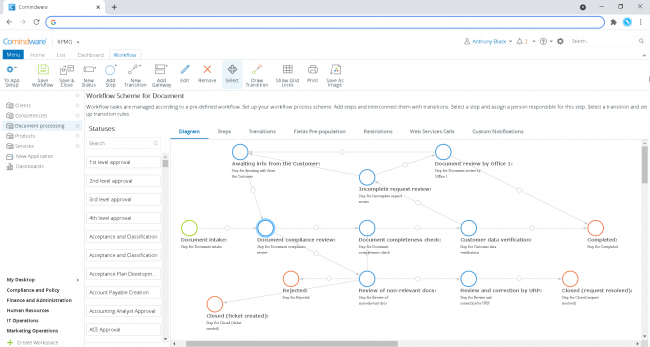 Importation of Documents and Data
If possible, you want a suite of software tools that will easily allow you to access important data, documents, and other information. More businesses than ever before are moving to a paperless office. This means that all their records, plans, and documentation is kept digitally. In days gone by, to digitize our office would take many days or weeks of scanning and data entry. Not only does this take a ton of time, but it can also leave room for human error.
With software that imports this information automatically, you can really streamline the process, improving efficiency and reducing the chance of human error.
Custom Workspaces
It is vital that the basic workflow software you choose allows you to create custom workspaces. With this feature, you can create a space where all relevant parties can access the same information and data. These workspaces allow for secure communication between relevant parties and will also facilitate the transfer of data, documents, or other information like approval forms.
Mobile and Email Notifications
Today's office is busier than ever before and most of us are inundated with communications, some of which need our immediate input, others can wait until a later time. But how do we know what is important and what isn't? Bottlenecks in processes often come because someone is unaware that a process is waiting for their input and approval.
Software that allows you to create custom email notifications makes this all a lot easier. You can set up notifications that will alert relevant parties that something needs their input.
Ability to Integrate with Other Software
Most of us don't use just one suite of software to manage our company. The last thing we want is to get stuck with a suite of software that is incompatible with other important tools. You want to make sure that the workflow software you choose is one that allows for easy integration with outer software and third-party tools.
In Closing
It can be intimidating to choose a workflow management software suite since there are just so many options out there. Knowing the most important features to look for in basic workflow software will make the process of choosing the best tools for your business a lot easier. Looking for software solutions that don't require a ton of coding knowledge makes the tools more versatile. You also want to look for software that has the ability to create a custom workspace, set up notifications, import and automate document and data collection, as well as integrate with other tools.
---