How to make a contract approval process fully transparent
Friday, April 26, 2013
When your company has wide business relations with other companies, the number of agreements you manage can be really huge. And you need to keep those agreements up to date and available. Timely signed up and renewed contracts would be the aim of your contract management activities. Don't get lost in terms, contacts and contracts. Use Comindware Tracker Finance & Administration Solution which provides you with a fully-automated contract approval process template.

Comindware Tracker Contract Approval template streamlines your contract approval process execution and helps you do more in less time with the following features you get:
Streamlined execution of the contract approval process with the automated workflow template
Contract approval item template with pre-configured form fields
Email notifications
Multi-parameter search
Discussion threads
Attachments
Secure Cloud storage for the contract approval data
Customizable list views
"…you can easily adapt Comindware Tracker workflow software to your existing contract approval process, not vice versa."
On the market of contract management software solutions Comindware Tracker stands alone with its simplicity: you can adapt the software to your existing contract approval process, not vice versa. And you don't need special IT skills to modify the workflow: it's all done visually. Basically, it's not much harder than customizing, for example, your Gmail account settings.
Whether you're new to online contract approval software or have previous experience of using similar solutions, we have a full range of professional services, and we are ready to guide you through any challenge: starting from the very beginning (let's say, migrating your data from other systems), or making specific workflows. We're here to help.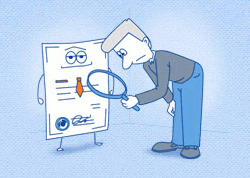 The new, simpler way of processing contract approvals through online software, helps eliminate mistakes, reduce costs, and empty your email box. Your team can start using the software right away thanks to the familiar Microsoft Ribbon interface it has. At the same time, we are ready to provide training for your team, and help you reduce the time necessary to enter the professional solution.
Make the contract approval workflow process in your company transparent to managers, legal advisers, the head of accounting and executives. Even in case one of you goes on vacation, the context won't be lost, and the process takes its natural course at its ordinary speed because all data is stored and accessible online. It is drastically different from sending files to each other from email and trying to find bits of information on different computers and from different staff!
If you're still not persuaded that Comindware Tracker Finance & Administration Solution can make your contract approval process quicker and more efficient, then just try the solution for free: this is more persuasive than a thousand words.
---