Top 5 Workflow Marketing Apps for Effective Boost in 2021
Wednesday, February 17, 2021
Marketing is, of course, a very important part of any successful business, but how streamlined are your processes, and did you know that they can be automated and better managed with intelligent software?
Just like any other aspect of a business, marketing is a process that can be broken down into its constituent steps to see exactly what goes on within a given process. Over time, these processes may become inefficient as new technologies are introduced or new ways of doing things are employed. It also takes time to perform these tasks and this also reduces efficiency.
These inefficiencies can make a difference and streamlining this process allows you to get the most out of all marketing efforts. All business processes involve a workflow which, using the latest software, can be automated for more efficient marketing practices and provide information to help direct future efforts.

What is Marketing Workflow?
First, let's take a look at what a marketing workflow is. Take any task a marketing department is assigned to manage. This task is referred to as a process and can be broken down into all the subtasks required for completion. Not only does this help with training new people, it gives you a good way to look at how a certain process is completed. The thing is, it shouldn't stop at simply knowing and documenting the steps in a process.
Pretty much any process will have room for improvement, whether it be increased efficiency or reduction of potential issues or errors in the process. It might be getting clearer as to how important optimization of these processes really is. Workflows show all interested parties the steps it takes to complete a given process, increases transparency, and allows for suggestions as to how to further streamline a given process.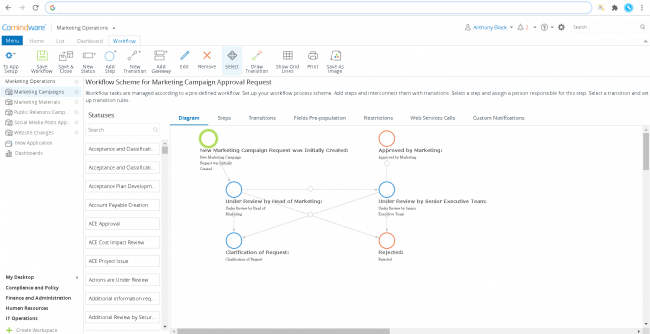 Comindware Tracker makes it a snap to design workflows and automate them
Marketing Workflow Software
Now that we have a basic idea of what a workflow process is and how it relates to a marketing department, the value of optimizing these processes, and the like, let's take a look at a few pieces of software that you can use to better optimize your marketing workflow. While this can be done manually, most businesses are moving away from that and switching to powerful tools that can be automated and configured for the exact needs of a given process.
Ahrefs for Workflow
Chances are, your business has some sort of online presence and thus you are familiar with basic SEO. This software suite combines a range of powerful tools that can really enhance marketing efforts through the use of sophisticated and targeted SEO.
MailChimp
This was, at one time, a simple email marketing platform, but they have greatly expanded their offerings since they first emerged. Many businesses utilize email marketing as part of their marketing efforts and MailChimp has proven to be a powerful and effective means to maximize the results of these efforts.
The software features pre-made templates and a range of design tools that allow you to create visually appealing and highly effective marketing emails. The software also features enhanced analytics and reporting metrics that can be incredibly helpful in determining what efforts to scrap, which work, and how to improve their usefulness even more.
StoryChief
This is a powerful and unique set of software tools that allow you to create a wide range of personalized and customized content and can manage pretty much any type of marketing effort.
With this software, you can easily publish across various platforms and gives you access to a huge range of different metrics and analytics tools that will help inform what marketing efforts to enhance and which aren't performing well.
The software even comes with a built-in calendar which makes it easy to schedule content far in advance. It also features an SEO assistant which can help you further optimize your content to reach more people.
Hootsuite
This is a very popular and powerful tool that is specially designed for social media marketing. With this software, you can more easily manage social media marketing efforts across platforms.
You can use this software to schedule content and have it post to a range of different platforms. It also has a great number of analytics tools so you can see how your efforts are performing, ways they can be improved, and what sites your content is performing best on.
Comindware
Workflow software by Comindware makes it easier than ever before to collaborate between involved parties. It makes achieving marketing goals take a lot less time and allows for collaboration which will often lead to better results. With this software, you can easily see what each employee is doing and how they are working towards reaching your marketing goals.
[button] Get 30-day trial
There are, of course, many more tools out there to consider, but these are among the most popular and highly rated. They allow you to see where you can improve your efforts, what works, and what doesn't, and even helps you to automate this process so it takes less time to complete. With powerful analytics tools and reporting metrics, you can easily see where you can improve and where you are hitting the proverbial mark.
---