What is Security Assessment Process and How Does It Works
Tuesday, April 13, 2021
As more of the world goes digital, virtual security becomes even more of a pressing issue. In our business life, most of us use anti-virus software, our networks have firewalls, we encrypt private information, all to help keep our networks and data safe and secure.
While it might seem like these protective measures are enough, today's threats are far more sophisticated and complicated and that means you need a more complete security assessment to ensure that you are as protected from potential threats as possible.

What Isn't Basic Security Enough?
If all you have in place are basic precautions, your business is still prone to attack. It isn't enough just to have a basic firewall and require employees to use anti-virus software. You need a solid information security risk assessment process in place to have a flexible plan in place to protect all aspects of your business from threats.
We hear about major data breaches all the time and not only does this reduce customer trust in your ability to protect their information, but it can also leave you at risk for lawsuits and the like. This happens to major businesses that have far more available resources at their disposal to protect themselves against threats, so where does that leave a small- or medium-sized business owner?
Think about it. not only do small businesses have far fewer resources to protect their information and data, but they are also far more vulnerable to lawsuits, as they are less likely to be able to incur the costs and fees. This means the cybersecurity threat assessment process is not only vital to protecting data and networks, it can also keep your business from ending up in court over a data breach.
Not only are small businesses easier targets because they lack resources, but they are also easier targets because they tend to have systems far more vulnerable than those of large corporations.
What is a Security Assessment?
Security assessments refer to regular tests of the preparedness of a company against potential threats. This might mean looking for areas that may have vulnerabilities, as well as coming up with fixes to any potential issues that are discovered.
When you regularly revisit your security protocols and test your systems for weakness, you ensure that your security is kept up to date.v
Some may want to go beyond an in-house assessment, and if you have the money, you can pay a third-party company to test your systems and find any potential weaknesses or problem areas in your security protocols.
Why Businesses of Any Size Need to Consider Security Assessment
The sad fact is that most data breaches and other security issues are a result of human error. Something got overlooked in the development process and a security threat made its way into a live system.
Today, more and more businesses rely on third-party software, such as Comindware Tracker, which can help aid in the process of conducting security assessments. The software can be used to help track, automate, and streamline the security assessment process, ensuring that your information, data, and processes stay protected, and also save time in the process.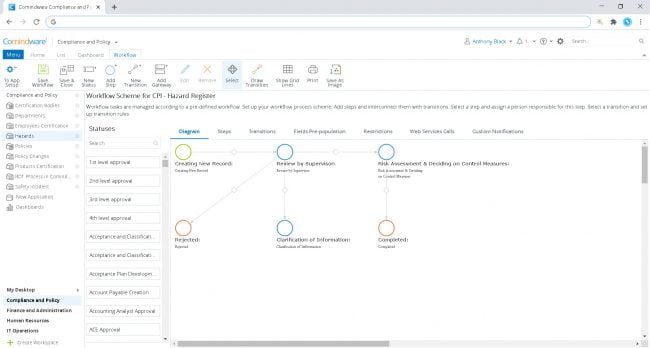 Workflow management software by Comindware makes it easy to design and automate your security assessment process.
In Summary
Compliance requirements are also regularly changing and failure to properly comply can lead to fines and other headaches. By regularly revisiting security assessment protocols, you can ensure that they also stay updated with the latest changes in compliance reporting.
There are also always new and evolving security threats that regularly assessing your security measures can help you stay on top of.
With the use of a security review and security testing, you can help keep your business safe in the face of ever-changing threats to data and network security. Proper security assessment entails regularly reviewing your security protocols and using in-house or third-party testing to find any potential areas of weakness and address them.
The ability to find vulnerabilities before they can be exploited can save a company a lot of time and effort. It can also help keep the company current with the various and rapidly-changing rules of compliance reporting as well.
---