Mobile App Development Workflow – Steps to Success
Wednesday, September 15, 2021
Applications are now more popular than ever before. Whether it is a game, a sales application, or something used to stream our favorite programs. This allows us to make our ideas come to life in the digital realm and provide an enhanced product or service to our customers. In the old days, if we had an idea for a product or service, we would have to handle it all by hand. There was no way to manage or implement these things digitally.
Fast forward to today and there are options for building applications that even allow people with little to no technical experience the ability to create their own application. And when paired with no- or low-code workflow management software like CMW Tracker, the process of development and implementation becomes a lot easier.

With no- or low-code workflow management software, you can easily manage the various aspects of application development, release, and updating, without the need for a ton of coding knowledge or technical ability. Let's look at some of the proven steps to creating a solid app development workflow, which will help streamline and simplify the process of development, testing, and ultimately, the release of your mobile app.
Create a Functional Prototype
You don't want to release an untested app to the public. This increases the likelihood that your app will be a failure. You need to create a basic, functional prototype of the mobile application that you can test and try out to find any potential bugs and issues. There are things you can find out about an application, such as issues with the user interface, when you have a prototype you can actually manipulate.
Additionally, it is highly recommended that you test your app out on a wide range of devices. This means different tablets, smartphones, laptops, and the like. This way, you can find any issues in the rendering of the application on specific devices. You don't want to be surprised with these things after release.
Manage Your App Development Workflow
Workflow management software can help you simplify the process of mobile app development. With this software, you can create a custom workflow where you lay out a detailed list of step-by-step instructions as to how the process needs to be unveiled. This helps ensure that all parties involved are working from the same knowledge base.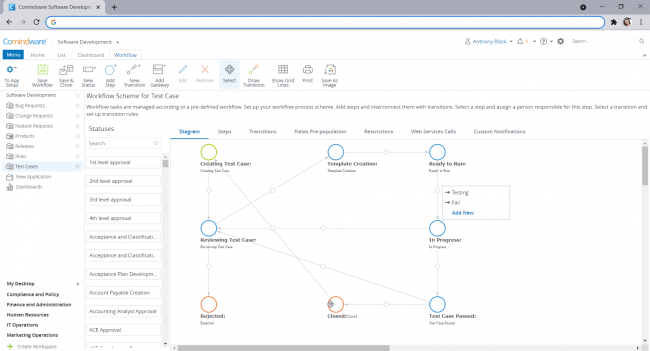 Design and automate any workflow with ease and get your processes streamlined.
The automated development process is a highly important part of your app development project, but especially when it comes to mobile apps. People have high expectations for how user-friendly and easy to navigate an application should be. Creating simple prototypes and using these environments to test and retest your app will help you identify areas where the app can be improved and any areas where you might need to go back to the proverbial drawing board. You want to make sure it renders well across devices and that it is as easy to navigate for the user as possible. It needs to have an interface that makes sense, is intuitive, and looks good regardless of where it is accessed from.
Use Workflow Software to Track and Improve the Application
Once the application has been released, workflow software can still play a hugely important role. You can use information and metrics to set up a solid, well-defined workflow that will ensure that your app runs smoothly and takes user experience into account. You are likely to need to update or add to your application at a future time and with workflow software, you can more easily create a solid process for how to do these things.
You can also use metrics to help you troubleshoot any issues users may have with your application and fix them. It will also allow you to see how well your app does among different demographics of the public and you can use this information to update, upgrade, and better streamline your mobile app.
In Closing
Creating a mobile app is easier than ever before, but at the same time, users have higher expectations about functionality and ease of use. This is why it is so important to have a solid development process and to use things like workflow software during the development and testing of the application. This helps ensure that when the app is ultimately released, it will have fewer issues.
This software and a solid plan of action allow you to create simple prototypes of your application that you can then test out for the user interface as well as how it renders on other devices. You can also use these tools to create solid workflows around the development, testing, and ultimate release of the application. The software is also valuable in helping you track metrics and other data that gives you an idea of how users actually interact with the app and how you can improve their experience.
---