Web Application Development Software vs. BPM Platform
Tuesday, April 13, 2021
When it comes to managing processes, there is a running debate as to whether custom applications or improved business process management software is the better way to go.
We all know how important customization is. We need tools that will fit our company's individualized needs and that can be changed or updated to our needs whenever necessary. This is highly important, especially since today's business processes are more complicated than ever before.
With this emphasis on customization and personalization, it isn't surprising that the custom application market is larger today than it ever has been before.

Web Application Software Pros and Cons
Custom-built applications are a fast-growing marketplace as a solution to the need for personalized applications. Forrester Research found that in 2013, $542 billion was spent on the development of custom software and applications, showing just how large this business sector is.
The benefit of this is evident. The software or application can be built to your specific needs with your business in mind. It is software or an application that is made especially for what you need it for.
But have you ever fully estimated all the costs associated with developing a custom-built application, including a software engineer hiring cost? No doubts you will see: custom application or software development is incredibly expensive, and it doesn't usually stop at the development of the software. Companies will also need support services that can only be offered by the person who developed your software or application. This greatly adds to the cost of using custom software or applications.
The costs associated with maintaining, optimizing, and providing support for custom applications or software continues to increase at an alarming rate from year to year and there is no expectation of this changing any time soon.
Are BPM Platforms A Better Solution?
Business process management (BPM) or automation software is an alternative to custom software and applications. Offerings such as Comindware's business process automation software can be used in tandem with other tools as a means to better improve and streamline functions.
But what of customization? Isn't that why so many people use custom development rather than a sophisticated BPM platform? Well, the answer to this question is a bit complicated. It must be noted that a BPM system will never be as perfectly suited for your business as a custom application, but many BPM platforms provide a range of ways to customize and personalize the system to meet the needs of many businesses and is a much more affordable solution.
Most BPM software is flexible enough that it allows customization within the framework that is suitable for most businesses. As time has gone on, BPM platforms have been improved and become more useful, even in complicated or complex business processes.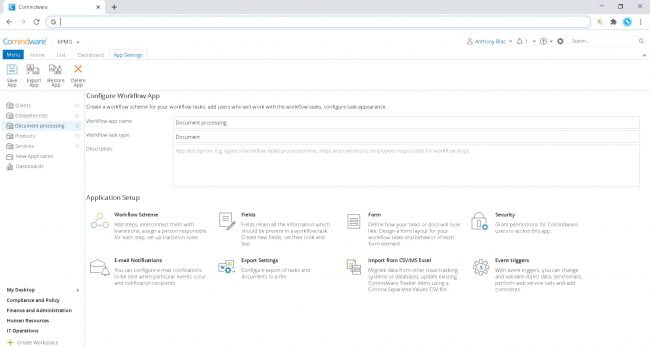 Flexible software for easy no-code workflow app development and quick addressing your business challenges.
Much new BPM software is designed to be flexible and allow you to integrate these services with existing technology and systems. When you purchase a BPM platform, you usually get access to comprehensive customer service that can help you troubleshoot, develop, and learn to best use this software to meet your business's individualized needs.
With a custom application or software suite, there may be issues with integration with technologies or systems already in use, which can increase the cost of these customized services. Whereas, with BPM software, it is designed to be used in tandem with other technologies and suites of software so integration into your already existing system will not be as difficult with BPM as it is with custom software or applications.
In Closing
There are, of course, certain instances where customized software or applications, regardless of cost, are going to be the best solution for a business need. But the growing reliance on custom technologies in recent years does not represent a sudden need for super-specific types of software, but rather a desire for customization and the ability to adapt software or applications to the needs of the company.
Custom software is not the only way to get this customization and it is often a far more expensive form of technology than is necessary. Modern BPM platforms are complex, comprehensive systems that can easily integrate with already existing software and applications and have the ability to be customized to the needs of most businesses. BPM platforms are not only more affordable, but they are also more flexible and adaptive than custom software is as it is already designed for use with a range of other technologies.
In our judgment, BPM platforms make more sense for most businesses than do custom applications or software suites. BPM provides for customization, while also placing an emphasis on the ability to integrate with other software or applications. It is a more cost-effective tool that has greater versatility and flexibility than custom software or applications.
---