Invoice Approval Process: Electronic Form Submission of Invoice Data
Monday, May 13, 2013
With the online invoice approval system you can not only keep all of your bills and invoices in one place, you can also monitor their status, set notifications, and organize your financial documentation. Comindware Finance & Administration solution makes it possible to do this at minimal cost which is rare for a professional B2B solution. Here is how it works.

The invoice approval process powered by our Finance & Administration Solution is dedicated to following departments and activities:
accounts payable department
purchasing or procurement department
office manager purchasing stationery and other office staff
IT department purchasing hardware and software
marketers purchasing marketing campaigns
any department that deals with vendors and suppliers, and needs control over the payments and purchases
A streamlined invoice approval process sends invoices to particular staff, according to the business rules you have. The solution enables to record the necessary bill detail, such as:
the quantity of the purchase
price of goods and/or services
date
parties involved
unique invoice number
tax information
and any other information you need to track or use for search
"…you can customize the workflow, business rules, invoice form fields, staff roles. And this customization doesn't require advanced IT skills or programming…"
Fields can be added or removed. It is one of the main advantages of Comindware Tracker Finance & Administration Solution: you can customize the workflow, business rules, invoice form fields, staff roles. And this customization doesn't require advanced IT skills or programming: it's almost as easy as customizing your Google profile, even better because here it's visual.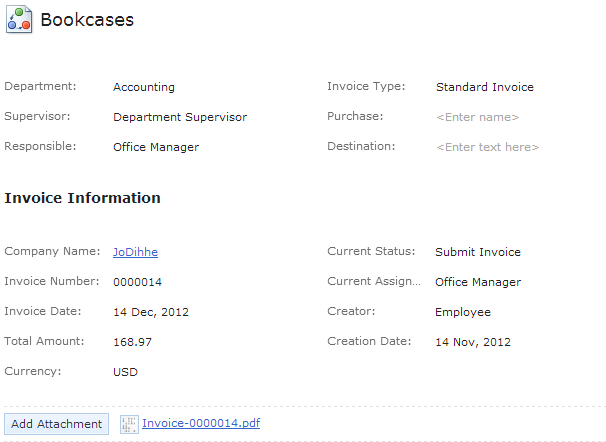 You can view and sort the complete list of invoices online with live statuses: approved, declined, paid, and awaiting payment. The solution is powered by multi-parameter search through the electronic form fields.
You company business rules can be fully reflected in the workflow. Should it be invoices that exceed a certain amount that automatically go to particular staff for approval, or all invoices from a specific vendor go to the department that works with the vendor, or anybody else.
The invoice created by email feature is unique and so far is only offered by Comindware Tracker: a specific email address can be linked with your Finance and Administration Solution instance. Once the vendor sends an email to this address, with the invoice attached, the invoice comes to the Solution and the item is automatically created, with the unique invoice number and an online URL for it. After this, the process for this item starts, and the item is routed to the right members of staff for further approval and payment.
The time to enter the system, set it up and run it, and start working with it is reduced to an extreme minimum for a B2B solution: the preconfigured template and the online Cloud instance are ready for work; the familiar Microsoft Ribbon-like interface drastically reduces the learning curve. And don't forget to check out our comprehensive professional services package where you can find help and guidance through the whole implementation and adaptation period where you start working on your financial workflows in a much more efficient, transparent and comfortable way.
---