IT Help Desk vs. Service Desk: What's the Difference
Tuesday, April 13, 2021
IT help and service desks are services that are designed to offer support for users and businesses. This is where users go when they are experiencing issues with the software or a particular process, as well as where people can go to find basic information and ask pointed questions.

What is an IT Help Desk?
A help desk is often a standalone service that provides user support. The help desk assists with a variety of common issues. Most often, these are basic issues such as having difficulties with Outlook or with a Zoom feature, but they can also be more complex as well.
Help desk software helps IT teams better manage troubleshooting tickets, issues in a process, as well as the timely answering of specific questions by users of the software or other processes.
With help desk software, you can manage the lifecycle of service requests or troubleshooting incidents. There are also self-service portals that provide basic information about common problems and issues and how to solve them without the need of an IT team member.
This software can also have more features like asset management for software assets, as well as project management modules and contract information.
Depending on the type of software you choose, help desk software often features the ability to automate certain aspects of the help desk process (like the self-service portals), as well as for enhanced customization to tailor the software to your specific business needs. The service desk can often be integrated into other workflow management software, such as Comindware's offerings. This software can be used to help streamline the functions of an IT Help Desk or Service Desk, reducing the overall workload of the IT department, while still ensuring people get the assistance they need.
What is a Service Desk?
A service desk is business-centered, as opposed to user-centered like the IT desk. This doesn't mean that they do not have interaction with end-users, but rather that they also deal with more macro service requests for the business as a whole.
In essence, the service desk consists of a team of IT members into a communications center where they provide help services to employees and the business as a whole.
The service desk is typically better equipped to handle more complex and a wider variety of tasks that a business and its customers may need.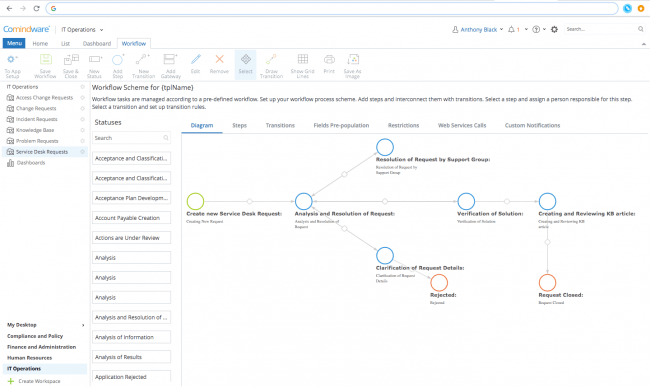 Get the full help desk or service desk request lifecycle automated within hours.
Key Differences
The biggest difference between a help desk and a service desk is the focus of the software and IT members. With help desk software, the focus is on the user, whereas with a service desk, the focus is on the business as a whole.
A help desk provides a narrow array of help services, but service desks are often integrated systems that can provide technical assistance for a much wider variety of issues. Basically, a help desk is only for the end-user of the system. A service desk is able to help both end-users as well as technicians who work on the more technical and back-end aspects of a system.
With a help desk, you get assistance for a problem when it occurs. A service desk is a bit more proactive in that it aims to provide continual business and technical support for the business and its various support networks.
In short, the help desk can be seen as a subset of a service desk. Many service desks will have a help desk that is designed to focus on end-users, but they will also have more complex abilities that are designed to facilitate technicians and the business as a whole.
In Closing
Both help desks and services desks provide a very important resource for a business. A help desk is user-oriented, focusing on issues that an end-user might face, and is the service most people will use when they are having trouble with something in a given system or process. A service desk is a more complex and comprehensive set of software tools and IT specialization. The service desk not only provides assistance to end-users, as the help desk does, but it also provides assistance and resources for technicians and behind-the-scenes IT personnel.
A help desk is a great way for users to get assistance for any issues that might come up when using a service or software, but a service desk is vital to provide assistance to the technicians and other skilled professionals that keep businesses operating and functioning on a daily basis. These services give users and technicians valuable resources to solve problems when they arise or to find proactive solutions to help ensure that problems don't arise, to begin with. There are powerful suites of software tools that can help streamline and even automate many aspects of these functions, reducing the workload for IT professionals while still ensuring smooth operations.
---