The Secret to Effective Team Collaboration: Mind Those Tools!
Tuesday, January 28, 2014
If you use your smartphone to chat with family and friends, chances are you already have a chat app such as WhatsApp downloaded on your phone. If you're the type who enjoys sharing files and documents with colleagues, you probably find Dropbox extremely helpful.

If you're visually creative and would rather say what you mean with more shapes, sketches, annotations and fewer words, Skitch by Evernote may have already found its way into your desktop. And then there are calendar management apps that can extract contextual information from your existing accounts, give you driving directions, find available parking space, and inform colleagues that you're running late for a meeting.
Collaboration, indeed, is easier with the right set of tools.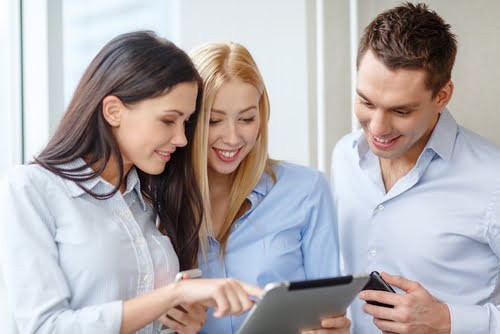 Then again, there's also the other side of the coin.
The downside of simple collaboration tools
If you're a business or project manager, you know how important team collaboration is. Tasks make up a project, and when broken down as smaller sub-tasks to be performed by individual team members, tasks are accomplished faster and more seamlessly. Yes, it's about individuals working together towards a common goal. Not quite surprisingly, it's partly also about the tools your team chooses to utilize to collaborate more effectively.
Imagine that you're in a virtual meeting with your team comprised of office-based and remote staff. Join.Me, thankfully, got everyone on board without a hitch. Screen sharing is going well, and the meeting is moving along as planned – until you realize that an important file needs to be shared with the team.
Nancy, a work-from-home mom who's currently trying to get things done from a coffee shop, doesn't have Dropbox installed in her Android phone and is particularly hesitant to download any more app into it for reasons she'd like to keep private. Your guess is that she'd rather keep her photos instead of freeing up storage space to make way for a new app – which, of course, is entirely none of your business. As for Google Docs, there's Joel, currently on a tour abroad, who is yet to sign up for a Google account.
After a round of suggestions that ranged from fairly sensible to laughably outlandish, you agree that everyone will simply get the file via email despite you knowing that email is probably not the best team collaboration tool to grace the world of work.
Simple collaboration tools in the context of work
While we understand that there's most likely an app for every possible collaboration need imaginable, and that your employees are exposed to a good number of them, simple collaboration tools not tailored to your specific business needs can be difficult, if not impossible, to rely upon.
Since your employees primarily use them for purposes outside of work, forcing such tools to work for work is like shoving an elephant into a rabbit hole. It will mean discomfort for everyone involved, and your goals – well, you can start modifying your end goals, if not completely dumping them into the trash, because you will possibly be spending a good chunk of your time figuring out how to motivate your team and simplify tasks that had been made complicated by the ill-fitted tools.
Collaboration and your core management strategy
One glaring advantage of the modern business world over that from decades ago is the ease with which team collaboration can be achieved – if you have the right collaboration software. To that end, while it's particularly important that your processes are explicitly mapped out to the littlest detail, it's as well worth noting that a sound business management strategy should include process solutions – solutions, not software – with team collaboration functionality, effective communication being the focal point of its DNA.
Conclusion
The world of work has changed quite a great deal. Nowadays, projects and tasks are spread among teams that are dispersed geographically, be that globally, across the country, in the same locale, or floors in the same building. Add to that the growing prevalence of mobile workers and virtual staff, and what you have is a strong need for powerful team collaboration tools that will maximize your team's overall productivity.
---