How to Set up Reliable Content Workflow Management
Tuesday, April 13, 2021
You may think that once a business's website is up and running, that the job is done. But that's not how today's world of business actually operates. In order for a company to do well and stay relevant, they need to provide regular content. There is always a need for new content.
The constant need for content leads to the need for content workflow management, which is a process by which the creative content used on most websites is managed. Creative work is a little different than cut and dried business processes, that doesn't mean that it can't be standardized and turned into a process that allows you to create a basic set of rules to manage this part of the business.

Content Workflow Cycles
There is a lifecycle of a content workflow that will be followed each time new content is created, even if the details are different in each case.
The first thing you will need to do is determine what content your website needs and why. Think about the audience and how you can best reach them with your information. If you don't, you will want to find out the means by which you want to distribute this content. Some people will post individually on each medium, others will use tools and software that will post content across a wide range of different platforms.
Next, you will need to create the content. Providing your creative content team with detailed expectations will help ensure they create the content you need without a lot of oversight. Once the content has been written, there should be someone who reviews the content to ensure that it is of high quality and meets the needs it is intended to.
You will then publish the content on your main website, but this isn't the end. You will also want to distribute your content to as many different mediums as possible. This might mean creating posts on social media that direct people to your new content, or actually publishing your content on other websites.
Once the content has been live for a given period of time, you will want to audit the content to see how well it performs. It will also indicate where people access your content, which can give you a better idea of the best mediums for your content for it to reach the maximum audience.
While the process of content creation is a creative one that cannot necessarily be broken down into a step-by-step process, you can use workflow software, like Comindware Tracker, to help you manage content more easily.
Workflow management software will allow you to assign tasks to different parties and create an approval process that can be monitored and show you how the content creation process is proceeding.
This type of software gives you the ability to provide approvals and even give added detail to the various parties involved to help ensure that all content meets the highest standards and provides the information needed in a timely fashion.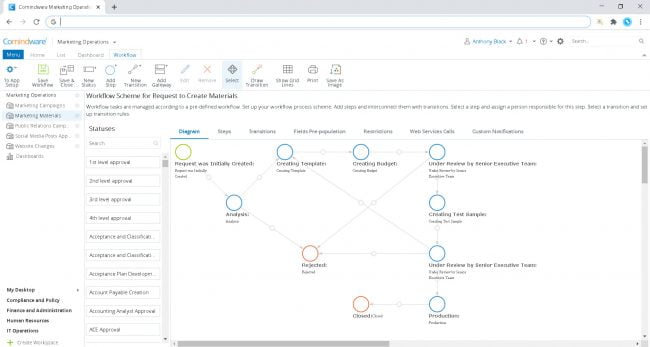 Get your content workflow designed and automated quickly, with drag and drop simplicity.
You want all people involved in the content management cycle to be informed and have access to the latest information about where they are in the process.
In Closing
No matter what your business, content creation for your website and other platforms is an incredibly important part of business success. Successful businesses know that you always need new, relevant content. Perhaps there is a new keyword performing well, or you have a new offering that you want to stand apart from the competition – whatever the reason, your company will have a need for regular, new, and high-quality content.
While creative endeavors are less suitable for creating a strict process than other business functions, it doesn't mean that you can streamline and better manage content creation. Content workflow management is a great way to help ensure that you always have new, up-to-date content and that all parties are well-versed in what is expected of them, when the content is due, and that there is a strict review process to ensure that all content meets the exacting needs of the business.
You can use content workflow management to streamline not only the creation process but to better assess the usefulness of the content. Once your content is published and distributed to various other platforms, you can use metrics to determine how well the content performs and where you have your greatest reach.
---