Collaborative Excel Alternative for Workflow Management
Friday, January 18, 2019
Get your project management software to provide you with accurate and up to date information regarding your project. Implement collaborative Excel alternative software to seamlessly synchronize resources, period, and personnel in real time.
Project implementation requires dedicated teams and resources. But a project's success is dependent on planning and defining a project implementation schedule. And so, the software you select to help you implement the delicate tasks and responsibility apportionment, while keeping track of workflow status is very crucial.

Many project managers revert to Excel to organize projects. If it's just one or two simple workflows with limited collaboration and short time span, Excel works well. But this usually is not the case. Many large projects run continuously. Further, they grow in scope, breadth, and durations.
A standard project would need better software to overcome the limitations of Excel while collaborating with it to steadily manage the gruelling demands of a complex project. We look below at how a project can harness the power of collaborative Excel alternative to manage progressively complicated workflows.
Limitations of Excel
Understanding Excel is easy. It's used to resolve many numerical queries effortlessly. This potential has convinced many users to apply the programme to manage their projects. Although it's useful to some extent, it portends some limitations.
First sharing on the contents and updates is hard. When working in Excel, you can only do this through emails. But it becomes confusing when every team member keeps on adjusting and commenting on their colleagues' progress while trying as well to update the already mangled excel sheet. Eventually, it's hard to know where it started and at what point it is.
There is also a lack of change control trail. No procedure to capture the sequencing of the changes undertaken exists in Excel. You only see the final product. However, the process of reaching there is not available. Further, it's difficult to correct mistakes as they occur, before proceeding.
Another drawback of Excel is its inability to support data search and logging. For project management, this is a continuous function, and appreciating any fast approaching assignment is, thus, critical. Reacting promptly to overdue tasks could safeguard against cost overrun. Yet in Excel, you need to use the "Find" function to move from one assignment to another. This slow movement wastes the precious project time.
Lastly, when the dataset becomes huge, Excel buckles under the weight. You need to review too many columns. Unfortunately, you can't visually view and compare them simultaneously without scrolling from left to right. Further, making updates is also troublesome due to small columns.
As a result of these drawbacks, you need an Excel alternative to manage a project properly.
Why Excel Alternative Improves Workflow Management?
Due to the above limitations in handling complex projects, Excel requires project management software to operate effectively. To commence, Excel operates well in standalone situations.
As such, to collaborate, emails and other forms of communication are needed. This takes time and is inflexible to the needs of various users. But appropriate software could merge the Excel software to provide seamless collaboration functionalities.
Secondly, the collaborative software could simultaneously share results in multiple updates. Again, real-time update of the progress is possible with a collaborative Excel alternative.
Besides, an Excel alternative provides real-time data that is essential for prompt decision making and effective project management. Moreover, this versatile software supports large files that Excel can't quite manage.
Perhaps most importantly, the alternative project management software allows all members to view a project's progress. It provides room for incorporating individual comments and observations while broadcasting these to all the team members. Hence it eliminates repetitive actions.
Finally, the software automatically schedules task flows, keeping all members informed on what the next schedule is, together with resources and responsible member.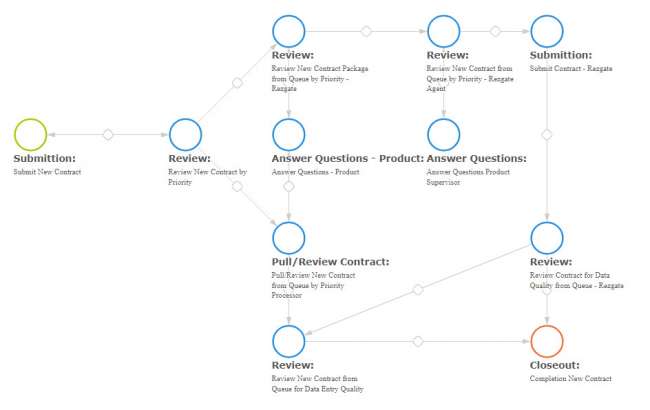 Why Excel is Important?
But Excel still is an essential tool for project management. Many variables need to be calculated computed, compared and updated.
Many financial costs, as well as margins and percentages, still require that you use the Excel forms. Consequently, it has the upper hand against other tailor-made project management workflow tools.
Conclusion
You need a project running smoothly. And getting an Excel alternative to patch up the deficiencies that Excel exhibit is, therefore, significant. On the other hand, you can't just disregard Excel as a minor tool in the entire project management workflow circle. You need the two to collaborate with your resources to get the best out of workflow management.
Try the risk-free trial version of Comindware Tracker – a cloud-based workflow management software designed to streamline project tasks flow and team collaboration.
---