Change Management 101: Ensuring Project Management Software Adoption
Friday, November 7, 2014
So you've decided that your organization has reached a point where a project management software is a necessity and is ready to invest the time, money, and effort to implement it. Planning doesn't always equal reality, as the looming question of adoption is a normal hurdle for management to clear.
According to Pinnacle Management Systems, Inc. Specialists, adoption is a
real challenge
in implementing project management solutions. Will the workforce use the tool dependably? How long will it take before they're truly adept at operating the software? Will it end up unused and gathering dust after all the time and money invested in it?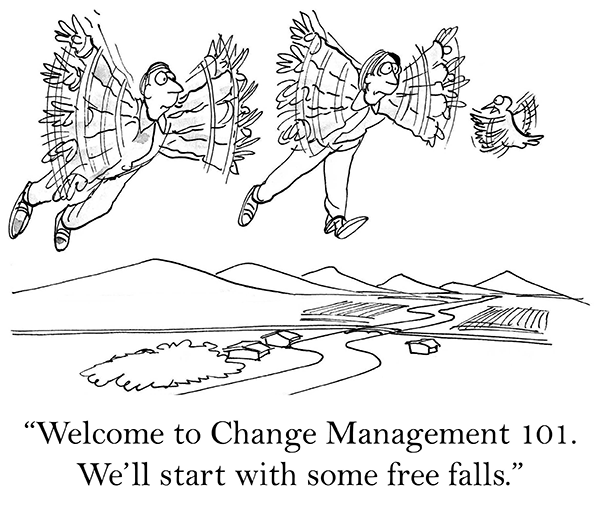 Barriers to new software adoption
A Software CEO whitepaper quoted Elliot Masie of the MASIE Center Learning & Technology Think Tank: "It is relatively easy to change technology or to create new business processes, but the difficult part in any change initiative is the people." Why?
Below are some of the common reasons:
New technology disrupts the way people perform their jobs.
People don't see the benefit of changing how they do things.
People don't like their routines disrupted to learn something they're not sure will provide them any value.
No change management strategies are in place.
With these in mind, how, you wonder, can you make a project management solution be surely and quickly adopted by your employees?
Encouraging project management software adoption
To effectively encourage your workforce to take advantage of the benefits a project management tool offers, first, identify the reasons why project management solutions are rejected by employees.
Exclusion
More often than not, members of management discuss, test and choose project management tools without considering input from their employees, who become the major users of whatever tool is eventually rolled out. Understandably, these users, taken by surprise, will resent having been excluded from such a consequential decision, a decision with a direct effect on how they accomplish their daily work. Acceptance of the new tool then becomes slower than management expects. Not feeling motivated to learn and quickly use a foreign and unexpected product, employees delay its effectiveness as a tool.
Complication
Users feel hassled by the added task of having to learn a new tool. They feel it complicates their existing work, especially if they're "technically challenged" to begin with.
User interface
Users are more comfortable with familiar interfaces, such as those of the programs they have already been operating for a long time. Introducing a new tool with a drastically unfamiliar interface, which steepens the learning curve, is normally unwelcome.
Training
Again, end users don't particularly relish learning something that complicates the way they carry out the tasks they've already been doing for a while.
How Comindware Project helps speed up adoption
1.      
Complication-free design
Taking ordinary, non-techie users into consideration,
Comindware Project
has been designed to dramatically simplify project management and task execution. Users no longer need lengthy training to learn how to operate the tool. It's intuitive with a visual, graphical drag-and-drop approach.
2.      
Familiar user interface
Aside from being able to import project plans from MS Project, Comindware Project takes the cake through its ready integration with
Microsoft Outlook
for a more seamless transition.
3.      
Convenience, accessibility and mobility
Comindware Project is available through the web, and via smartphone and iPad applications.
Final word
The benefits project management tools provide can be endless, and it's best to remember that to truly foster better employee
adoption of new software
, making them part of the planning, testing and choosing phases gives them a sense of responsibility, and hence, more motivation to participate in its implementation.
---