5 Key Financial Processes That Struggle Automation
Monday, October 5, 2020
No matter what the business or industry, the finance department is one of the most important and overworked departments in any company. They serve several highly-important and multifaceted roles and no matter how great they are, there is only so much they can do on a given day. This means that a financial process will only be as productive as the people involved are. This can affect the bottom line, reduce efficiency, and drag the entire business down in the process.
Thankfully, there are a lot of different ways that a finance department can remedy these issues and improve efficiency. And this is key since they are tasked with a huge array of functions and tasks, from taxation, accounts payable and receivable, compliance, billing, management of general funds, and the like. It is easy to see how important this department is, but also how easy it is for them to get behind, get overworked, and generally have processes lagging where they should be.

Since the finance department wears so many proverbial hats, they will need many different types of solutions to address any issues they may face. Automation software has dramatically grown in popularity in a variety of contexts, but especially the all-important finance department. CMW Lab offers a range of different types of financial management solutions for different aspects of a financial process.
What follows are some of the most important financial processes and how automation can streamline these functions, reduce errors, and improve efficiency.
Basic financial analysis
Revenue management
Capital expenditures
Lines of credit
Accounts payable and receivable
Payroll
This list is, of course, not exhaustive, but it shows that there are many important areas within this department and within each of these areas, there is room for error or improvement. When using automation software as opposed to manual data entry and the reliance on human employees, you reduce the amount of time each of these processes requires and reduce the likelihood of error, which can cause further delays and even issues with compliance.
5 Key Financial Processes
Reporting and Compliance
All finance departments are tasked with a wide range of compliance reporting requirements. These could be internal reports or reports that must be filed with state and federal governments. Regardless, this is one of the most important parts of a finance department as a failure to properly comply with compliance reporting can result in fines and more.
Accounts Payable
Accounts payable is, for all intents and purposes, the bills that an organization must pay. This could be for products and services, to vendors, and the like. Streamlining this part of the business opens up the potential for cost savings as there are places that will provide a small amount of savings if you pay early or in full. Being able to take advantage of these perks will save the company money, which is always a positive development.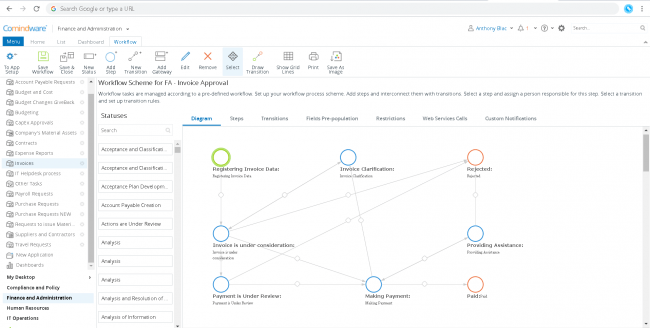 Accounts Receivable
This aspect of financial management entails managing money that comes in. This could be in the form of basic revenue or tracking and managing outstanding bills that need to be paid by customers or vendors. You want as little lag time between sending a bill and receiving payment, so any way to streamline and improve this area of the finance department will improve efficiency and ensure timely payment.
Payroll
Making sure your employees get paid properly and on time is a very important part of any finance department. This process needs to be straightforward and streamlined or the department will deal with regular requests for information that will take a ton of time and ultimately slow down other processes.
Strategic Planning
This is something that tends to be done on an annual or semi-annual basis. It is where teams and management get together to think about their goals for the next year or another period of time as well as a plan for how to achieve said goals. Detailed plans of action are often created and distributed to key players in the organization and there are often regular meetings to analyze progress and discuss any potential problems or issues.
The financial process is a complicated but important aspect of any functioning business. These processes take a lot of time and energy when performed manually and like any manual process, there is more room for error than with the use of computer software. Workflow automation software gives a business a powerful set of tools that will allow them to streamline financial processes and identify common issues and solve them far easier and more quickly.
---