Support Case Tracker
Wednesday, December 19, 2012
Learn how Comindware Customer Headquarters uses Comindware Tracker for managing customers' support requests. We have designed our own custom CRM system which suites our needs and match our processes.

It allows us to manage support cases, track customers' and engineers activities, analyze typical issues and create knowledge base content with solutions, connect with QA and development teams to work on complicated problems.
Each support case tracks all the aspects of the support request providing management with full set of data for problems analysis feeding various Comindware teams with information they need to make company's processes, polices and products even more customer oriented, efficient and easy to use.
Support operations are hard to imagine without convenient support case tracker. Nowadays there are tons of such tracking systems out there and sometimes it is hard to select the one that exactly matches your needs.
"…It helps us track cases, manage their backlog, filter them against priorities and ensure all relevant data are available to each support engineer on his fingertips…"
We in Comindware decided to try our own Comindware Tracker and see if it is capable of doing the job we need. And guess what? We were able to set it up the way we need. It helps us track cases, manage their backlog, filter them against priorities and ensure all relevant data are available to each support engineer on his fingertips.
Moreover should we need to modify the current case flow, add/or remove some case statuses, add more fields into the case we are not limited here. We do not even have to put our case tracker offline to make changes, thus our support operations are never interrupted by maintenance outage. But let me show you how things are done here in Comindware Customer HQ.
To start a new case one just need to press "New Support Case" button: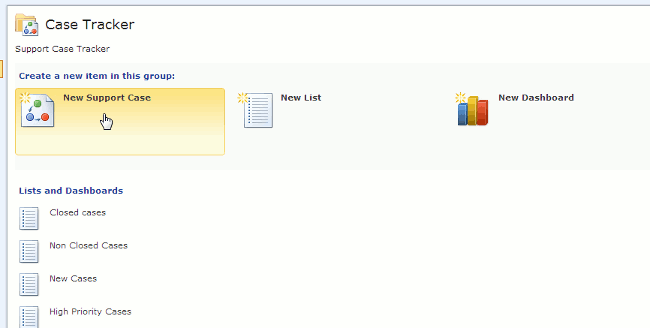 and fill in the form that opens up with the information required. Note that mandatory fields are highlighted so engineers are aware what information they need to collect to create a case: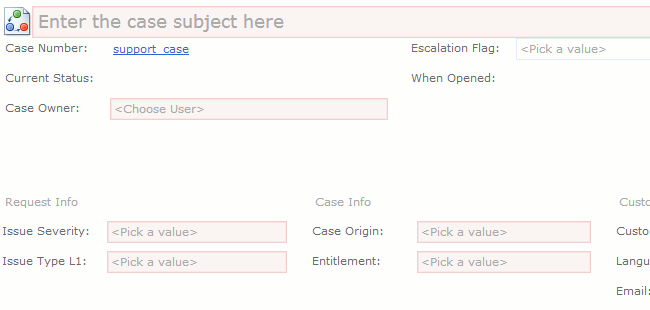 Once all fields are set, the case can be saved and its life cycle starts.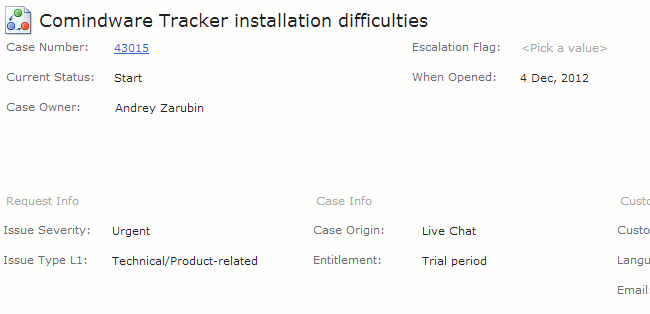 As you can see, we are tracking all the important data, which helps us allocate proper support resources and ensure customers are getting attention they need at the right time.
All communication with customers is tracked right within the case in the discussion tab, product environment information is available in the tab next to it: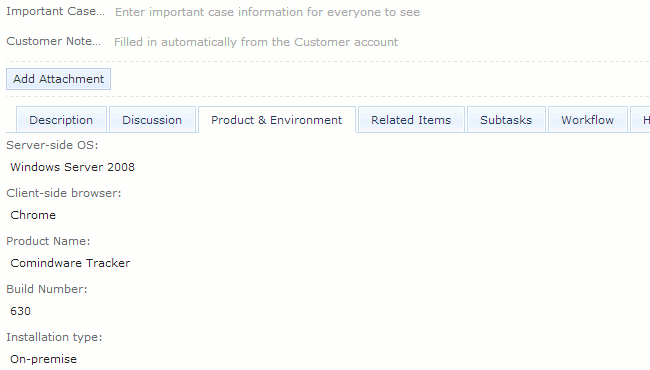 In the situation when the problem is complicated and requires other teams to jump in support cases can be linked to other items located in QA, Development or Product Management trackers. It helps us see case dependencies and ensure cross-team collaboration is under control.
For example: if a case is linked to a certain software bug in the bug tracker, support engineer can easily identify the fix availability and provide the customer with the required information without even looking into the bug because all the necessary information from the bug item is available right within the support case:

History tab is one of my favorite ones. When there is a need to analyze certain case actions, it will help you put together the full story and understand what was going on with the case from the point of its creation until its closure: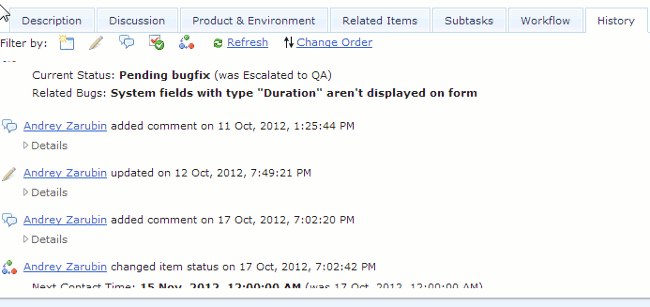 As seen from this screen shot our support case's lifecycle starts from the "Start" step and gets closed at "End" step. "Open" step is located in the center. This is where the most of the job with the case within the Comindware Customer HQ team is done. Other statuses are of "pending" type for us because when a case sits in one of them, we expect a response either from a customer or from some other team.
To ensure no one is dropping the ball the "Next Contact Date" field is used. This helps support engineers identify cases, which are sitting in pending statuses for too long and follow up with customers and other teams.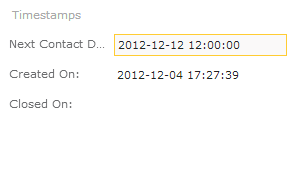 Finally, we have set up a special backlog calculation system to control case flow and calculate cases' "ontime". This provides us with additional visibility into support processes and provides additional control for case management: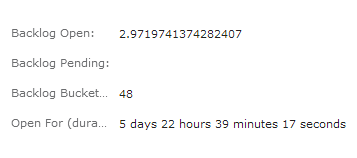 I'd love to stop here but this is not the end. We went even further and started to track case closure details that shows us time taken to resolve the case, case closure reason and KB solution article that was used to solve customer's problem. If something was done that is missing in KB our engineers are describing solution used so that our KB team could use this data to enrich KB content.
As you see, Comindware Tracker allowed us to build a quite complicated CRM system, which is now helping us track all the important data about our customers and issues they experience, ensuring our support team provides high quality services. We do understand that there is always a room for improvement and we are ready to tune our processes when required, and thanks to Comindware Tracker and its ElasticData technology, we are no longer limited technically.
---