Is Creative Workflow Evil?
Thursday, July 15, 2021
Creative project management is a difficult and complicated part of any business structure. The creative staff doesn't necessarily work in a structured, organized way, and trying to shoehorn these employees into a standardized way of doing things can create tensions and problems. So, we have to ask ourselves, is creative project management evil? What are the upsides and downsides and should we utilize these strategies within our own companies?
Let's take a look at these questions in a bit more detail.
Creative Workflow Management Benefits
Before we touch on the benefits of creative workflow management, let's quickly define what creative workflow management even is. This refers to a process whereby the creative elements of the business (writing articles, creating logos or designs, making videos) are structured into a process that can be broken down into individual steps. This allows creative managers the ability to better oversee the creative employees and help keep their endeavors within the framework of the developed process.
Creative workers often strive to create the best content that meets the needs of the business and provides something of value for the customer. Given the nature of perfectionism, it can make it difficult for the creative to let a project go. The ability to set a hard deadline can reduce the issues with a project never being done.
Creative management helps ensure that content is delivered on time, within the allocated budget, and that it also meets the needs of the client.
There is also transparency in creative workflow management that gives all parties a clear understanding of what is expected of them and when. It creates a goal of the creative end product and defines the steps that will need to be taken to achieve said goals.

The Downsides of Creative Workflow Management
The downsides of this may be fairly easy to see. Creatives, by their nature, do not work within a rigid framework in the same way as most other workers. They may feel stifled if there are too many rules, steps, reports, and the like. If you choose to use creative workflow management, you will need to find a way to balance their need for creative freedom with the ability to produce creative work in a timely manner that meets the needs of the business.
Many creative employees don't like standardized and report-heavy work and following an organized workflow requires regular communication, reporting on progress, and the like. Many creatives feel that this constant reporting reduces their ability to concentrate on the creative work assigned to them, interrupting their creative process.
Creatives also often have trouble with meeting rigid timelines and goals as for many, creative work isn't something that can be done in as structured of a way as other forms of work. This doesn't mean they cannot take direction and meet deadlines, but there shouldn't be an excessive amount of management interference with the actual creative process if possible.
The Verdict
So, knowing the main pros and cons of creative workflow management, we return to our initial question: is it evil? The frustrating answer is it depends. If the creative workflow management isn't designed with input from the creatives or is too rigid for them to be able to perform their creative endeavors, then yes, it is evil because it stifles the creative and ultimately makes them less able to provide for the company what they need.
However, if the creative workflow management is well designed and takes into account the varied needs and abilities of the creative workers, it can be a great way to help keep creatives on task and also provide a way to better oversee this content production in a way that ensures the timely and budget-appropriate provision of creative content. Creative workflows can be created using workflow management software, such as that offered by Comindware, which allows you to customize and automate many aspects of the process.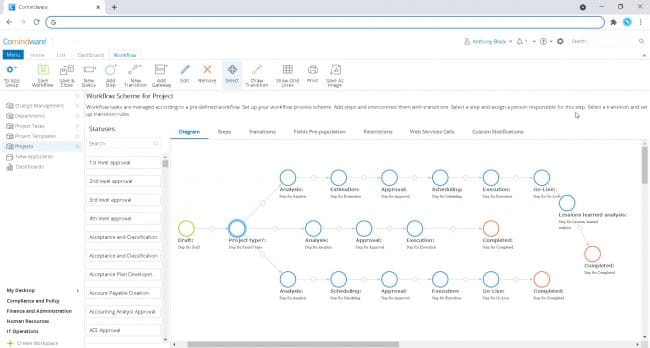 Whether or not this is something you will want to implement into your workplace will depend on the type of work you do as well as the creative talent you have on staff. Understanding the pros and cons and how to make the best of this management style will give you the information you need to know whether this is something you should introduce to your workplace or not.
---